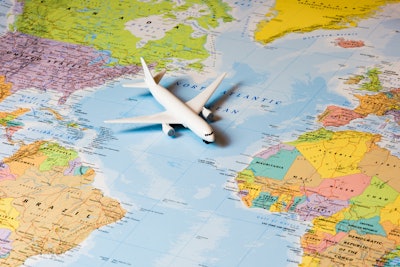 Photo: Janis Abolins/Shutterstock
"The future of the meetings and events industry is a story of resilience, innovation, and transformation," says Sophie Hulgard, chief sales officer for Accor, in the hotel brand's 2024 trends report, which focuses on the future of meetings and events.
Accor is one of several hospitality brands to spotlight its 2024 predictions in recently released reports—something Hulgard describes as "blueprints for success" rather than simple forecasts. "As we navigate this ever-changing terrain, let us do so with the spirit of collaboration, connection, and a relentless commitment to excellence," she notes.
In addition to Accor, Hilton Hotels & Resorts and Marriott International in the Caribbean and Latin America have also released their 2024 trend predictions. "Travelers are seeking more meaningful group travel experiences that focus on [personalization], flexibility, and cultural immersion," says Louise Bang, chief sales and marketing officer for Marriott International CALA, in the report. "Whether planning leisure or business travel, the new generation of travelers wants to get out and actively explore destinations."
We pored through the three reports and found some common themes. Here are some of the biggest trends that will affect group travel and hospitality in the new year:
1. Wellness and work-life balance
Wellness will continue to be a significant focus in 2024, noted all three forecasts. According to the Marriott report, travelers are craving more experiences beyond the typical spa, with 65% of respondents expressing interest in active wellness like jiu-jitsu or kickboxing classes, while 58% want more mindful activities such as yoga and meditation. "As wellness becomes more of a sensory journey, travelers will seek immersive experiences property-wide, such as creative fitness classes, informative workshops, nutritious dining, and more," notes the Marriott team.
As the Accor team puts it, "'Work hard, play hard' is making way for a growing focus on well-being, flexibility, nutrition, and time management to create a harmonious balance between life and productivity. In MICE, experiences are being curated around the nourishment and wellness of participants, including the downtime agenda."
The wellness and work-life balance trend is also helping continue the rise of "bleisure" travel. The Hilton report—which focuses on the similarities and differences in the ways different generations approach hospitality—finds that, globally, more than a third of Gen Z and millennial business travelers said they plan to extend a business trip in 2024 to enjoy leisure time before or after their work obligations—and 24% of global business travelers plan to take a friend or family member with them on a business trip next year.
"Though the world moved faster than ever [in 2023], we saw a fascinating paradox emerge with our guests," noted Christopher J. Nassetta, president and CEO of Hilton, in the report. "Travelers inspired change at an accelerated pace but also appreciated the moments when they were able to slow down. They dedicated time to building in-person connections. They blurred the lines between business and leisure travel, finding ways to expand their horizons no matter the occasion."
2. Immersion in local cultures
On the leisure travel side, Hilton notes that "dining, culture, and connections are inspiring leisure travel decisions as people increasingly prioritize the purchase of experiences over things. Next year, foodies will reign supreme, with culinary experiences prioritized globally and across generations. In tandem, people will travel to learn about other cultures, learn about their own culture, and connect with others."
Similar trends are emerging in the corporate travel sphere. Marriott reports that event attendees increasingly expect engaging activities and cultural immersion that support local communities—in fact, 26% of respondents are interested in corporate social responsibility experiences that give back to local communities.
"Travelers are increasingly seeking authentic experiences from a local perspective and looking to discover hidden gems off the beaten path," adds the Marriott forecast. "The survey uncovered that 60% of respondents want to explore local beverages and fully immerse themselves in the regional flavors, with 57% looking to find local cuisine and food specialties during their travels. Language immersion is also gaining traction, with 58% expressing a strong interest in picking up local languages."
3. Sustainability
An interest in sustainability continues to be an ongoing trend, with Hilton reporting that while on the road, 74% of travelers agree that it's important to minimize their environmental footprint. Marriott's findings were similar, with 77% of respondents wanting to visit environmentally friendly destinations that align with their values.
"According to data, there is particular interest in supporting communities still rebuilding from natural disasters," adds the Marriott report. "Others are looking to reduce travel with high carbon emissions (60%) and want choices that positively impact destinations visited."
Accor observes a similar trend on the MICE side. "Sustainability is now at the heart of meetings and events with a strong focus on reducing carbon emissions and waste," says the trend report, citing the popularity of the brand's Event Carbon Reduction Charter for meetings and events, which covers a range of measures from recycling bins to food waste to temperature management.
"Beyond emissions, sustainability also increasingly involves sparking meaningful engagement with local communities and fostering environmentally friendly conversations—whether by recommending local transport or raising awareness of local culture and ecosystems," adds the Accor team.
4. The power of customization and experiential elements
In 2024, "The very definition of an event is being rethought in terms of structure, content, and venue," notes Accor. "By creating experiences rather than simply providing meeting rooms, we can help embed ideas, memories, and different ways of thinking."
This type of creative thinking seems to be influencing venue selection: Marriott's report predicts that the top factors influencing venue choices in 2024 will be alignment of concessions to evolving program goals (according to 49% of respondents), adaptability to changing needs (47%), and rapid response times to inquiries and requests (46%). In addition, only 34% of respondents indicated that their selection of a hotel/destination was influenced by prior experiences, suggesting that most event planners are willing to embrace new venues that meet their current priorities and requirements.
5. Convenience-centered technology
And while face-to-face will undoubtedly reign supreme in 2024, hospitality brands are leaning into technology that can improve the event and travel experience for customers and planners. "As AI leaps forward, it has the potential to transform the meetings and events sector through its capacity to instantly crunch data—for example, finding the best date by analyzing the availability of participants, identifying great speakers, and even writing invites and content," says the Accor report.
For customers, meanwhile, Hilton reports that a whopping 80% of travelers feel it's important to be able to book their trip entirely online. "Travelers will seek out consistent and seamless experiences that are personalized to their needs," says the Hilton team. "They will expect technology to be intuitive and helpful throughout their travel journey—but also appreciate the human connection uniquely found in hospitality."