New In-Room Hotel Technologies Help Planners Reach Meeting Attendees, Generate Revenue
July 18, 2012
Technology is making it easier for planners to communicate with meeting and convention attendees in their hotel rooms. Here are two systems that use different equipment—one the television, the other a freestanding computer—but allow planners to both keep attendees up-to-date and also generate revenue by selling ads to exhibitors and sponsors.
Roomlinx
This developer of interactive TV applications for hotels, launched its SmartEvent application in May. "Communicating to attendees before an event and after an event tends to be easy. But during an event can be difficult as things may change. This allows real-time information to be communicated through the largest touch point in the hotel room: the TV," Roomlinx C.E.O. Mike Wasik said.
The application allows planners to customize the display with welcome messages, event schedules, speaker information, Web links, videos, and information from sponsors and exhibitors.
"Our system will turn the TV on automatically when you check in," Wasik said. "There will be soft music playing and a personalized welcome message from the hotel, and then instructions on how to click to enter the system. And that's where you'd see the information created by the event planner." The SmartEvent system is connected to an event's group code, so the information only reaches specific TVs within the hotel.
Planners purchase a package of SmartEvent features from the hotel and can then generate income by selling interactive ads to sponsors, exhibitors, and vendors. "The ads can link to Web pages, or videos, or can say, 'Click here to schedule a meeting at my booth,'" Wasik said. "It's whatever they want to promote traffic to that booth."
Guests use a remote control with a built-in mouse to navigate the system and can also access a wireless keyboard. The system also provides information on hotel services, movies on demand, and Web access.
Roomlinx is installing SmartEvent in 60,000 Hyatt hotels in North America.
The Hotel Communication Network
This system is focusing on installing its Navigator program in multiple hotels in one city at a time. The first market is Chicago, where the computer-based system is already available in the Hilton and the InterContinental, and is being installed in the Sheraton Chicago Hotel and Towers. There will be nearly 5,000 units in Chicago by the end of the year, creating what company C.E.O. Kevin Bidner calls "the critical mass to be meaningful for city-wide conventions."
Navigator operates on a freestanding 22-inch touch-screen monitor that turns itself on each day at 8 a.m. and goes dark at 11 p.m. (users can reactivate it manually). Similar to SmartEvent, the Navigator system is linked to an event's room block, so a personalized welcome message and event information are on the screen when the guest arrives. Planners can set up the system so guests log in using the same identity used in the event registration process, which will sync the attendee's personalized schedule, and other information such as announcements, maps, and exhibitors and sponsor information.
"Digital signage can't be missed," Bidner said. "If I put this information on a smartphone app, they [attendees] have to download it and they have to use it. If I put it on the dark channel on the TV or a brochure shoved under the door, there is no guarantee anybody is going to see any of that. But if I put it on a 22-inch screen in the room that is on when you walk in, it is unmissable."
Pricing is based on group size and the options selected. Planners can use the Navigator system to generate revenue by selling ads to exhibitors and sponsors. "It's measurable results," Bidner said. "It's not just how many people see that ad, it's how many people click on it."
The Navigator also provides a city guide to dining, shopping, and entertainment, and the ability to connect to those businesses using one click and the attached speakerphone. The system also includes Microsoft Word, Excel, and Powerpoint so that attendees who leave their laptops at home still have a full work station in the room.
This fall Navigator will add a social networking component that will allow convention attendees in different hotels to create chat rooms and interest groups. The company plans to begin installations in at least two more markets in 2013.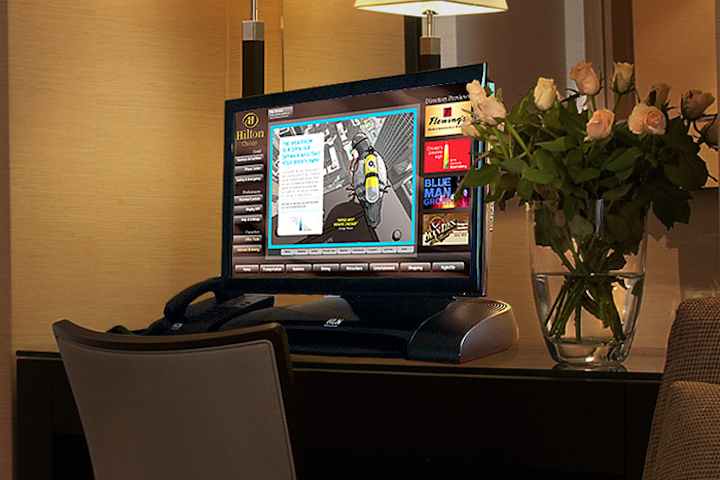 Photo: Courtesy of HCN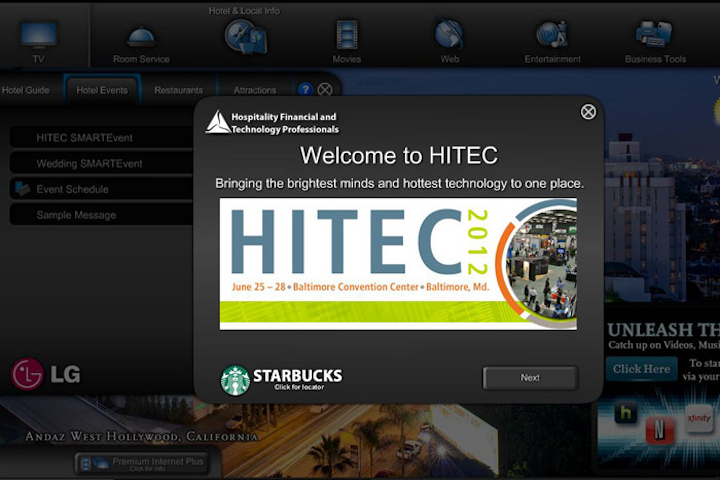 Photo: Courtesy of Roomlinx
Featured Venues/Suppliers: