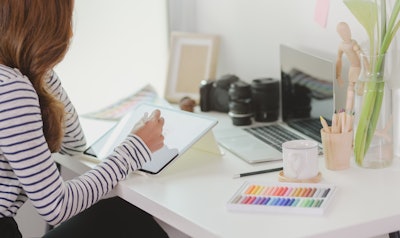 Photo: Bongkarn Thanyakij/Pexels
Event professionals have long found creative inspiration through travel, museum-hopping, and dinners out. With many of those activities put on hold due to the spread of COVID-19, here are some ways event pros can stay inspired and motivated—in their own homes.
1. Learn a new skill.
As work slows, many event planners tell BizBash they are taking the time to expand their bases of knowledge—both professionally and personally. Eric Wielander, general manager of Eventique in New York, is helping his team master new programs such as Google Slides. "We asked the team to come up with their wish list, and programs like Vectorworks and SketchUp came up repeatedly," he adds. "My favorite was learning about more zero-waste methods."
Brian Hanley, an account manager for Great Performances in New York, is also focusing on brushing up his practical skills, such as graphic design. "I'm also trying to enhance my Spanish [using] Duolingo," he says. Meanwhile, Los Angeles-based marketing strategist Liese Gardner is taking online courses on new technology she can apply to her business, as well as creating online meetups with other event pros.
Other industry professionals, such as Ella Gentry Vance, vice president of marketing and events for B. Worley Productions in Atlanta, are getting creative with it. "I'm learning a new skill in paper crafting," she tells BizBash. "I recently had a vendor of mine—Paper Daisies Stationery—give me an entire box full of empty paper scraps because they were going to toss them. I have now created three different art pieces in my house that literally cost me zero dollars!"
Michelle Ellamae Chan, C.E.O. and creative director of Ellamae Productions in Los Angeles, is spending time in the kitchen. "I'm staying inspired by reading cookbooks! Where there is good food will always be a good time," she says. "I'm trying to expand my expertise in addition to event planning during this time."
2. Take a virtual museum tour or watch a live-streamed concert.
Museums around the country may be closed, but many are offering inspiration-inducing virtual tours and online galleries. The San Diego Museum of Art, for example, is hosting free online tours, plus video lectures, performances inspired by works of art, and more. Further north, the Monterey Bay Aquarium is taking to Instagram for daily guided meditations (or "meditOceans," as they have playfully dubbed it) set to videos of sea life.
Other top cultural institutions, such as the International Spy Museum in Washington, D.C., the Phillip and Patricia Frost Museum of Science in Miami, and the Field Museum in Chicago, are offering family-friendly resources, lessons, and virtual tours via their websites and social-media apps.
In terms of music, a number of musicians—including John Legend and Coldplay's Chris Martin—have taken to social and streaming platforms to play live. Orchestras and operas are also getting in on the game; the Metropolitan Opera in New York, for example, is streaming performances on its website at 7:30 EST every evening.
3. Browse Instagram and Pinterest, and study your own past work.
Instagram has long been a source of inspiration for event producers and designers, and many have recently taken to the photo-sharing site to post visual distractions and throwbacks to old events. Check out these previous BizBash stories for ideas on event designers, floral designers, caterers, wedding planners, lighting and audiovisual producers, and other event pros to follow on the social platform.
Studying and organizing your own past events can also be productive and inspiring, notes Gentry Vance. "I am doing my best to stay productive and keep those creative juices flowing by going through all of the design boards that I or my team has created over the last year, and organizing them (corporate, social, wedding, mitzvah) and creating sub-categories (rustic, modern, holiday, traditional, etcetera)," she says. "I'm doing this both digitally and printing them for when we have those one-on-one client meetings and we can flip through different inspirations to help them narrow down what they are really envisioning for their event."
4. Catch up on your reading.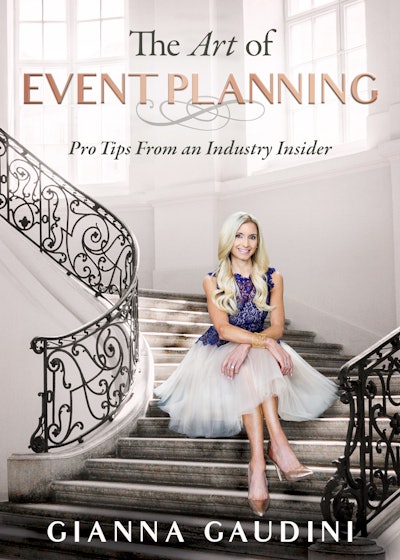 Acclaimed event designer Bryan Rafanelli published his debut book, A Great Party: Designing the Perfect Celebration, back in September; the photo-heavy hardcover is chock-full of insights from his time designing events for the Obama White House, plus inspiring design tips for gatherings of all types. Another BizBash favorite is former Google producer Gianna Gaudini's new book The Art of Event Planning: Pro Tips From an Industry Insider. (Bonus: Check out Gaudini's recent podcast interview with BizBash chairman David Adler.)
Sean Pedeflous, creative director of San Diego-based GDX Studios, says he's taking this time to read another new book: The Ride of a Lifetime by recently departed Disney C.E.O. Bob Iger. "[It's] an amazing and incredibly fast read everybody in marketing and events should read," says Pedeflous. "Iger details the events that took place which allowed him to acquire Pixar, Marvel, Lucasfilm, and Fox. Maybe more importantly, he takes a deep dive into the digital distribution strategy behind ESPN+/Disney+. Not only interesting, but extremely motivating for young professionals to see such an honest account of challenges successful C.E.O.s must face. It's a relevant book to read during this difficult time, as he stresses temperament, empathy, and respect to turn a potentially problematic situation into a win."
Gardner, meanwhile, is launching a virtual book club for industry friends. "We're reading Untamed by Glennon Doyle for next week," she says. And Tina Carlson, the president of Ivan Carlson Event Design & Production in Chicago, is leaning on faith-based books. "I'm reading two very important books right now: the Bible, particularly Psalms, and the book Fervent by Priscilla Shirer," she tells BizBash.
Other timely book recommendations spotted in BizBash's Event Planners Gather groups on Facebook and LinkedIn: The Art of Gathering: How We Meet and Why It Matters by Priya Parker; The 5 Second Rule: Transform your Life, Work, and Confidence with Everyday Courage by Mel Robbins; and Leadership Is Language: The Hidden Power of What You Say—and What You Don't by L. David Marquet.
Wielander says he's also keeping up with business trades such as Fast Company and Adweek. "It isn't much of a change from my regular reading habits, but I'm reading deep into the stories," he says. "And I'm reading my paper edition of The New York Times to get a break from being on a screen day and night."
5. Practice self-care, and find a work-life routine that works for you.
"Working from home can be both challenging and rewarding, especially if you are not used to it," notes Timot McGonagle, senior event producer for Kehoe Designs in Chicago. His tips: Avoid clutter, designate a specific work area, and set daily and weekly goals to foster a sense of accomplishment. "My production partner and I have designated hours each day. We give ourselves time to catch up on emails and follow up with a call to plan our day and our week," he says. "That said, the less structured environment can provide the opportunity to personalize your routine to maximize your body clock and energy flow."
McGonagle is also turning to meditation and aromatherapy to stay healthy and grounded. "I now incorporate a half-hour meditation to feel reenergized for the second half of my day," he says. "To detoxify, I have been taking hot baths with aromatherapy Epsom salts. It's all about balance and self-care."
And don't underestimate the power of exercise, sunlight, and fresh air—just remember to stay at least six feet away from your neighbors. The Headspace app is currently offering free meditations, sleep, and movement programs, and many exercise platforms have similar deals. Or might we suggest listening to BizBash's GatherGeeks podcast while taking a walk? Our archive of 188 episodes includes recent guests such as longtime professor Joe Jeff Goldblatt, event and invitation designer Marc Friedland, meetings expert Adrian Segar, and MCI Group C.E.O. Sebastien Tondeur.
See BizBash's coverage of how COVID-19 is affecting the event industry at bizbash.com/coronavirus.