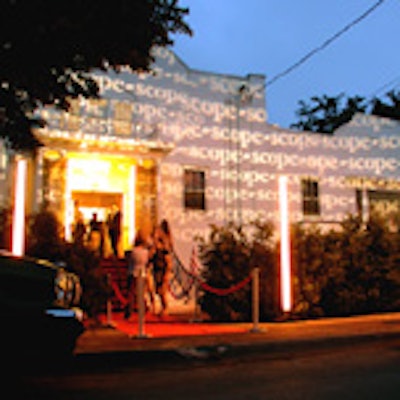 If you try to kill more than one bird with a stone, sometimes you just end up maiming them. But I recently attended two events, the
ScopeHamptons
opening and the unveiling of the new headquarters for
Spa Finder
, which had mixed agendas, but worked.
Scope Art Fair
is an organization that creates group show environments for artists. In New York and Miami, the group stages its events in hotels, but here in the Hamptons Scope invaded
Hampton Hall
for a weekend-long exhibit that featured dozens of galleries, live performance art,
Jaguar
test drives,
Hypnotiq
sampling (it's some type of cognac), and an opening night gala benefiting the
Retreat
.
There was quite a bit going on and the results were occasionally a bit sloppy, but this exuberant mélange definitely captured my interest, not to mention a friend's wallet.
Selecting the Retreat as a beneficiary for the kickoff was a deft move. This East End shelter for battered women is a quiet, no-frills charity that fills a serious need. It provides a haven of privacy and security for at-risk women and their children. It's tough work, and if you'd like to support the organization, just
click here
and have your Visa number handy.
Anyway, having a serious cause for the opener gave the party hosts the freedom to let their hair down in other ways. And let their hair down they did.
My favorite was
WeissPollack Galleries
, whose "Dictators Inc." exhibit featured artwork and items highlighting dictators we know and love. You could order a case of
Pinochet
Pinot Noir, which came with its own display shelves, and drink it while lounging in your
Mao Zedong
beach chair. An attendant/terrorist, wired with explosives, gave passersby bottles of
Herr Führer
water ("purified through concentration"). I'm afraid to drink mine.
Another exhibitor was demonstrating tiny video surveillance cameras that captured arriving guests surreptitiously, broadcasting their images under a tent for a truly guilty pleasure. (It seemed illegal to me.)
Not everything worked.
Jaguar
, one of the main sponsors, exhibited two new V-8 behemoths out front, Southampton being the perfect place to debut the company's first auto priced at more than $100,000. I love Jaguars, and dutifully signed up for a test drive that never materialized, despite the fact that I told anyone who listened that my family buys them all the time. No harm done. The cars—lit sleekly in the evening by
Levy Lighting
—looked great. But the company couldn't leave well enough alone, and had commissioned a handful of artists to decorate plastic car models, which Jaguar then tried to sell for charity. A PR person explained, "We wanted to do more than just be a sponsor, we wanted to reflect the creativity of the event." "Why?" I wondered, gazing at these embarrassing little cars with sequins on them.
The event is still an infant, and there were problems. A badly placed bar created a bottleneck, while a quaint side yard practically screamed for someone to set up a pouring station. The first exhibit near the entrance was a small swimming pool where a live art performance was supposed to take place. It never did, at least not the two separate times I was there, and instead it became a drop table for lazy drinkers (like me).
Hampton Hall is a new event space conveniently located across the street from the LIRR station. (My guests stepped off the train and went right to work buying artwork, making it easy for us to hook up.) More on this place in a future column.
Spa Finder, founded by
Susie
and
Pete Ellis
, is both a travel booking service and a magazine, and they had a party to celebrate their new office space. Sounds pretty lame, right?
But I noticed that their decorator was
Clodagh
(just Clodagh, the design world's
Cher
, I suppose), whose work with neutral tones, water, and sense of calm are well known. As expected, the place looked great.
And they made the evening a referendum on the Spa Finder mission, to showcase the world of spas in all its soothing and sometimes silly diversity.
The truth is that I get bored at spas, and I don't really like strangers touching me unless they buy me dinner first. So I took along my friend
Susan Murphy
, a seasoned spagoer, and watched her gurgle with delight as she sampled creams and scents and antioxidants and such. And the gift bag was declared a huge success.
What was smart here was showcasing a whole bunch of companies they do business with (
Decleor
,
MD SkinCare
,
Kerstin Florian
,
Yon-Ka Paris
,
Pevonia
—do these names mean anything to you?), while at the same time reaching out to advertisers and press with their own message (in other words, doing more than just showing off their fancy new offices).
Listen, the hidden agenda of so many events is to sell stuff, but I don't mind if the pitch is enjoyable.
Posted 08.04.05
Columnist Ted Kruckel is an experienced and opinionated former event and PR pro who ran events for 20 years for high-profile clients like Vanity Fair, Elle Decor, Christian Dior and Carolina Herrera. He shuttered his firm, Ted Inc., in 2003. You can email him at

[email protected]

.