Photo: Courtesy of JW Marriott Anaheim Resort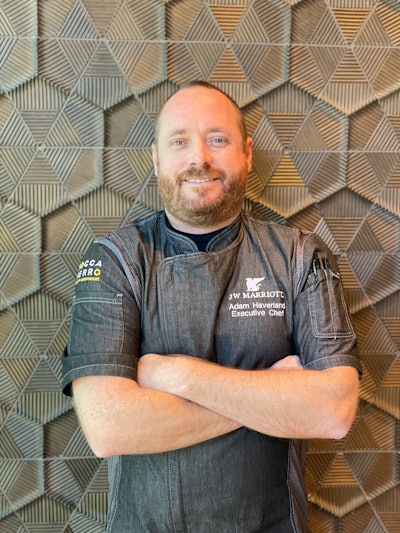 Adam Haverland is the executive chef at the JW Marriott, Anaheim Resort, which opened in 2020 with 466 rooms and 43,000 square feet of event space. He's based in San Clemente, Calif.
How he got his start: Haverland began his career at a French dining restaurant in Maui, where he catered to off-site events. "This experience led me to pursue culinary school as I grew a passion for menu creation and perfecting various dishes that offered delicacies and a balance of sweet and savory flavors," he explains, noting that after graduation, he transitioned into leading various hotel and event F&B programs.
That's where he discovered his interest in sustainability. "After 16 years of fueling my passion and expertise for culinary perfection in the hotel and events industry, I worked with a 5-acre farm and a horticulturist to learn how to bring sustainability and seed-to-table initiatives to offer a realm of healthy dishes for various events," he says. "After working with this farm, I was introduced to my current role, executive chef at the JW Marriott Anaheim Resort, where they offer a seed-to-table program for all of their restaurants and events."
The best part of his job: "I get to be creative with menu creation, infusion of different ingredients and overall presentation of each dish," he says. "It is exciting to witness people enjoy the dishes I create."
What innovation means to him: To Haverland, innovation in the F&B space means staying ahead of ingredient trends and finding ways to creatively incorporate these ingredients into various dishes. "I receive inspiration and innovative ideas by reading culinary articles from various culinary publications, trying various new restaurants on a regular basis to sample their methods of prepping and cooking and understand their spin on incorporating different ingredients in each dish, and researching new techniques when I am creating a new dish," he explains. "I also collaborate with other chefs that specialize in diverse culinary scenes to create infusion-inspired dishes."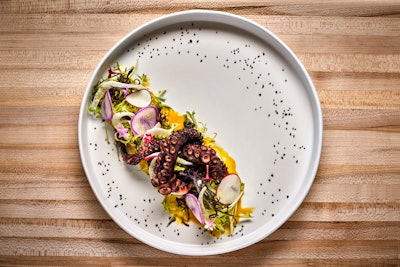 A memorable recent event: Haverland reflects on an event at the Directors Dining Room, a private restaurant for the directors of the Los Angeles County Fair where clients and friends showcase the food and beverages being offered at the fair. "The best part for me was that there was no limit on budget, so I was able to experiment with truffles from Italy, fish from France and Kobe beef from Japan, and really curate a memorable dining experience that guests still talk about today," he says.
His all-time favorite food: "My tummy craves Asian food (sushi and Vietnamese)—however, my training is classical French cuisine, so that is also a favorite of mine," he says.
His biggest hope for the F&B industry: Haverland is eager for a bounce-back to pre-pandemic levels. "My team and I are ready to create memorable dishes and experiences at all the restaurants I am leading here at the JW Marriott, Anaheim Resort, and we are eager to welcome back guests and events with a new seed-to-table options and a curated menu using fresh ingredients," he says. "I also have high hopes that the F&B industry continues being innovative with new trends and find unique ways of creating different dishes to make dining more experiential and memorable."
Back to the full list: "Industry Innovators 2022: 10 Caterers and F&B Pros Making Their Mark on the Hospitality Industry"