Photo: Courtesy of VOW Digital Health
Jennifer Brisman has always had a passion for technology. While running her own New York-based event and wedding-planning company for 20 years, she developed a tech-based organization system that was quickly adopted by vendors she worked with. Now, she estimates that the systems she put in place in the early 2000s are being used by hundreds of top event producers in the country. And in 2018, she founded VOW, a tech-based event communications platform that aims to centralize teams, tools, sales and planning.
So when COVID-19 hit, Brisman knew she had the skill set, the team and the background to help the event industry bring back live gatherings in a safe way. The result was VOW Digital Health, which officially launched April 15 and bills itself as the first COVID-19 health safety platform created specifically for the event industry.
What sets it apart from similar products, Brisman notes, is that the platform is B-to-B—meaning VOW works directly with the event organizer or host to create a centralized system, rather than working with each individual attendee or consumer. That way, businesses are getting all the information in one place, rather than having to sort through information from various sources, and ensuring that every guest is verified the same way. Since launching, VOW Digital Health has partnered with WIPA, The PR Net, Retrospekt Festival and Brookfield Properties, just to name a few, and is on track to clear over 6,000 attendees by the end of June.
The process is simple: Producers and event hosts use the platform to create an event and add attendees, then choose what type of verification they'd like to require, such as proof of vaccination and/or proof of a recent COVID-19 test; they can also select whether they'd like to require a day-of-event CDC health screening. (Brisman notes that the options and language evolve weekly as the landscape changes and vaccinations become more widespread.)
Every attendee is then texted a series of secure links (no downloads required—meaning no opportunities for hacking, explains Brisman), where they are asked to upload their IDs as well as their vaccination card and/or COVID-19 test results within a certain timeframe. Once VOW's team works with an ID verification company to confirm the information, the attendee is cleared for entrance—well before ever arriving on the event site. Organizers, meanwhile, can see a centralized command center that clearly lays out who has been cleared and who still needs to submit their information, which also becomes a natural solution for post-event contact tracing.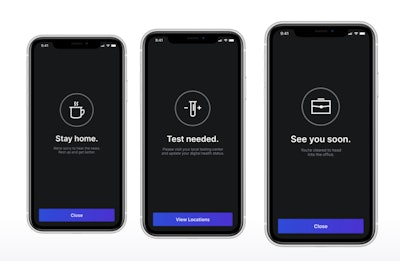 Brisman points out that in addition to the secure, easy-to-use interface, there are a few other details that make this a good solution for the event industry. "What makes us different is that we are not HIPAA compliant—and we don't need to be," she explains. "We don't want the data—we validate it and keep the results, then delete the data itself. … Once you're verified, we delete your information and keep the results for 28 days for the purposes of contact tracing. It's a really different approach."
But while many attendees may be OK going through this process multiple times for a variety of events, what about vendors, venue workers and entertainers who work on multiple events per month? VOW also offers an option to fully clear vaccinated vendors on an ongoing basis, meaning they don't need to re-verify for every event. "So if I'm a band, and I'm working 20 events a month, my vaccine status can be automatically opted-in for any other events I work or attend," Brisman explains.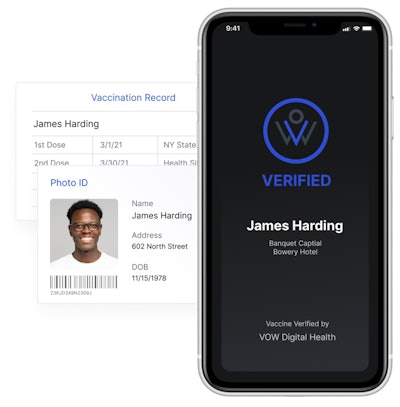 She continues, "We're not saying that if you want to get on a Delta flight, our vaccine clearance will allow you to do that. That may be the case come this summer, but right now we are not a vaccine passport and we don't want to be positioned that way. … We've gained some wonderful speed because we are so nose-down in what event professionals specifically need."
Brisman thinks her experience as an event producer allowed her to really think through what attendees and hosts want from in-person gatherings, and tailor the platform accordingly. "It gives me a unique perspective on how all stakeholders involved in the event journey have related but slightly different pain, and the platform compensates for that."
Her background also allows her to put herself into an attendee's shoes. One main thing they want, she argues, is to avoid a lengthy check-in process and health screening on-site—which is why VOW's mission is to clear 100% of attendees in advance.
"People don't want to go to COVID events—they want to go to events," Brisman says. "When you invite COVID clearances on-site, it's a reputational risk. … For every single person that walks on-site where you have to physically look at their information, it can take anywhere from 90 seconds to three minutes."
For businesses where guests' arrival is spaced throughout the day, this may be feasible. But for events, the majority of attendees arrive at once, she notes. "So there are efficiencies that have to be built in [to VOW]—we don't leave anything to the moment. … If you're an event producer, you have one shot to get it right."
Brisman also notes that the energy of events where everyone knows they've gone through the same approval and screening process changes. "People take off their masks off and they're happy, because they feel safe."
VOW, which now boasts a staff of 14 along with 16 engineers, is expanding and refining its serves weekly; the company also has relationships with PCR, rapid and mobile testing companies to coordinate those serves as needed, and can also provide COVID compliant offers, on-site staff and more. Currently, VOW Digital Health offers white-glove customer service that walks event organizers through the process; by next month, the company hopes to launch a self-serve product where producers can manage the alerts and command center on their own.