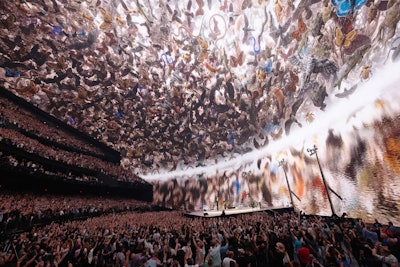 Photo: Kevin Mazur/Getty Images
In Case You Missed It
On BizBash this month, our editors brought you inside the annual conferences from tech giants Salesforce and HubSpot, and explored how the Kansas City Chiefs used technology to host the world's largest tailgate party (and no, it didn't involve Taylor Swift). We also checked out W South Beach's new 360-degree mapping tech for events, and shared highlights from a fascinating future of event tech panel held at our recent Connect Marketplace. Finally, BizBash founder David Adler chatted with Michael Schaiman, CEO of creative technology studio GenCity Labs, about antiquated event tech stacks, how AI can improve an event experience, and more.
---
Event Technology We're Excited About This Month
To make an eco-friendly venue choice
U.K.-based event technology platform HeadBox has launched Journeys, the first tool in the company's growing suite of sustainable event solutions it is calling HeadBox Zero. The new offering allows HeadBox customers to make the most sustainable venue choice before they decide which venue to book. Recognizing that up to 80% of carbon emissions for in-person events come from travel to and from the venue, event bookers using Journeys can enter attendees' travel details—including whether they're traveling by plane, car, bus, etc.—which will then be compared to the projected travel emissions for each venue option, quickly showing a side-by-side comparison of which venues are the most eco-friendly options.
To support attendees' real-time needs during a show
Global event leader Freeman has teamed up with 42Chat to introduce conversational AI-driven chatbots to support attendee engagement for trade show and conference organizers. The AI solution will provide Freeman customers with web and SMS chatbots for pre-show, during, and post-show communications to help attendees with real-time needs like finding registration, locating an exhibit, and more.
"42Chat's AI technology is scalable, privacy compliant, accurate, and easy to deploy, which makes it a perfect partnership for us and our clients," said Paul Fletcher, executive vice president of audiovisual and event technology operations at Freeman. "We're seeing a generational shift in show attendees with a younger audience. As their needs evolve, this partnership allows our customers to meet these new attendees where they are, and be able to answer questions 24/7 on the go."
To improve event ticketing
Speaking of chatbots, another exciting new solution comes from Satisfi Labs, which is focusing its efforts on generative AI-enhanced chat features in ticketing. Via a new partnership with massive ticketing company AXS, fans and attendees can get immediate answers to questions like "How do I transfer my tickets?" or "Can I sell my tickets?" via the AI integration; this allows the AXS Contact Center's human representatives to spend quality time solving more complex situations fans may encounter. AXS has deployed the AI chatbot in its North America, Europe, and Australia markets.
"We are incredibly proud to support AXS in their mission to improve the customer experience," said Don White, CEO of Satisfi Labs. "Ticket service providers like AXS are embracing the current moment and the technology that will allow them to take the customer experience to new heights, understanding the positive impact that it has on both the customer and the provider."
For a full-service event production experience
Event experience OS Bizzabo has launched Bizzabo Studios, a premium event service that merges the company's event tech capabilities with creative and operational expertise to create events both online and in person. It's being accomplished through a partnership with creative agency Smyle; the two companies have already worked together on more than 250 events for clients like Amazon, Salesforce, and Lululemon. Bizzabo Studios offers several event service packages with a predefined scope of work that can be kicked off quickly, including template design, registration setup, and end-to-end event configuration.
"With Bizzabo Studios, event organizers can get the best of both worlds—our world-class event technology and Smyle's unmatched creative and production expertise—to create compelling event experiences for attendees and sponsors while delivering strong business results," said Eran Ben-Shushan, CEO and co-founder of Bizzabo.
To improve your social media strategy
AUDIENCEX, an AI-enabled digital advertising partner built to optimize performance for brands and agencies, has unveiled its AI-powered Search & Social division. The new division utilizes advanced artificial intelligence algorithms and data-driven insights to help brands optimize their strategies, improve engagement, and achieve better ROI from their search and social media efforts; highlights include AI tools that can understand audience behavior and preferences, create personalized content for social media posts, analyze data, and more.
Keith Clay, the company's new vice president of Search & Social, describes this as a "pivotal moment when innovative AI tools are becoming essential in the advertising landscape." He adds, "By blending these technologies and our team's profound search and social media expertise, we empower brands and agencies to tap into the vast potential of search and social media platforms, ensuring robust engagement and impactful results."
---
The Latest Updates, Funding, and Merger News
Meeting technology company NodesNow Inc. has teamed up with Marriott International to make its collaboration tech available to Marriott hotels in the U.S., with plans to expand to additional markets in North America. The NodesNow Solution aims to redefine the meeting experience by eliminating the necessity for multiple in-room devices: NodesNow's "Collaboration Eco-System" will help meeting participants engage in on-site and hybrid meetings via a high-contrast, 4K multitouch screen, integrated microphone and speaker systems, and a cloud-based collaboration space that lets meeting participants—whether local or remote—actively contribute by sending sticky notes, sharing files, and more.
Tripleseat, which provides cloud-based event management software for the hospitality industry, has acquired Attendease, a meeting and event software for enterprise and corporate planners. The new partnership will combine the two brands' ecosystems, therefore providing end-to-end event management solutions for both corporate and social planners as well as event managers at restaurants and hotels. The combined company will operate under the Tripleseat brand and will be managed by Jonathan Morse, Tripleseat co-founder and CEO.
Encore has hired Poonam Mohan as chief information officer, a role that will leverage technology to support the company strategy to elevate the customer experience by strengthening the culture, resources, and career opportunities for employees. Based in Dallas, Mohan will lead the company's internal technology innovation to streamline processes and solutions. Mohan joins Encore after 21 years at American Airlines, most recently as vice president of corporate and enterprise technology.
AI event intelligence platform Vendelux recently announced its integration with Salesforce, allowing marketers to seamlessly connect sales data including leads, contacts, accounts, opportunities, and account owners from Salesforce with Vendelux's real-time database of over 150,000 events covering over 60 million event data points. Vendelux's data-driven solution offers the ability to analyze the revenue impact of events, allowing marketers to understand the potential earnings of every gathering based on pipeline, target lists, and ideal customer profiles.