This Week in Los Angeles: a Flower-Filled Freight Elevator, Coachella's AR-Equipped Stage, Paramount's New Event Pro
West Coast bureau chief Claire Hoffman covers the week's biggest event news.
April 19, 2019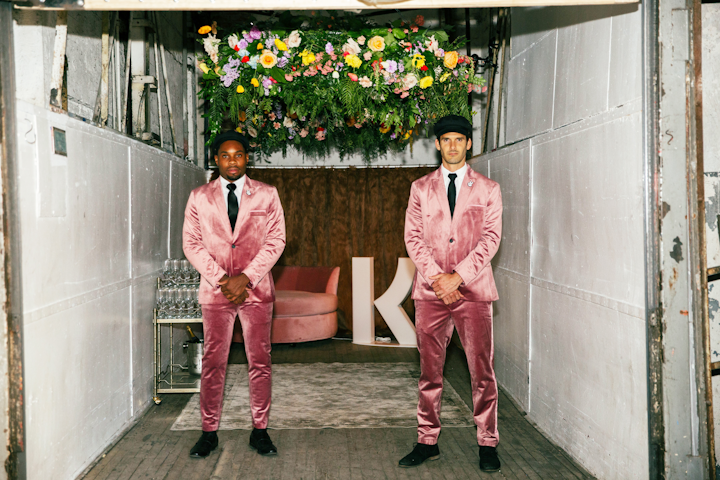 Photo: Vanessa Tierney Photography
LOS ANGELES— Welcome to BizBash's Los Angeles-based column, where West Coast bureau chief Claire Hoffman covers the week's biggest local news. Got a tip? Get in touch!
Moves & Milestones
Longtime industry vet Len Iannelli has been named senior vice president of special projects and events for Paramount Pictures' theatrical marketing team. He previously worked at Fox for more than 27 years, where he oversaw the production of nearly 600 red carpet premieres, publicity stunts, fan events, and more.
Duran Brown is the new director of global publicity for Red Bull Records. He has previously worked in communications, marketing, and events for Pandora, Adidas, and Universal Music Group.

Ryan Wollman has been named director of group sales for the Los Angeles Airport Marriott, which has a $50 million renovation scheduled to wrap up this summer. Wollman previously worked as a senior sales executive at the JW Marriott Washington, D.C.
In Case You Missed It
We explored a slew of parties and brand activations during the first weekend of Coachella; head to our Instagram for a look at all the colorful details, and look for full coverage on BizBash.com next week.
We also learned about Stacks House, downtown L.A.'s latest pop-up "museum" that focuses on financial education and empowerment for women.
In the News
The production designer for Ariana Grande's headlining set at Coachella wanted to create a "strong, feminine, futuristic, cosmic world." The Hollywood Reporter: "That was the goal for LeRoy Bennett, C.E.O. and creative director of Seven Design Works, when he developed her performance with Grande and her choreographers Brian and Scott Nicholson ... Bennett calls [Coachella] 'an extension of what we're doing on the tour.' The difference: 24 dancers instead of the 12 on tour, plus guest performances by NSYNC, Nicki Minaj, Diddy, and Muse."
With the Oscars taking place a full two weeks earlier in 2020, the film awards calendar is more condensed than ever. IndieWire: "The schedule is now so short that the Academy pushed the Scientific and Technical Awards out of the awards season altogether, to June 2020. ... The Santa Barbara Film Festival, which features conversations and panels with Oscar contenders, is now in the middle of January, rather than February. It will overlap with the Sundance Film Festival. ... This shortened schedule means that Academy members, who often catch up on screeners during the holiday vacation, have less time to watch films before the five-day nomination period begins January 2.
With the completion of a canopy that will support the transparent roof, Inglewood's new N.F.L. Stadium in Inglewood is officially two-thirds complete. Curbed: "The newly complete shell atop the venue will support the other two components of the stadium's roof: a cable net system and the clear plastic cover, which will be made of a transparent material called ETFE. When the stadium opens [in summer 2020], a 70,000-square-foot Oculus display will hang from the roof. The dual-sided display will be the first of its kind, according to the Los Angeles Stadium and Entertainment District."
Surprise Event Metric of the Week
1,000—the number of watermelons used as decor at the launch party for Ciroc's new Summer Watermelon flavor. W2 Creative handled design and production for the Coachella-related event, which took place in Palm Springs on April 12.
Venue Buzz
Tocaya Organica opened its 13th location in the Atelier Building downtown on April 8. The modern Mexican eatery from the Madera Group has bright wood and overhanging greenery, plus an open kitchen, a standalone bar, and a floating staircase that leads to a mezzanine area. The menu uses locally sourced ingredients with an emphasis on vegan options and grass-fresh meat. The venue seats 111 people.
The Westin Long Beach has kicked off a $23 million renovation, scheduled to be completed this summer. In addition to a refreshed lobby and guest rooms, the restaurant Navy Proof Food & Spirits plus a Bluestone Lane coffee shop will be added.
Overheard
"[AR] will fundamentally change how people interact with music, concerts, and each other."
—Sam Schoonover, Coachella's digital innovation manager, discussing the festival's first AR-equipped stage with Billboard. The experience debuted at the festival's Sahara Tent last weekend; guests could use the Coachella app to see planets, astronauts, and other outer space-theme images floating above the crowd during performances.
On the Scene
For last weekend's L.A. Times Festival of Books, event producers JJLA worked with artist Kalae Gam to create an installation made from newspapers. 
What's Next
Today kicks off the second weekend of Coachella at the Empire Polo Fields, while the following weekend will see the country music-focused Stagecoach Festival on the same grounds. Back in Los Angeles, WeDay California—a day of activism-focused panels and performances—takes over the Forum with host Neil Patrick Harris on April 25.
And next weekend kicks off the M.L.B. Food Fest at Magic Box at the Reef. The food festival, which offers eats from all 30 ballparks around the country, will also travel to New York and London.