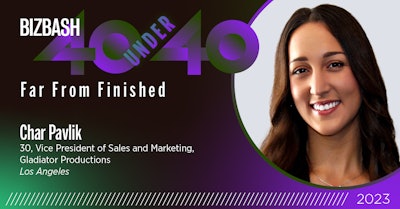 Char Pavlik is the 30-year-old vice president of sales and marketing for event production company Gladiator Productions. She's based in Los Angeles.
What my day-to-day looks like:
Day-to-day is an unforeseen juggling act between client outreach, brand marketing, and event production. As most of us in this industry experience, our best-laid task lists often go awry!
My leadership style:
I manage a team of eight and my leadership style is about open communication. I make sure my team feels supported everyday so they have the willingness and excitement to complete their tasks while staying dedicated to the various projects coming up on the calendar. Leadership is knowing not everyone (including ourselves) is perfect, and being conscious of how to empower employees in a way they are most responsive.
My career journey:
I started my career right out of college on the brand side, where I worked in the sales department for a clothing company. In this role, I managed wholesale accounts along with attending trade shows and planning sales meetings. This exposure to industry events fueled my motivation and interest to pivot my career journey in seeking out event-focused jobs, which eventually landed me at MAC Cosmetics as an events manager for North America…and that's when things really kicked off!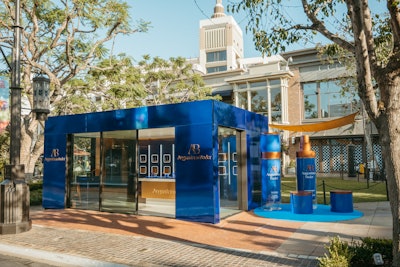 My greatest career accomplishment:
Where I currently sit as an executive leader at a company has been a career goal of mine from early on. There is something to be said for recognizing your capabilities and working to challenge and strengthen them. It motivates me to fill big shoes and make things happen!
My most memorable event:
LA Pride 2019! I was a part of the production for a brand sponsor activation within the festival grounds in West Hollywood, as well as leading their parade contingent!
Some impressive stats I'm responsible for:
With marketing being a main function of my role, company awareness and growth (both externally and internally) are a main part of my daily tasks. Navigating social networks has been a new endeavor as my previous roles have focused on sales and events. Since taking over our Instagram in late 2021, I've grown our follower count by 64%, which feels like a huge win in my book!
A time I averted a complete event disaster:
At Gladiator, we regularly work on influencer programs inclusive of mailers, deliveries, parties, and trips. Sometimes for trip-focused programs, it is requested that private planes be the main mode of transportation for getting attendees to a selected destination. On one trip, I received a call at 10 p.m. at night informing me that our scheduled plane was having technical difficulties and there was no way to transport the group of influencers the next morning—which was in no way acceptable for an event catered to VIP attendees! After minor panic, a few calls, and strongly worded phone conversations, an entirely new aircraft and crew were recruited to complete the trip with no effect to the event's agenda. In a time of crisis, you can't take no for an answer—as I like to say, there is always a solution!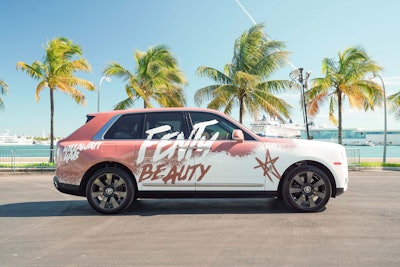 What inspires me:
Music. It always realigns my headspace and pumps me up when having creative block.
The advice I would give my younger self:
Watch and learn! This industry is the epitome of "learning on the job." The best way to gain valuable knowledge is finding mentors to look up to and allowing them to show you the ropes.
My ideal day OOO:
Pampering myself with a facial or massage, exploring a part of the city I haven't been to yet, getting drinks and appetizers at an underrated hole-in-the wall restaurant, and ending the night with some live music while dancing the night away!
What's next for me:
Continuing the path of growing personally and professionally—getting my Gladiation on!
---
BizBash's 2023 40 Under 40 list is sponsored by VDA, a Massachusetts-based experiential marketing and event design agency that specializes in custom live, hybrid, and virtual experiences designed to drive business growth through client collaboration and creative thinking.