How HP Created the Coolest Spot at Coachella
The tech brand showcased the power of its technology in a psychedelic, interactive space with EDM band Rüfüs Du Sol.
May 7, 2019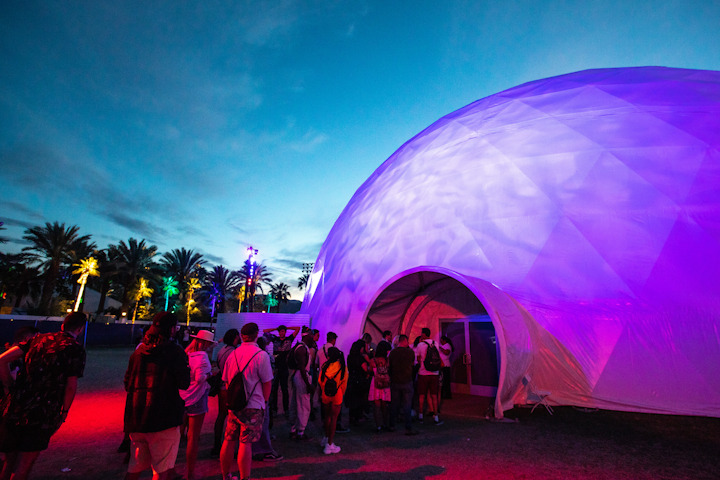 Photo: Courtesy of HP
INDIO, CALIF.— The night before the official launch of Coachella's first weekend, a group of V.I.P.s and press loaded onto a series of buses with blackened windows. Their destination? HP's mesmerizing activation on festival grounds, which consisted of an 11,000-square-foot geodesic projection dome—what HP bills as the largest temporary dome in the world—called the Antarctic Dome.
Why so much secrecy? HP was hosting the first brand event on Coachella grounds before the festival actually kicked off, which meant guests had to sign an N.D.A. promising not to spoil anything they saw during transport. Once they arrived at HP's immersive experience, though, the social media-sharing was greatly encouraged.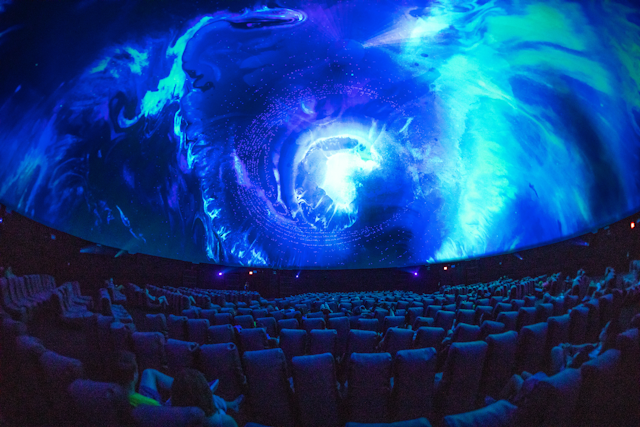 The air-conditioned space featured an immersive, 360-degree music video from EDM group Rüfüs Du Sol.Photo: Courtesy of HP
"It's really about connecting with festivalgoers in their preferred environment," explained Emily Ketchen, HP's head of Americas marketing. "In all the research we've done on Millennials and Gen Z, their number-one passion point is music. So we're creating that emotional connection with the audiences we're trying to reach."
"Coachella is a fantastic intersection of music, of fashion, and of technology in a very authentic way," she continued. "Technology plays deeply into music, so we feel like [Coachella] is a very natural place for us to be. [We wanted to] get people in a place where they can touch and spend time with our technology in a way that's authentic."
The V.I.P. evening marked the world premiere of Australian EDM band—and Coachella performer—Rüfüs Du Sol's new 360-degree "Underwater" music video, an abstract short film directed by James Frost and created with the HP ZBook Workstation. Throughout Coachella's two weekends, attendees could experience the film themselves, where it played every 15 minutes in the comfortable, air-conditioned environment.  
"The partnership with Rüfüs Du Sol came about very naturally," Ketchen said. "As an EDM band and a set of musicians, technology is very near and dear to their hearts." While HP has worked with musicians at Coachella in the past, this year the brand centered the entire experience around the "Underwater" music video.
"So rather than having other content, which we had in 2017 and 2018, this year the whole experience was based around the collaboration with the band, their creative director, and the five digital artists who created the movie," she explained. "It was a way to tell a unique and different story, and offer a unique and different experience to festivalgoers."
"We really looked at how we could improve the experience we had had the year before," Ketchen continued.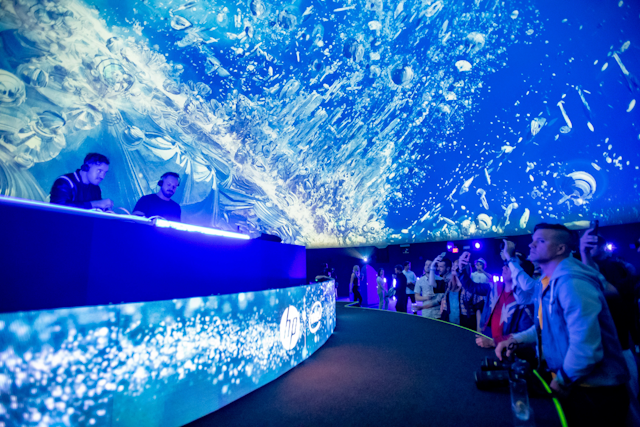 During HP's V.I.P. preview event on April 11, Rüfüs Du Sol played a DJ set and participated in a panel discussion on the intersection of music and technology.Photo: Courtesy of HP
In addition to the dome, HP's festival activation included a colorful, psychedelic lounge and patio that emphasized interactivity. Guests could create custom, sustainable backpacks using HP x360 laptops; another interactive element included the "Lucid Dreaming" photo experience, which allowed attendees to manipulate images by moving their bodies.
"It's a phenomenal way for folks to express themselves," explained Ketchen. "And that's really what we as a brand want festivalgoers and fans to do, is to use our technology to express themselves. It's not about a brand speaking at you—this is all about how you create, and how the threads of our product help you express yourself."
HP worked with Infinity Marketing Team to produce the event and activation; it was the brand's third year as Coachella's tech sponsor, and the third year of the Antarctic Dome. HP has also activated at festivals including Panorama and South by Southwest.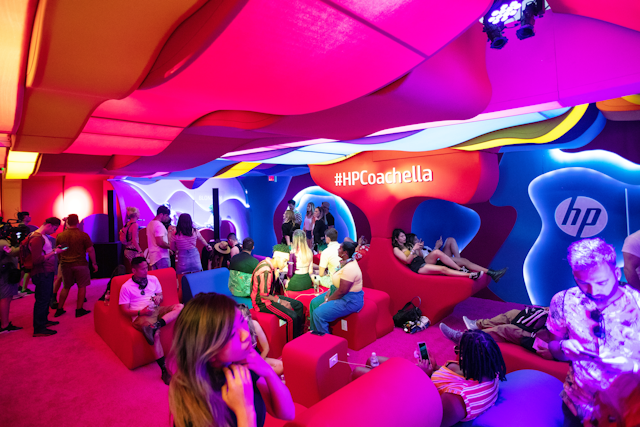 While waiting in line to enter the Antarctic Dome, festivalgoers could visit the colorful "Dreamland" lounge, which included DJ performances and interactive activities.Photo: Courtesy of Infinity Marketing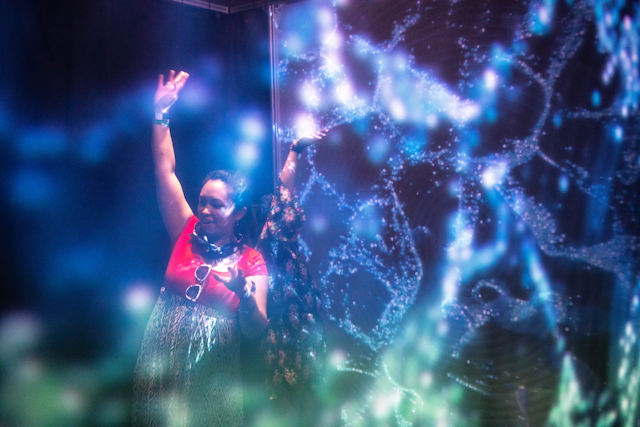 In the "Lucid Dreaming" photo op, HP Spectre Folio laptops were used to create abstract backgrounds that could be manipulated as the subject moved. Infinity Marketing Team worked with Artechouse on the activation.Photo: Courtesy of HP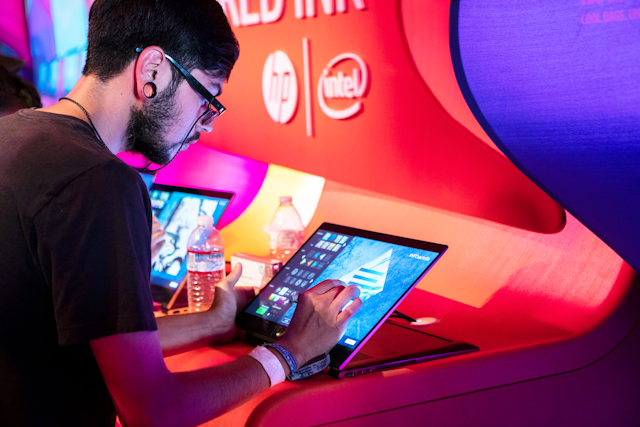 Guests could design their own drawstring backpacks at the "Inspired Ink" station, choosing from an assortment of funky shapes and colors. The backpacks were printed on-site for a custom piece of swag.Photo: Courtesy of Infinity Marketing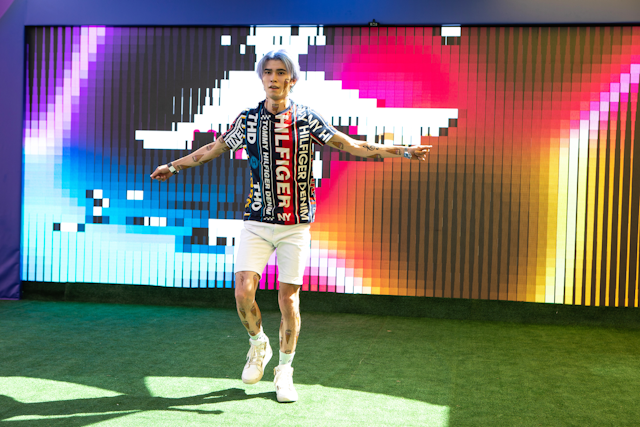 HP's activation also included the interactive "Affirmation Wall," which attendees could manipulate by moving. As the graphics moved, inspirational phrases celebrating diversity and inclusion were revealed. HP fans who didn't attend the festival could also access the wall via a web app. "The idea was that people who were not at the festival could be part of the experience, which is important to us as well," explained Ketchen.Photo: Courtesy of HP