Haute Rods
Check out the artist-altered Beemers at Grand Central while waiting for your track announcement.
March 27, 2009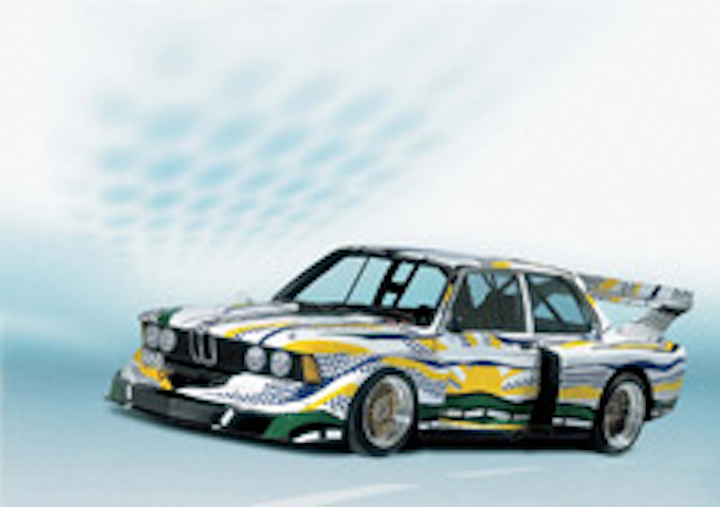 Photo: Courtesy of BMW AG
If you watched Batman as a kid, then you'll remember that one of the best episodes showed a "paint off." The Joker and Batman competed, as did Salvador Dalí (or a look-alike) plus a few others. It was meant to be an indictment of modern art, the type that was big in the day and still lingers; the notion is similar to "Put 100 monkeys in front of a 100 typewriters for 100 years and one of them will write a Shakespeare play." One competitor was pouring paint from the bucket onto the canvas, à la Pollock, albeit in primary colors. Another artist heaved and gesticulated torturously in front of his canvas but neglected to make a single mark. Batman, being the nerd, labored over his realistic work. I don't remember who won, but it was a great show. And as a 7-year-old, I was able to get the joke.

In Grand Central Terminal's historic Vanderbilt Hall (once the station's main waiting room), BMW has staged a public two-week exhibit that comprises artist-altered autos, unimaginatively but aptly called "BMW Art Car Collection," or "Art Cars" for short. (One of BizBash's news editors already posted a report, with more photos, here.)

I worked on the Louis Vuitton Classic, where antique cars were lined up for a week in Rockefeller Center, so I know that an undertaking of this sort is a big deal. And to supplement my knowledge base, I dragged along my friend, the German contemporary art collector Tillmann Bronner, who was luckily in town from Berlin. Did I mention I own a BMW convertible? Suffice to say, I was all psyched up.
So, first of all, of the five cars on display I really liked three. The Stella, Lichtenstein, and Rauschenberg models were all exemplary of the artists' oeuvres. These cars were all in immaculate condition, despite having been driven in the grueling Le Mans, flown from Munich in "special aluminum containers," and trucked over from Los Angeles. The video mentioned restoration, which raised all kinds of red flags in my mind about art versus commerce, but you know what, I just let it go. I did learn that Auto Sunroof of Larchmont, New York, where my mother's family hails from, provided the pallet and car elevators. Go Larchmont! Staging was done by Czarnowski Custom.

The nifty red booklet that BMW handed out showed a collection of 16 cars, including those decorated by Calder, Sandro Chia, and Jenny Holzer. All are insured as works of art but, sadly, only four made it to Manhattan. Sadder still, one of them was by Andy Warhol. He was the only artist of the four to actually paint the car himself (the other artists worked on scale models, then supervised assistants and printmakers in the execution) and it shows. Lazily conceived, sloppily executed, and ugly to boot, the Warhol M1, when seen side-by-side with three real masters' work, serves to singlehandedly explain why the world's most overrated art huckster is probably still laughing on his way to the piggy bank in the sky.


The numerous signs and videos tell you fascinating things about the cars and the artists. Rauschenberg's car was not silk screened as I thought, but appliquéd with printed vinyl sheets. (Thanks, Tillmann)
So few cars were on hand because half the exhibit is devoted to BMW's new ragtop roadster and the artist Robin Rhode. If you have concerns about the propriety of artists being commissioned to paint cars, well, this installment will put you over the edge. But if, like me, you remember Batman and the Joker in their painting competition, you will just love the film by Jake Scott that shows you what this year's "Art Car" is all about. 

Rather than just paint the car, Rhode attached spray nozzles in primary colors (just like on Batman!) on three of the tires. Then he handed a sketch to a stunt driver. (The sketch was an abstract outline of the car, a point which the film and literature allude to, but do not fully convey, thinking, perhaps wisely, that the end result was too heavy on the commerce side of the scale.) As far as I am concerned, the driver did all the painting. Oh no, that's not fair. Rhode also "pulled a Pollock," splattering a canvas with yellow paint as fellow artist/actor Dennis Hopper captured the moment on film. These images, credited on the signage, are also to be included in an issue of Vanity Fair, where Mr. Hopper is a contributing editor. But when I asked one of the nice PR ladies which issue to look out for, I realized she did not know Mr. Hopper was at all involved.

Good rule of thumb, folks, make press handlers read the materials. Always helps. Luckily, Barbara Wagner of Rubenstein Communications was a real pro and told me to look for the June issue. She also told me that each car has a designated Global Security Services guard and that there have been no incidents by oddballs to date. Also, the cars are touched only by white-gloved handlers.

I did notice at the press launch that the shift plate in Robin Rhode's car was improperly mounted, so Barbara, please dispatch one of your white-gloved ones to check it out. Looks like that bay should pop right back into place.

But don't take my snarkiness for disapproval. This handsome display is a perfect 10-minute time killer while waiting for the 6:01 to Groton. The line between fine and decorative art is one that I have never respected, and neither do these cars, which I think serves a meaningful public education purpose, albeit maybe not one that BMW had in mind. Still, I'd drive off in one of them in an instant, and that, I think, is what BMW had in mind.
Featured Venues/Suppliers: