Hollywood Party Secrets: Former 'In Style' Event Guru on What Goes on Behind the Scenes
Cyd Wilson—the planner behind events for In Style and People for nearly two decades—talks about her favorite event designers, the biggest parties she's pulled off, and her secrets to entertaining celebrities.
June 5, 2013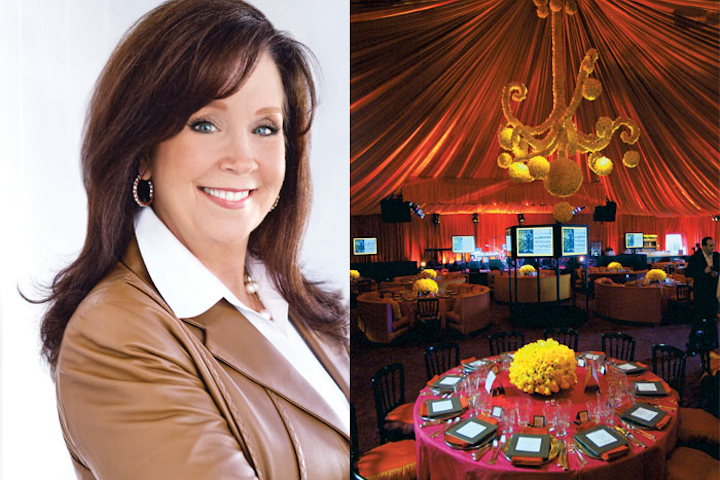 Photos: Taili Song Roth (Wilson), Kevin Mazur/WireImage (Elton John Party)
Cyd Wilson ran special events for In Style for 17 years, and 10 years ago added mega-magazine People to her résumé. In May, she left her position as director of creative development at Time Inc. to launch her own firm, Cyd Wilson Entertainment Marketing. (In Style is still a client; she'll continue to work on its Golden Globes post-party, events surrounding the Toronto International Film Festival, and more.)
Cyd and I have known each other since she first joined In Style, and we collaborated on many events in the magazine's early years. Before leaving Time Inc., she took a breather to give me a bird's-eye view at Hollywood party planning's top tier.

Explain to me just what it is that you do.
Everyone thinks I spend my whole life planning parties. But that is ­really only about a third of my role here. Special events are just part of our ongoing marketing outreach to the entertainment and celebrity communities. We create ongoing business partnerships that help build the brands and expand the magazines' franchises with the communities they write about.

But you've done a boatload of parties. Humor me and let's start with a laundry list.
Let's see. We've been doing the In Style Warner Brothers Golden Globes viewing dinner and post-awards gala for 15 years now. We did the Elton John AIDS Foundation In Style Oscar party for nine years [from 1996 to 2004]. People sponsors the Screen Actors Guild Awards post-­party, which is that event's equivalent to the Oscars Governors Ball. Basically everyone comes down a chute from the Shrine Auditorium into our giant tent on the parking lot. The cast and team for each show and movie nominated has their own sanctioned sitting area, which is our trick for making people stay.

In Style has sponsored an event with the Hollywood Foreign Press Association, which runs the Golden Globes, at the Toronto Film Festival for the last 12 years. It's on the last day of the festival, and we've heard that studios make sure their films' talent stays because it is so important at that festival.

But we do all sorts of wonderful, one-of-a-kind parties that tie into the magazine and our constituencies in all sorts of ways.

Take me inside one of them.
One year Jennifer Aniston was on the cover of In Style's September issue. That same year, MOCA debuted its annex at the Pacific Design Center (which we affectionately call the Blue Whale). As a way to celebrate both the issue and the fusion of fine art and decor, we did a photography show. But to make it memorable, Brad Pitt lent us his magnificent ­collection of mid-20th-century ­furniture. Eames, Mies van der Rohe, you name it. So it was like going to a party in a giant living room where Jennifer and Brad lived.

You spend a lot of your job entertaining celebrities. What are some of the secrets?
Celebrities are our business, so keeping them happy at our events is our main objective. We try to invite guests they are comfortable being in a room with, so they will stay longer. We invite their agent, manager, stylist, hairdresser, colleagues they work with, and personal friends. We call that "the six degrees of separation."

We try and give them a comfort area, where they don't feel on display. This does not mean necessarily a roped-off V.I.P. room—sometimes that can backfire. And we really limit access to photographers inside the parties ... no one wants to be photographed with a drink or a cigarette in their hand.
[Click here to see Cyd's guidelines for staff at events where big celebrities are on hand.]

What considerations do you keep in mind when hiring a planner?
I never hire an event planner. That is what me and my team do. Nothing against event planners!

O.K., well that clears that up. How about event designers? You have worked with some of the best. Who stands out?
Oh that is so hard. For the last five years we have been using Tony Schubert of Event Eleven for our SAG party. His 2012 design made me weep.

The first year we did the Elton John party, Elton recommended we use Stanlee Gatti. At our first ­meeting, he told me the party would be "red with yellow highlights." That's it. I am used to approving every napkin, but it was our first year with Elton, so we closed our eyes and jumped. It was the most gorgeous party we had ever been involved in—all red silk with a 20-foot tree sculpture in the center covered with daffodils.

I also love the work of Peter Otero of Silver Birches. He has styled our Diamond Fashion Show, which kicks off our Oscar week, and has done every year since its inception.

But I have to single out Tom Ford. The event stylist from Los Angeles, not the fashion designer. When Ariel Foxman was named editor in chief of In Style, we wanted to shift our Globes decor to a more masculine look with darker colors, simpler design. He created a penthouse in the sky that overlooked all of Los Angeles. Keep in mind our Golden Globes party is in the same location every year, the Palm Courtyard of the Beverly Hilton Hotel. The tent floor is built over the pool, by the way. But he created these duratrans that showed windows in neighboring buildings, and people could look out a series of 8- by 10-foot windows and see people in nearby office towers working at their desk, eating lunch. Everyone was commenting that they had no idea that the hotel had such great views!

Certainly not all your events have been perfect.
Once a designer left out a whole wall that his designs included, and that we needed for security. Another designer called me the night before our Oscar party and told me that we would be $150,000 over budget, but "not to worry, little girl." And don't even try to get me to tell you who, but just know that I don't work with either of them anymore.
Featured Venues/Suppliers: