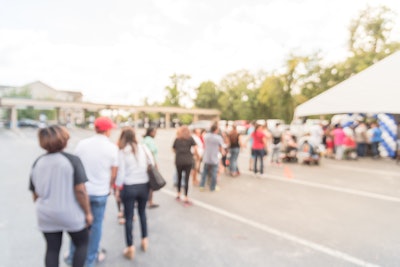 Photo: Trong Nguyen/Shutterstock
What kinds of things tend to stand out to you when attending an event you didn't plan—and how would you fix them? We took to social media to poll #eventprofs on their biggest pet peeves as an event attendee. Here's what 22 of them called out.
1. A lack of signage, or an event space that's difficult to navigate.
For Melissa Park, owner of New York-based Melissa Park Events, the experience starts the moment she arrives at a venue. "Is the event space easy to locate from the carpark and public/private transportation drop-off points? If I have to search or guess whether to turn left or right at any point on the journey, it really irritates me," she says.
And don't neglect the event's main entrance, Park adds. "The journey to the event and first main event space—often a convention center concourse housing registration—sets the scene for what we can expect inside," she points out, advising "impactful branding, a DJ, roving entertainment, and/or Instagrammable photo opportunities—and team members, aka 'human directionals,' who are very well briefed and know what they are doing—are essential."
Shaun Gray of Shaun Gray Events, LLC, in Houston, makes a similar point. "When I walk into a space and I'm confused is a pet peeve—[if] it's not clear where I can sit, if I can sit, what I'm supposed to be doing," he says. "I think hosts have a responsibility to communicate clearly what they want their guests to do at specific times."
Quite a few other event professionals listed difficult navigation and a lack of communication as their No. 1 pet peeve. "Nothing drives me crazier than a lack of signage, especially if the venue is large or has a complex campus," agrees Amanda Ma, founder and CEO of Innovate Marketing Group in Pasadena, Calif. "It shouldn't be a mystery for attendees to find where the event is. … It starts with good communication when sending out 'Need to Know' attendee information."
Robert Krumbine, chief creative officer at Charlotte City Center Partners in North Carolina, advises walking the space and imagining yourself in the attendees' shoes. "It seems like planners forget to walk the site to see where problems or bottlenecks may occur. One of the top 10 rules is to be omniscient—see the event before it happens to ensure success," he says.
2. A neglected focus on the small details.
As event professionals know, it's the little things that will leave a lasting impression on your guests—for better or for worse. For example, New York-based event producer and marketing strategist Deidre West always notices things like empty glasses and used napkins that pile up because there aren't enough bussers, or the lack of a coat check during winter months. Another pet peeve? "When a venue has not properly cooled down a space prior to the event, therefore you can barely enjoy yourself because it is so warm," she says.
Jordan Kaye, owner of Analog Events & Marketing in Los Angeles, calls out long bar lines, "especially when there are very complicated specialty cocktails—[you] always need more bars and bartenders to keep that flow moving." Meanwhile, Chantel Megaffin, manager of event and stakeholder experience for Elevate in Toronto, calls out "passed apps that aren't bite-sized. It's hard to hold a glass and also eat something with a fork unless I'm at a table." And Rachel Heller, Boston-based senior event content manager at Bizzabo, gets annoyed by "badges that have to constantly be readjusted or don't show someone's name/company in a large enough font."
"Also for conferences, if there's not a place to leave luggage that's convenient it's a bummer," adds Natasha Miller, owner of Entire Productions in San Francisco. "[And] if the sound is too soft or too loud, or if it's too cold or hot. I think taking care of basic needs first and foremost can sometimes be overlooked. Once you have Maslow's Hierarchy of Needs covered, then it's on to the intricacies and details. It all matters."
3. No guest Wi-Fi, or a lack of power outlets.
Don't forget that in today's remote world, attendees will often want the option to get work done while on-site—and reliable Wi-Fi is crucial for making that happen, notes Jonathan Jow, director of strategy for BoothEasy Photo Booth Company in Austin. "Most people attending conference-type events will need to check in to work virtually in between sessions or meetings," he says, adding that quiet work spaces and built-in breaks are also an important guest accommodation.
Along the same lines? Don't forget to have plenty of power outlets, advises Maggie O'Reilly, founder of Chicago's Hummingbird Meetings & Events. "Charging phones and laptops is always needed, but having the areas accessible and comfortable is key," she says.
4. Food and beverage options that ignore dietary restrictions.
In this day and age, there's little excuse for ignoring guests with dietary restrictions, argued several of our respondents. And Heller gets frustrated "when it's not clear during a buffet what dietary restrictions are being accommodated—i.e., when food isn't labeled," she says.
Wayne Hoffman, a mentalist and event entertainer based in Estero, Fla., stresses a similar point about beverages. His biggest pet peeve? "A lack of tasty drinks besides alcohol," he says. "Water and soda just don't cut it."
And of course, a focus on inclusivity should extend to accessibility. "A lack of ADA accessibility is unfortunately still a problem at some events," points out Madeline Raithel, senior communications specialist for marketing agency PACIFIC in San Francisco.
5. Too much waste.
Today's event attendees care about sustainability more than ever—and they definitely take notice when an event is wasteful. Vanessa Lovatt, the U.K.-based global director of consumer engagement for event communications platform Notified, is immediately turned off by waste in terms of "printing, swag, glossy signage that can't be recycled, food, one-time use booths, and the general lack of recycling afterward," she says.
That focus on sustainability should extend to packaging and plastic, too. Janice Cardinale, the owner of Toronto's Cardinale Creative, advocates for more water stations placed throughout an event space. "[There are] never enough, and I wish I did not have to watch the sale of bottled water," she says. "This industry should know better."
6. Poor audiovisual production or stage management.
For Channing Muller, principal of DCM Communications in Chatanooga, Tenn., nothing frustrates her more than bad audiovisual production or lighting at an event. "Do a sound check, test your video, and make sure lighting works fully across all mediums—particularly if it's a hybrid event," she advises. "Pretend it's like a dress rehearsal in the theater world, and do it full out. There is nothing worse than music too loud to talk when the purpose of the event is networking, and/or speakers who cannot be heard and seen when they are there to educate and inspire."
Krumbine agrees. "I'm always surprised when it seems like tech/production is an afterthought, [with] bad lighting, poor sound reinforcement, and unrehearsed presentations," he says.
Tisha C. Jack, event consultant for TCJ Events in Trinidad and Tobago, often finds herself distracted by poor stage or production management, like "production missing cues, or having the MC working overtime trying to manage the flow because presenters or entertainers are not ready when they should be," she says. "I recently attended a show and I was actually able to enjoy it—and not have to work hard to turn my brain off—because everything was running smoothly!"
7. An overpacked agenda.
Several respondents also stressed that built-in breaks are more important than ever. Thuy Diep, an experience designer based in Los Angeles, advises against overpacking the agenda and leaving little time for attendees to relax and refuel. "Especially coming back to in-person events—it's more exhausting and energy-taking nowadays," she points out.
And make sure breaks are long enough to actually be recharging, and that attendees don't need to walk a long way to find coffee or other refreshments during those breaks, Heller advises. (And offer more than just coffee, she adds: "I don't drink coffee and always wish there were more tea options.")
Meanwhile, John Marte, a New York-based senior events partnership consultant, doesn't love when multiple sessions that appeal to the same guests take place simultaneously. Recognizing that it's sometimes a necessity, though, he suggests offering a way for attendees to access the content after the event wraps. "With so many incredible speakers and topics, I wish I could be at them all," he explains.
8. An agenda that doesn't run on time.
Rachel Russell, the Los Angeles-based field marketing manager for financial services company ONE, gets frustrated when an event's timing and content significantly deviate from the agenda. "If the event organizer takes the time to create and share an agenda, they need to make sure they're actually following it," she points out. "Speakers not showing up and sessions running much longer or shorter than expected cause a negative impression for attendees."
Her tip? "In case speakers have not taken the necessary time to rehearse, make sure you—as the event organizer—add a countdown timer to your AV order," she says.
Along the same lines, Kate Romano, director of marketing at Opus Agency, gets frustrated "when the session descriptions don't match the actual presentation."
9. Event content that doesn't add value.
If attendees are taking the time to attend your event, remember to add real value to your content sessions. Heller, for example, doesn't appreciate when "a large percentage of the agenda are the same sessions and speakers repeated year over year, or when keynote sessions are two hours long," she notes.
Two more of Heller's pet peeves? "A lack of interactive content (workshops, labs, discussions, etc.), especially for in-person events, and when DEI is not considered as a core part of an event's speaker recruitment strategy," she says.
---
Despite the pet peeves, though, Diep shares a useful reminder to event professionals: Sometimes, you just need to enjoy being an event attendee. "We're constantly analyzing and judging experiences due to our profession, and we lose the ability to be present in our roles as guests," she points out. "Remove that critiquing mindset, and enjoy being in the now."
Editor's note: These comments were shared by readers on our social media networks. Join our discussions on LinkedIn, Twitter, and Facebook.