BizBash C.E.O. David Adler: Staying Fresh When You Use the Same Venue Every Year
Musica Angelica Baroque Orchestra's annual fund-raiser and Long Beach Convention Center demonstrate how to turn a venue into an annual home.
June 28, 2019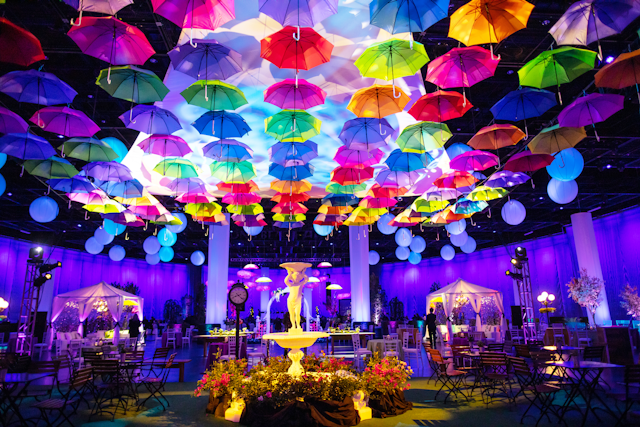 A canopy of colorful umbrellas provided vibrant ceiling decor at the 2019 edition of the gala.Photo: Courtesy of Musica Angelica Baroque OrchestraDavid Adler (@DavidAdler) is the C.E.O. and founder of BizBash.
One of my great pals, Steve Goodling, is the president of the Long Beach Convention & Visitors Bureau. He is one of the most progressive leaders of a convention bureau because he is an expert at turning uninspired spaces into vibrant face-to-face gathering spots. Steve is my guru on activating unused spaces into dynamic gathering spots. He took a parking lot entrance and turned it into an event space and took a bridge from a utilitarian walkway and turned it into a meeting place and art project. Five years ago we worked together on the opening of the Pacific Ballroom that converted an old concert arena into a flexible, new-style event space that is used for everything from general sessions to gala fund-raisers to town hall meetings. So it is under that context that he suggested I focus on a story on one of his favorite charities, Musica Angelica Baroque Orchestra, and how it successfully uses the Pacific Ballroom for its gala.
A great venue is like a blank canvas for event organizers. It's a gathering spot that is part town square, part living room, part backyard. Like in a home, it is where people celebrate, learn, and grow. Despite changing themes or decor year to year, annual events are often hosted in the same event space, because when a space works, it allows for both creativity and familiarity.

While events are temporary environments built to give attendees a fresh experience every time, attending an event at the same venue as the year before allows for a layered experience as new memories are built on past ones. A theme can change or it may stay the same and thus become the very life of an event. Musica Angelica Baroque Orchestra, for instance, adopted a garden theme in 2015 when it held its first gala highlighting Long Beach, California's charitable scene. The inaugural event was held at the residence of California State University, Long Beach president Jane Close Conoley. The outdoor garden theme captivated attendees, so that when the event moved in 2016 to the Pacific Ballroom at the Long Beach Convention and Entertainment Center, the theme was reused with new surprises. The event has been held at the convention center since, and each year the garden theme is refreshed and made new, revitalizing the same venue for a new experience.
Here are Steve's five rules on using the same event space every year:
1. The smart grand entrance is the epitome of an effective first impression.
Watch your strategy come alive within the first 15 seconds of guests entering a room. Even if you use the same venue every year, Goodling notes that it's critical to set the tone so that it presents a unique journey never experienced before.
2. Dynamic use of lighting transforms past memories of the space.
The adaptability of the space's lighting, be it lighting the walls or changing the color of moveable accent pillars, is important. Having the ability to do this on the fly is key.
3. Use reveals so guests are constantly wondering what's next.
Use what marketers refer to as activations that create surprises and twists throughout the event. Smart storytelling techniques will illustrate the journey that you need guests to go through to accomplish the strategy of the event. In large single spaces, divide the room into reception space, then transition the group to a new space so they can experience new event elements.
4. Think of Your Event as a Stage and Finish the Play.
You are acting out a play. The theme needs to be carried through all facets—food, decor, music, and even what the staff is wearing.
5. Let social participation be your barometer.
Organizers rejoice when they see an entire room of people take out their phones to capture a moment. From the first impression to the reveals, it is one of the best ways to judge that the guest experience is working.

2015 Gala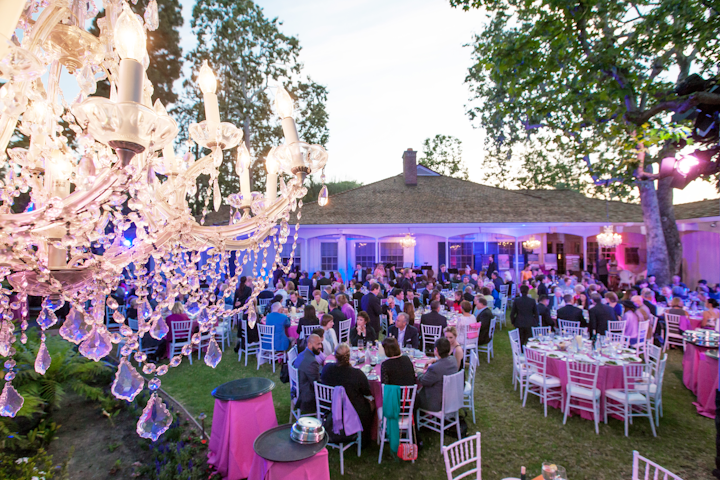 Photo: Courtesy of Musica Angelica Baroque Orchestra
2016 Gala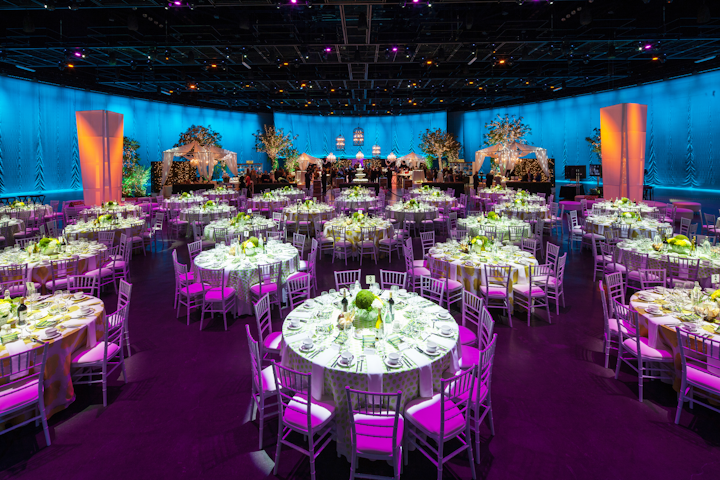 Photo: Courtesy of Musica Angelica Baroque Orchestra
2017 Gala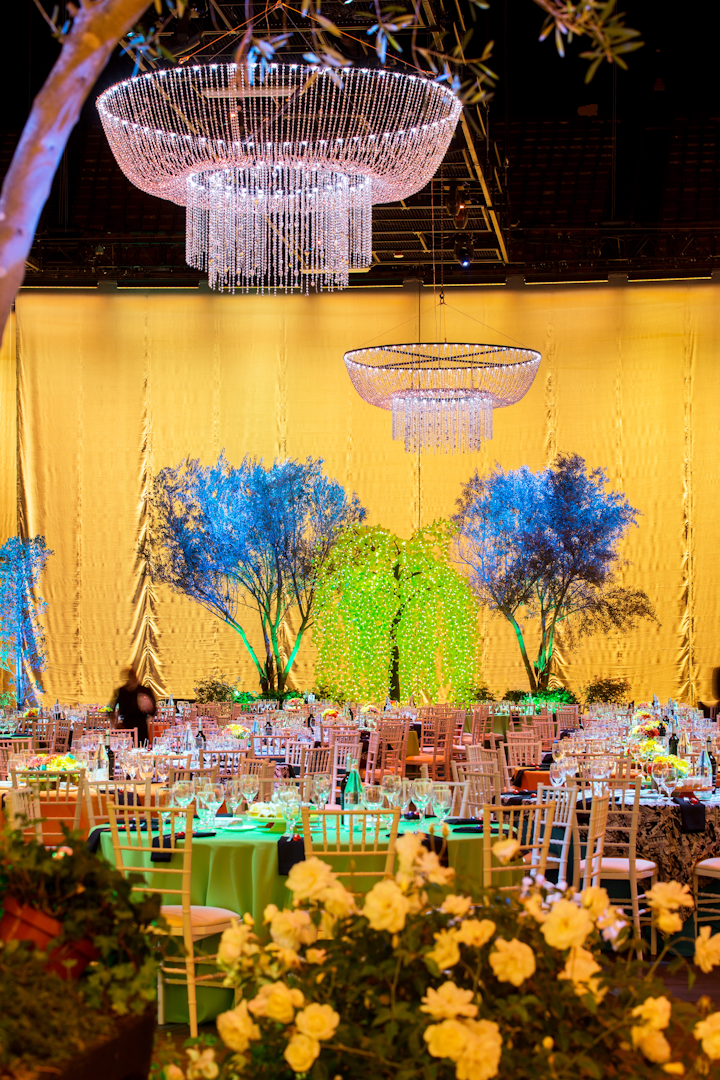 Photo: Jim Conner
2018 Gala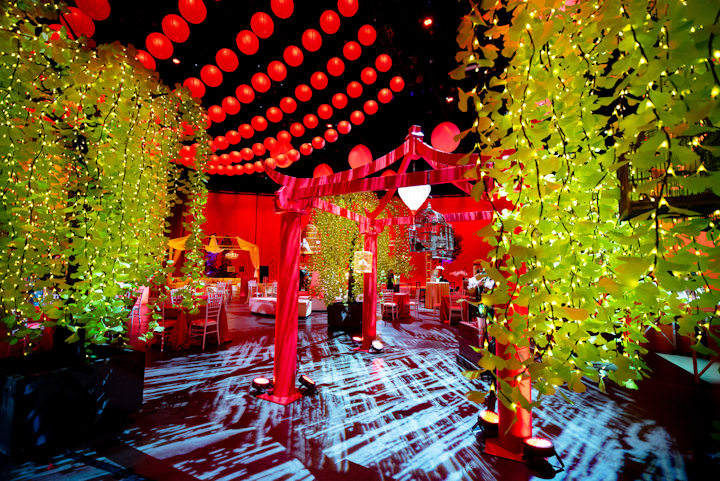 Photo: Courtesy of Musica Angelica Baroque Orchestra
2019 Gala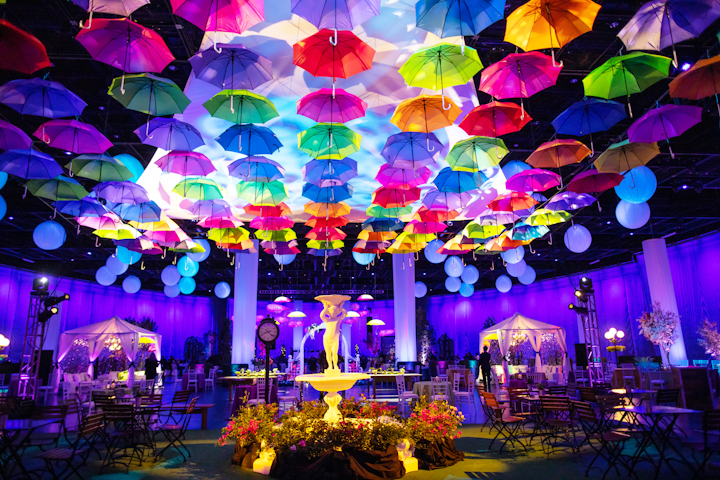 Photo: Courtesy of Musica Angelica Baroque Orchestra