This Week in Canada: The Country's Last Trump Hotel Closes, Plus Luminato's Year-Round Programming, Holiday Party Prep, and More
BizBash's new Canada-focused column covers the week's biggest event news.
September 3, 2020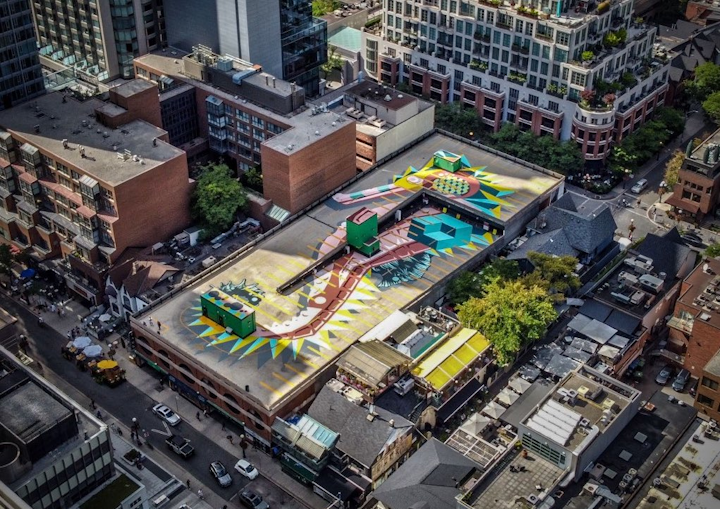 Photo: Courtesy of Yorkville Mural Festival
Welcome to BizBash's newest column, covering Canada's biggest event news from coast to coast. Got a tip? Get in touch!
Provincial News

Alberta: After stopping off in Edmonton's Expo Centre last weekend, the Western Canada Ribest Tour will take place in Calgary's McMahon Stadium from Sept. 11-13. Chefs from Billy's BBQ, Camp 31, Buckeye BBQ, and Pistol Pete's Smokehouse will serve signature rib, pulled pork, chicken, and sausage favorites available for contactless pick up via drive-through on the grounds. The tour concludes on Sept. 20 with the final stop in Lethbridge.
British Columbia: The Trump International Hotel and Tower Vancouver was shut down when operating company TA Hotel Management Limited Partnership filed for bankruptcy last week. At 63 stories, the tower is the second tallest building in the city and was home to Chinese fine-dining restaurant Moss 32, Spa by Ivanka Trump, and 15,000 square feet of meeting and event space. The hotel opened in February 2017—months before Toronto's Trump hotel location was bought up by JCF Capital and eventually sold to Marriott International Inc. under the St. Regis brand.
Ontario: Luminato Festival Toronto announced the launch of Creative Current, a new year-round program exploring multidisciplinary art and performances at various city locations. The inaugural event on Sept. 19, in partnership with Artery, invites up to 30 locals to join a bike tour of hidden public spaces and artwork throughout Toronto's Junction Triangle neighborhood. "I feel strongly that exceptional arts and culture experiences can provoke broader discussions about the big issues of our time," said new CEO Celia Smith. "I believe that Luminato can play an essential role in helping our recovery from this period of unprecedented crisis."
Quebec: From Sept. 1-3, M3/Mode Masculine Montreal ran its annual Men's Fashion Week programming over Facebook Live—using 360-degree imaging technology to enhance each fashion-focused experience. The week included talks with fashion talent support platform MMODE, Cégep Marie-Victorin's public affairs coordinator Marco Roy, and designers Yves Jean Lacasse and Pascal Labelle, plus two short films and a digital runway show broadcast live from Montreal's House of Jazz Laval.
Coast-to-Coast
With uncertainty around COVID-19 restrictions by the end of the year, BIG HQ, a Toronto-based event management company, is offering a new customizable virtual corporate holiday party service available to companies across Canada. "There's No Place Like Home For The Holidays" enables clients to pick from a range of pre-produced and interactive holiday-theme activations, such as dance parties, celebrity cameos, sing-a-longs, appearances, and visits from Santa Claus to engage the whole family. The program is in partnership with Ross Petty Productions, known for its electric holiday family musicals at Toronto's Elgin Theatre, and proceeds will support Kids Help Phone.
The National Arts Centre (NAC) has commissioned outdoor dance and theater productions by 11 Canadian companies taking place in cities across the country, beginning on Sept. 12 in Barrie, Ont. Each performance from "Grand Acts of Theatre" delivers stories of struggle and resilience in 2020, and will be filmed and shared on social media. "Grand Acts of Theatre will offer new, large-scale works by fantastically inventive artists to capture the public's imagination with artistic statements on a grand scale, inspired by these current times," said NAC English Theatre artistic director Jillian Keiley. "The artists are excited to engage with live audiences again, are ready to practice their craft with safety in mind, and looking forward to going even further, connecting with online audiences through digital technology."
A Facebook group is advertising massive foam and paint parties taking place in four cities across Canada, including Charlottetown, Fredericton, St. Johns, and Victoria on Sept. 4. According to each event page, attendees need to reply "Going" to the event, invite 50 friends, and message organizers to receive the location of each party. Several people have commented on the suspicious nature of the events, which claim to offer space for 5,000 people.
Landmark Cinemas and Atom Tickets released the results of a new survey indicating that 67% of Canadians feel ready to return to theaters within one month, while 42% are prepared to return immediately. Out of 2,000 respondents, 45% stated that spaced seating between moviegoers was the most critical safety feature, and 60% of the people who've never preordered concessions snacks—as opposed to waiting in line—said that they are now likely to try it.
Overheard
"We are thrilled to be able to partner with FedDev Ontario in encouraging a resurgence of safe, outdoor gatherings in NOTL through a series of musical performance opportunities and a few other surprises. ... We know it looks insurmountable to return to the stage in 2020, but we at The Shaw are holding onto hope for a holiday season. Our hope is a candle—it may flicker, but it will not go out. We will be hopeful for the future of our art and we look forward to the day we get to welcome our beloved patrons back to the theatre."
—Shaw Festival associate artistic director Kimberley Rampersad and executive director Tim Jennings in a Twitter announcement on performances in 2020. 
On the Scene
The SuperDogs performed at Vancouver's Pacific National Exhibition Playland for this year's drive-through edition of the event.