This Week in Canada: TIFF 2020, Plus Digital Frosh Week Activities, Cultivating Domestic Tourism, and More
BizBash's new Canada-focused column covers the week's biggest event news.
September 10, 2020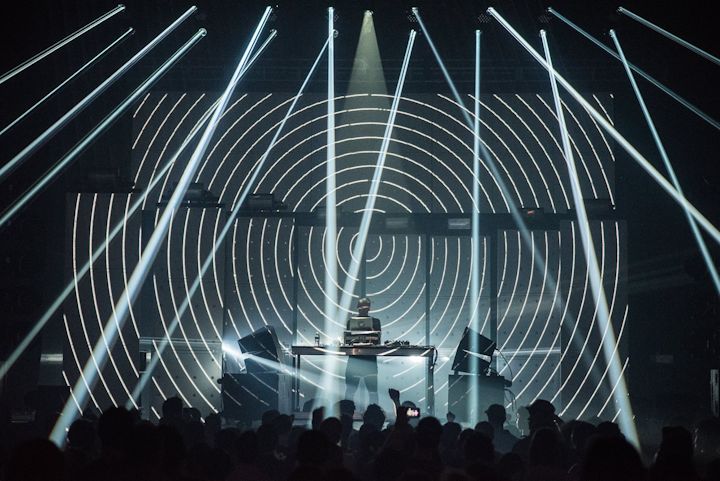 Photo: Courtesy of Mutek Festival Montreal
Welcome to BizBash's newest column, covering Canada's biggest event news from coast to coast. Got a tip? Get in touch!
Provincial News
Alberta: On Sept. 12, Tushfest Musical Society of Edmonton is conducting a telethon-style event for its 2020 music festival, which every year raises funds to purchase parking passes for cancer patients and their families at the University of Alberta's Cross Cancer Institute. Broadcast from Century Casino of Edmonton, "Tushfest 11.5" will offer never-before-seen footage of prior concerts, special guest interviews, video stories of heartfelt festival moments, and a mystery grand prize—with the winner selected from all event donors at the end of the night.
British Columbia: Vancouver-based VFX studio The Embassy conducted an online discussion on managing the pre- and post-production needs of Netflix series Warrior Nun while under quarantine restrictions. VFX supervisor Michael Blackbourn, composite supervisor Nick Whiteley, and asset supervisor Paul Copeland delved into challenges and solutions to completing work on almost 700 shots, as the only VFX team working on the 10-episode season. The event was hosted by the SPARK Computer Graphics (CG) Society, a B.C.-based not-for-profit that holds year-round industry events for CG artists and students.
Nova Scotia: The fourth annual East Coast Kite Festival, hosted by Atlantic Kite Festivals, takes place from Sept. 12-13 at Halifax's Citadel Hill. With more than 70 types of kites available for purchase or rental, the free, family-focused event includes a number of local food trucks and vendors, plus bouncing castles, face painting, and kite-making workshops.

Ontario: The 2020 Toronto International Film Festival (TIFF) begins today with screenings on the Bell Digital Cinema platform and at the TIFF Bell Lightbox, the Visa Skyline Drive-In at CityView, and Ontario Place's RBC Lakeside Drive-In, OGL Play Stage, and West Island Open Air Cinema. Industry events this year include a Twitter Canada-hosted Q&A with the cast of One Night in Miami and director Regina King; "In Conversation" segments with Halle Berry, Saoirse Ronan, and Ava DuVernay; and "Best of TIFF Reunions," which gathers casts and creators behind renowned films shown at the festival including Requiem for a Dream, Full Metal Jacket, and Room. The 2020 festival will not include the King Street West street fair, and red carpets events will be done virtually.
Quebec: Students' Society of McGill University (SSMU) is holding an online edition of its annual Fall Activities Night, which connects first-year undergrads to club and student group organizers across campus from Sept. 9-10. Students can access more than 250 virtual booths complete with club information, social media channels, and instant message, or register for one-on-one video sessions with group leaders and attend webinars covering university life and student resource topics. The event is hosted on Eventus, a Texas-based app provider specializing in digital engagement solutions for university students.
Coast-to-Coast
From now until Oct. 15, submissions are open for the SOCAN Foundation's first Black Canadian Music Awards, taking place in collaboration with SiriusXM Canada later this year. Five winners to be awarded a $5,000 prize will be selected from a jury of high-profile Black artists and music industry leaders chaired by Juno-nominated Toronto-based producer DJ Agile. "Our ongoing aim is to build inclusive programming as diverse as the communities in which we live, and this new award pushes us even further ahead," said Charlie Wall-Andrews, executive director of the SOCAN Foundation. "Furthermore, we cannot lose momentum to elevate communities impacted by ongoing and historical injustices. We acknowledge that there is still much more work to do, and we hope this award will celebrate and empower Black music creators in Canada."
New reports from Canada Border Services Agency (CBSA) indicate that over 18,000 non-Canadian citizens have been denied entry at the border while attempting to enter the country for tourism or visitation purposes, according to CBC. With U.S. citizens taking more than 14 million trips to Canada yearly on average, the travel ban has resulted in an estimated $62 billion in revenue losses for Canada's tourism sectors. Destination Canada stated that it's focused on generating awareness for domestic travel opportunities within Canada, rather than international travel marketing.
Meanwhile, Corona Canada has announced a new auction program called "Rediscover the Outdoors," offering travel packages at destinations in at least five provinces. Until Oct. 31, the online service enables travelers to place bids in $10 increments on highly curated getaway experiences by TravelZoo, including fishing trips, resorts, sightseeing tours, glamping, and waterfront property stays. According to research for Corona Canada, 58% of Canadians agree that they want to support Canada's tourism economy by traveling locally, and one in three Canadians believe that the pandemic has given them the incentive to see more of the country.   
Overheard
"Whenever you hit the stage you're just doing the lip sync for your life. You're not doing the acting challenge, you're doing the improv challenge. You're not doing a design challenge. To do it on Drag Race, it's an uncomfortable feeling because you're not used to this kind of thing. I did acting before but it was out of drag. I did improv but it was out of drag. Something about being in drag while doing it is like the ultimate challenge, because it messes with your brain. Especially for me who's not used to being in drag doing those kind of things."
—Canada's Drag Race winner Priyanka speaking to NOW Magazine about drag on television vs on stage.
On the Scene
The Toronto Zoo's Terra Lumina exhibition re-opened last month.