This Week in Event Venues: Hotel Safety Procedures, New Charitable Initiatives, and Properties to Know About
Rounding up the latest news from hotels, convention centers, meeting spaces, restaurants, and other event venues across the United States and Canada.
June 25, 2020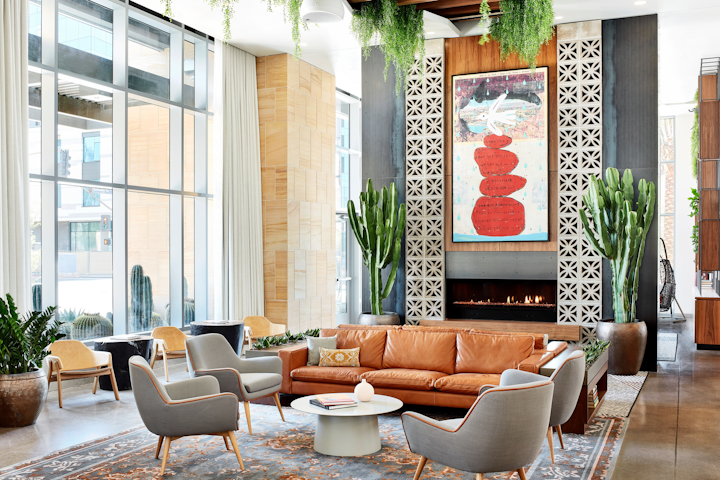 Photo: Courtesy of Canopy by Hilton Tempe Downtown
As hotels and event spaces begin to cautiously reopen after coronavirus-related shutdowns, we're here to round up the biggest news of the week—in one convenient place. Got a tip? Get in touch!
Here are five things to know this week.
1. Hotels across the country continue to reopen with steal-worthy sanitation practices.
Event venues of all types can learn from hotel reopenings across the country, which continued this week. Kimpton Hotels & Restaurants—which this week reopened its properties in Miami, Austin, Cleveland, Milwaukee, and other locations—has rolled out new sanitization and safety measures, including floor markers at six-foot intervals, plexiglass partitions in close-contact areas, rearranged furnishings, and self-park options. For meetings and events, the hotels are utilizing updated floor plans and capacity charts, pre-packaged drinks and menu items, increased audiovisual capabilities for hybrid gatherings, face coverings and gloves for attendees, and more.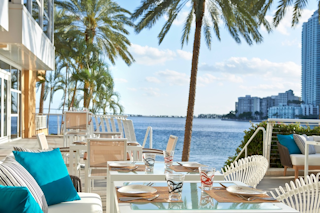 The Mandarin Oriental, Miami, will reopen on July 1 with enhanced safety procedures.Photo: Courtesy of Mandarin Oriental, MiamiMandarin Oriental Hotel Group is also cautiously opening its hotels in the U.S. and abroad; for instance, the Mandarin Oriental, Miami, will reopen on July 1 incorporating the chain's new "We Care" program. Prior to arrival, guests are asked their personal preferences on service levels and interaction with staffers. In addition, the hotel is using health declaration forms upon arrival, plus temperature checks for employees and guests and increased cleaning and social distancing protocols.
While not every state has allowed hotel reopenings just yet, those that are still closed are working hard to prepare. New Jersey's Hard Rock Hotel & Casino Atlantic City, for example, has introduced the new "Safe & Sound" program that includes a dedicated, 100-member "clean team," which is getting the hotel ready for reopening with 200 new hand-sanitizer dispensers, limited points of entry to ensure temperature screenings, more than 1,000 new air filters, health and hygiene training for all team members, and more. 
Related: Lessons Event Pros Can Learn from Hotel Reopening Plans
2. Properties are eager to resume meetings and other events.
This week, Salamander Hotels & Resorts launched its "Well-Meeting Program," which focuses on safety in all aspects of events on its properties. The chain solicited feedback from the event-planner community to build the carefully curated program, which provides non-traditional seating options, menus with immunity-boosting foods, an increased focus on outdoor event spaces, and more. Each meeting group will be given a dedicated registration area and can incorporate livestreaming, video conferencing, and other hybrid options through a partnership with JSAV.
"With safety as our primary objective, our team worked collaboratively with the meeting community to develop new guidelines that still allow us to deliver a creative and luxury hospitality experience," explains vice president of sales and marketing Ty Brassie.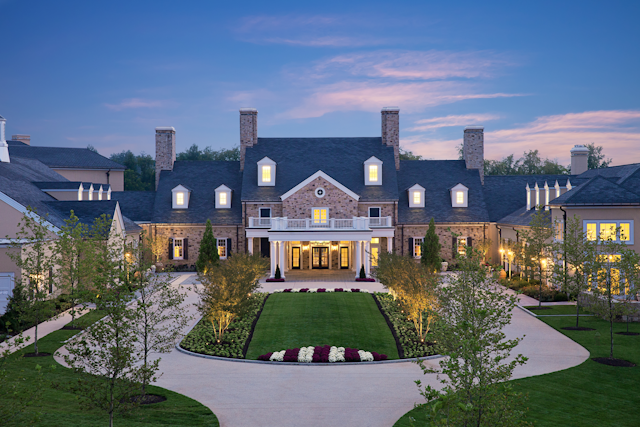 Salamander Hotels & Resorts has properties in Middleburg, Va. (pictured); Charleston, S.C.; Destin, Fla.; Tampa Bay, Fla.; and Montego Bay, Jamaica.Photo: Courtesy of Salamander Resort
3. Other event venues are drawing business in out-of-the-box ways. 
In Pasadena, Calif., the famed Rose Bowl—which has been forced to cancel its long-running AmericaFest celebration on July 4—will instead host a one-hour virtual program. The stadium is also transforming into a drive-in theater on select days in July through a partnership with Tribeca Enterprises, AT&T, and Imax. The series, called "Tribeca Drive-In," will also travel to venues in the Bronx and Nassau County in New York, and to the AT&T Stadium in Arlington, Texas.
Related: Are Drive-In Theaters the Future of Events?
Museums are also getting creative. The Art Gallery of Ontario in Toronto, for example, will reopen July 2 with timed-entry tickets every 30 minutes to control the flow of visitors. For those who don't want to attend in person, the museum will continue to host virtual talks, performances, tours, and art-making experiences for the foreseeable future.
And the International Spy Museum in Washington, D.C., plans to roll out a paid virtual art experience for groups next month. Each group will pick as many as 10 "stops" for the one-hour tour to focus on; the virtual tours will be led by two members of the museum's curatorial staff, and guests will be able to see each other, ask questions, and interact. There will also be an option for virtual trivia games. 
4. Venues are leaning on CVBs to establish safety guidelines and get guests back.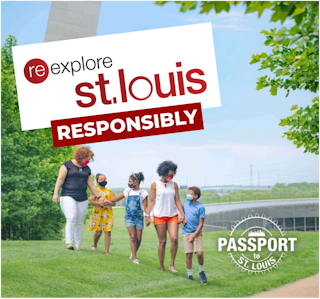 Graphic: Courtesy of Explore St. LouisConvention and visitors' bureaus are, naturally, playing a big part in drawing tourists and events back to local venues as they start to reopen. In one example, Explore St. Louis has launched a dedicated "Passport to STL" webpage that's updated regularly with reopening information for local restaurants, attractions, hotels, and more. The page features discounts and limited-time offers, downloadable itineraries, and health and safety guidelines—including nitty-gritty details such as teaching restaurant owners not to place utensils on tables until patrons arrive, and signaling the 10 high-touch deep-clean areas in hotel guest rooms.
"We have been working diligently with public health officials, local institutions, and community leaders to help visitors re-explore St. Louis safely," says Brian Hall, chief marketing officer of Explore St. Louis. "And we also need to be responsible; remember: Keep six feet apart. Wear masks. Wash hands. And follow all guidelines established by the places you visit."
5. Venues are finding ways to give back.
Restaurants and hotels around the country are also focused on charitable initiatives, with many—such as All Day Baby in Los Angeles, Momofuku Ssäm Bar in New York, and Rosie Cannonball in Houston—donating a portion of proceeds to Black Lives Matter, the NAACP Legal Defense and Educational Fund, and other nonprofits. Hard Rock Cafe locations around the country, meanwhile, are offering free hamburgers to frontline healthcare workers from now through July 31.
And Malibu Beach Inn in California has teamed up with Bellino Fine Linens to create custom masks; half will be utilized for the hotel's staff, while the rest will be donated to Boys & Girls Club of Malibu. "We've enjoyed a wonderful relationship with Maurizio and his team at Bellino over the years, as they outfit all our rooms with their luxury linens," says Gregory Day, general manager of Malibu Beach Inn. "We share similar core values both as family-owned and operated businesses, and we are proud to support the local community through the local Boys & Girls Club of Malibu and our essential workers with this initiative."
Related: How Hotels Across North America Are Opening Their Doors to Help Healthcare Workers
Bonus: New Openings to Watch This Week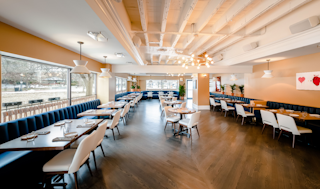 Mundano is owned by Ash and Toni Abu-Taleb, longtime Chicago restaurant industry veterans.Photo: Courtesy of MundanoNobu Hospitality will open a 115-room hotel in Chicago's West Loop on July 1. Nobu Hotel Chicago will feature a restaurant and bar with patio seating, a rooftop dining space with panoramic views, flexible meeting and event space, a fitness center, and an indoor swimming pool. Also in Chicago and opening on July 1 is New American restaurant Mundano, located in Lincoln Park. The eatery—which had only been open for three weeks before COVID-19-related shutdowns in March—has a 70-seat patio. Executive chef Ross Henke will also offer to-go picnic kits via Tock. 
The Southwest's first Canopy by Hilton hotel opened in Tempe, Ariz. on June 16. Canopy by Hilton Tempe Downtown has 198 rooms and 5,000 square feet of meeting and event space, plus an on-site restaurant and a rooftop pool and bar. The property's design features art curated by local Arizona artists, plus contemporary furnishings, textured tiles, and a variety of wood and metal tones that evoke its desert location. 
In renovation news, the Ritz-Carlton Reynolds, Lake Oconee, a 257-room hotel located outside Atlanta, reopened this week after a multimillion-dollar, resort-wide renovation. The revamped spaces, designed by Marzipan Design Studio, are inspired by the property's setting with soothing colors, elements of wood and wicker, pebbled accent tiles, and more. The hotel sits on 30 acres of shoreline property and has more than 58,000 square feet of indoor and outdoor meeting space. 
And in Las Vegas, Minus5 Ice Experience reopens on June 25. The whimsical bar, which stays at 23 degrees Fahrenheit and offers signature frosty cocktails, has been renovated with all-new ice decor—including homages to Elvis and murder hornets (yes, you read that right) plus an interactive Plinko game. Next door, the brand-new 1923 Prohibition Bar will open on July 1; the modern speakeasy will feature live burlesque shows, live rock band karaoke, and bourbon education and tasting classes.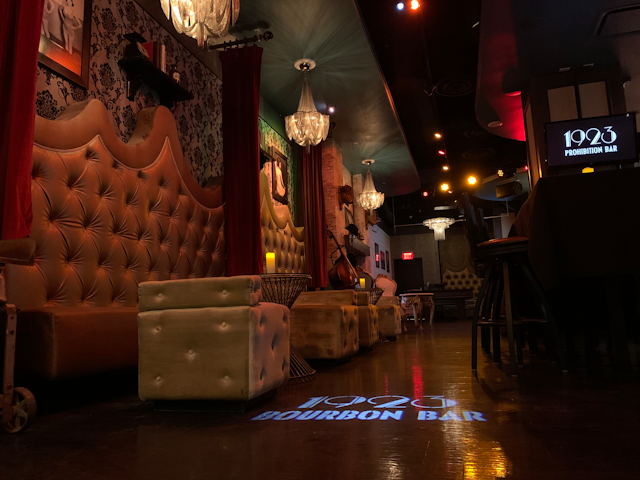 Once reduced-capacity limits are lifted, 1923 Prohibition Bar will seat 75 or hold 300 for standing events.Photo: Courtesy of 1923 Prohibition Bar