How Your Event Should Evolve During the Coronavirus Outbreak
United States-based events, conferences, and festivals such as SXSW are increasingly being canceled during the COVID-19 outbreak. Here, industry experts present the case for keeping your event on the books—with modifications.
March 10, 2020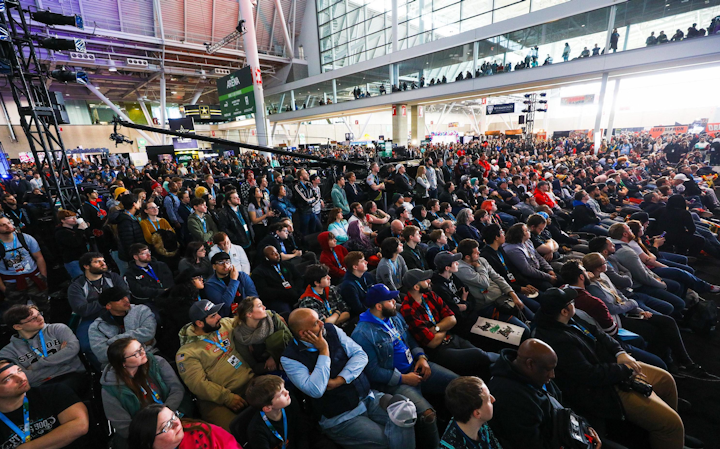 Photo: Kiko
As every event professional knows, the show must go on. But as large conferences and events in the United States are increasingly being canceled due to COVID-19 concerns, it can be hard for event producers to weigh the risks versus the business, social, and economic implications. (According to Vox, for example, the economic cost of recently canceled tech-industry conferences—including Google I/O, Facebook F8, and most recently South by Southwest—alone has surpassed $1 billion.)
Here, experts around the country offer practical tips for knowing when (and when not) to cancel an event, how to speak to clients in this uncertain time, and ways to keep your attendees safe and informed.
1. Stay calm, and pay close attention to what official resources are saying.
As new domestic cases are reported daily, our experts say it's important to break through the noise by listening to official sources such as the Centers for Disease Control and Prevention (CDC) and the World Health Organization (WHO).
"The media has added to a 'pandemic of fear' and has led to some unnecessary cancellations and travel restrictions," says Michael Dominguez, president and C.E.O. at Associated Luxury Hotels International, who has been using his LinkedIn page to help fight the spread of misinformation. "I do believe this is caused by us living in a hyper-connected society and the need to have speed to market for many outlets. The story has not been balanced or always thorough."
Dominguez suggests monitoring the CDC's Travel Health Notices daily and points out there are currently zero travel warnings in the United States. He also notes that when a city or state declares a "state of emergency"—such as Los Angeles did last week—that is more procedural rather than an indication of an emergency. "The media fails to explain that when reporting this news," Dominguez says. "We report the meetings that are canceling, but there are hundreds and hundreds of meetings moving forward and taking place."
In an effort to highlight those meetings, the Global Association of the Exhibition Industry (UFI) and the Society of Independent Show Organizers (SISO) teamed up last week to release the "This Show Is Open" campaign. The goal is to provide consistent messaging and visuals that organizers can use to reassure and inform attendees. 
"We wanted to try to get some positive messages out there about the events that are going forward—which is the majority—and really focus on the impact they are having," explains David Audrain, the executive director of SISO, who says the associations began working on the campaign about a week ago. Audrain cites the success of this month's Reedpop-produced PAX East convention in Boston, which reportedly had the same attendance as previous years. "That's the sort of positive messaging we need to get out there," he says, noting that his own event—the New England Food Show, running March 22 to 24—is also continuing as planned for the time being.
2. Approach each event on a case by case basis. 
Of course, audience demographics can't be ignored. Many large-scale events, which may draw a significant out-of-state or international audience, have been canceled—most notably South by Southwest in Austin, which last year drew more than 417,000 people from around the world. But, Dominguez cautions against sweeping cancellations of events based solely on an international audience. "Ninety-six percent of cases are restricted to four countries," he says. "If an audience is not from those countries, [canceling may be] an overreach."
Cara Kleinhaut, founder and C.E.O. at AGENC Experiential, notes that smaller events need to be having these conversations as well—especially as new cases are being diagnosed daily. "Let's talk about the big elephant in the room and come up with solutions before we need them," Kleinhaut suggests. "Where's the middle ground between holding your event and doing nothing different, and canceling?" 
She suggests every event organizer study their capabilities, audience demographics, and event goals before offering solutions to clients. "There's no cookie-cutter solution or answer. We're looking at who are our clients, what are their objectives, what do they want to do, and how can what we do on our end help them?" she says.
Kleinhaut adds: "Our job is to supply our clients with information so they could do their jobs better…don't put it all on the client to figure it out. We—as professionals who do this day in and day out with lots of different clients—need to be a source of good information, support, and creative thinking."
3. On site, follow official sanitization precautions set forth by the CDC.
Last week, the CDC released updated interim guidelines for mass gatherings and large community events planned in the United States. "The details of your emergency operations plan should be based on the size and duration of your events, demographics of the participants, complexity of your event operations, and type of on-site services and activities your event may offer," reads the guidance, which will be updated as needed. 
The CDC suggests close coordination with a venue's emergency operations team, plus on-site quarantine zones for attendees who may fall ill. Organizers should also adopt flexible attendance and sick-leave policies for event staff, and flexible refund policies for attendees. On site, a stockpile of hand sanitizer, soap, and face masks should be available, and surfaces should be cleaned on a regular basis. (See the CDC's entire list of guidelines here.)
Following these guidelines, the Jacob K. Javits Convention Center in New York, for example, has installed 70 additional hand-sanitizing stations throughout the venue in the last few weeks. An email from the New York International Auto Show—which takes place at the center in April and had not been canceled as of press time—stressed there will be increased cleaning of all high-touch areas, plus an on-site team of specially trained paramedics and a fully equipped first aid station. 
Meanwhile, companies such as CrowdRx—which offers medical services for events—are coming up with their own solutions. The company is now offering a portable "fever screen" that compares people's skin temperatures against an average set temperature. It can be an effective, and minimally disruptive, way to detect attendees who may be suffering from COVID-19 or even common influenza before they even enter an event. 
"It's all about awareness and signage and communication," says Kleinhaut. "[For an event last week,] we had a lot of signage saying things like, 'This is a no handshake, no hugging environment.' We're also being very thoughtful about how we handle food—is it individually wrapped, and are we making sure anything that sits out has a cover, making sure the food handlers are screened beforehand? To me, that's very reasonable, and good practice for all events."
4. Communicate with your attendees early and often. 
The most important way to ease attendee fear is through clear communication. "Obviously the [UFI and SISO] campaign on its own isn't going to calm the hysteria," says Audrain, who adds that the focus is more on having consistent messaging throughout the event industry. "It's not a replacement for the messaging and the communications that each of us are putting out to our own communities. We have to communicate to our communities what we're doing to help keep them safe."
Dominguez agrees. "Continue to remind [attendees] the virus has spread to a very small audience, and medical experts continue to tell us that your chances of getting the virus are still very low," he says. "The infection in Italy is literally .00004 percent of the population. Globally, 92,000 cases represents .00001 percent of the population."
For her part, Kleinhaut has been emailing past and current clients to offer reassurance. "With safety in mind, our creative, technical, and production teams are running at full speed to create solutions that mitigate risk and evolve programs to still generate a significant impact, while adjusting the model for large-scale, in-person gatherings," reads the email. "We would love to share our ideas with you, and are here as a sounding board as you navigate this on your end."
5. Be okay with a smaller in-person audience. 
The reality is that some attendees—particularly people over 60 or those that are immunocompromised—may not be able to attend your event. Experts recommend having flexible cancellations and refund policies. (For example: Reedpop's Emerald City Comic Con, which was slated to take place in Seattle this week, is offering full refunds to attendees, while exhibitors can choose to get a refund or reserve a spot at the rescheduled event this summer.)
Many organizers are discovering solutions through technology, finding ways to shift some or all of the event online. "Maybe half the people still would like to participate, but they're going to do it digitally," says Kleinhaut. "What kind of experience could we give if they're a digital ticket holder? Can they have a more robust experience? We're rewriting the script to cater to a more online audience in addition to the in-studio audience—creating two different experiences, and then the guests can choose which one they want to be a part of."
Mike May, the president of Brightspot Incentives & Events, notes that decreased attendance isn't a sole reason to cancel. "Rather than incurring a financial penalty of 50 percent or more of the estimated event cost to cancel a business meeting or trade show, Brightspot recommends continuing the event as planned (if the destination does not have a Level 3 travel warning), tolerate an attendance decline of about 10 percent, and achieve the business benefits of face-to-face meetings with 90 percent of your audience."
As the news changes so rapidly, though, May also suggests deferring any cancellation decisions until 30 to 45 days before the event begins. 
"It's evolving every single day," agrees Kleinhaut. "We're not doctors; we're not qualified to say whether people should gather. It is 100 percent up to the clients and their sponsors. Our job is to be supportive and to create safe, clean, and enjoyable environments. That's what we always want, no matter what's going on in the world."