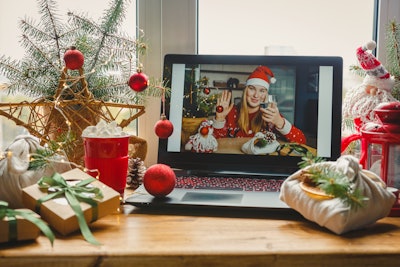 Photo: Shyntartanya/Shutterstock
Last year, virtual holiday parties were all the rage. But in 2021, with widespread COVID-19 vaccinations and testing, some companies are dipping their toes back into the in-person or hybrid event pool—while others are leaning on creative gifting solutions or virtual team-building games to celebrate the year's end. To get a peek over the fence, we asked 12 event pros around the world what they're hearing about holiday parties this year.
Elle Chan, founder and co-CEO, Trademark Event Productions, New York
Fun is back! Besides making sure they're playing it safe, our clients are coming back to live events with invite-only gatherings. We're anticipating the use of space with more elbow room and allowing guests to be with each other (finally!). Photo ops and live soundtrack immersive experiences are in high demand. Deliver the hyperdimensional and give guests the opportunity to experience all of their senses.
Erica Taylor Haskins, co-founder and chief growth officer, TINSEL Experiential Design, New York
Most of our clients just don't have the appetite for virtual holiday parties again this year. We have some pretty sizable celebrations in the works for November/December with 500-800 fully vaccinated attendees planned. Otherwise, clients are pushing off their "holiday" parties to the end of Q1 and start of Q2 in order to use outdoor spaces to gather.
Mark Surkin, founder and CEO, Dineable, Wayne, Pa.
I think that pandemic or not, behaviors and budgets have changed for good and virtual and hybrid will continue to be popular choices. We are starting to see more and more virtual catering requests for the holiday season at Dineable now, so the trend certainly doesn't seem to be dropping off.
Jessica Mills, event sales manager, Cassia, Santa Monica, Calif.
I've been steadily getting more and more corporate business, and this week the holiday parties have been blowing up. They're all last minute, for our industry, and they're significantly smaller than they used to be—mostly 30-50 guests. Not much in the way of buyouts with lots of activations; it's more like a nice dinner with maybe a cocktail hour.
Janelle Owens, HR director, Test Prep Insight, Sacramento, Calif.
I plan our company's holiday party every year. I have a feeling this year is going to be about getting back to in-person celebrations. ... I am planning on hosting a company snow day in the mountains about an hour and a half from our office. I think an outdoor event is the perfect way to ease back into gathering in large groups safely, and should be a blast after being trapped inside for a good portion of the last 18 months. We're going to have a catered lunch at the base of the slopes, cocoa, a fire pit, an open bar (i.e., a cooler full of beer and wine) and music. I think people are going to love it. Now we just need some snow storms before Christmas here in California. Fingers crossed!
Tanna Pearman, meeting broker, Meetings Made Easy, Reno, Nev.
I'm already beginning to see a high number of requests and discussions around gifting options rather than in-person events for December and January. This indicates more people, once again, opting out of traditional holiday parties.
Kirsten de Jager, director of event planning, Marriott International, West Kelowna, British Columbia
Smaller holiday parties are proceeding as planned with proof of full vaccination and at 50% venue capacity. Larger corporate parties are postponing until 2022. Holiday trends are shifting away from dance floors and are incorporating live performances and entertainment.
Amanda Ma, chief experience officer, Innovate Marketing Group, Pasadena, Calif.
Since most of our accounts are corporate, we are looking at 90% of the holiday events this year to be virtual. More clients are inclined to host a virtual event experience with a kit that gets delivered to their attendees before the event date. Whereas last year the decision for the virtual holiday came at the very last minute (October/November), this year corporations have been making the decision much earlier (August/September). But either way, we are ready to spark joy in the holiday season!
Sandy Kareskie, director of catering, Hotel du Pont, Wilmington, Del.
Some of our holiday events have been canceled due to company mandates limiting gatherings of large groups, and others cannot wait to come and celebrate with us. For example, we host three annual gala events and two are still moving forward, expecting 300-600 guests. The largest one of 1,000 guests has postponed until next year, and they are doing something much smaller this year at their on-site location; we are providing the desserts for that evening. I have some of my larger client holiday events that have also downsized to under 50 guests, booking space to videotape a holiday message to send to associates with our gorgeous holiday decor as a backdrop, and have elected to send their associates and family a holiday wreath or centerpiece, complete with a hostess gift for the season. ... [For in-person events,] we are offering progressive parties with different events, food and beverage in multiple spaces so guests can spread out. … Requests for small intimate chef's table events for groups of 25 guests or less is something else we are entertaining.
Madeline Raithel, communications specialist, Entire Productions Inc., San Francisco
I think there will be a lot of small, experiential gatherings with proof of vaccination/negative test results to attend. Those who cannot or choose not to gather in person will program a faster-paced, more engaging virtual meeting event with their message, education and team-building segments seasoned with a scintillating musical performance, master magician/mentalist, celebrity appearances, giveaways and more.
Danna Simons, president and lead brand manager, dfine Branding, Denver
I think hybrid. But gifts will be important to send to each home individually—and gifts that aren't just for the employee, but for the entire household to enjoy.
Lorna Boyer, marketing executive, Eventurous Ltd, Leicester, England
We're finding a real mix of events this year, reflecting the different outcomes of the pandemic. Those who have returned to the office and missed out on their holiday celebrations last year are largely going all out this year, with big, themed, in-person events, brimming with fun acts and entertainment. Those businesses who have adapted more of a hybrid approach to working are taking different approaches: Some are looking to bring everyone back together, to socialize in person and reconnect with live entertainment, [while] others are staying with a virtual approach, adapting to employees' comfort levels and allowing employees to participate from multiple locations and even internationally. Virtual events and corporate Christmas parties developed rapidly over the pandemic restrictions, and with such a fun and exciting variety available, it looks like they're here to stay. Our most popular holiday party events for both virtual and in-person continue to be our game show formats, as they're high on engagement and audience participation. It's always fun to have that competitive element to get everyone involved and enjoying themselves.