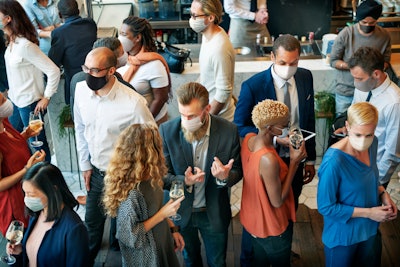 Photo: Rawpixel.com
With the startling rise of COVID-19's Delta variant, the event industry is grappling with all-too-familiar struggles about whether to cancel live events, shift to virtual, or take other precautions like moving outdoors or requiring vaccinations and/or rapid tests. To get a boots-on-the-ground perspective, we asked event producers in BizBash's Facebook and LinkedIn groups what they're seeing right now in their respective cities. Here's a sampling of what they had to say.
Amanda Ma, founder and chief experience officer, Innovate Marketing Group, Pasadena, Calif.
"It depends on the event. The events that are planned for indoors have either moved outside or transitioned to virtual. Events that were planned outside remained outdoors. Our team is staying on top of the trend and relaying safety terms and conditions to clients to incorporate into registration and on-site signage, and working with our venue partners and vendors to ensure due diligence and with safety in mind as a top priority."
Laurea De Ocampo, executive producer, Masaya, New York
"I'm advising all organizations planning on hosting live events to have an all-virtual backup plan that can be switched to at the point that makes sense. All in-person events should have a virtual plan that is being produced alongside the in-person event, and everyone should be aligned on what a switch to virtual will mean for the organization—ramifications for financials, partners, sponsors, staff and vendors."
Jessica Mills, event manager, Cassia, Santa Monica, Calif.
"I do events for a restaurant. Our outdoor space has definitely become where all parties want to be. I have a few larger corporate events out there, while some are still comfortable with our private dining room simply because they feel safe that only themselves and our vaccinated staff will come in contact with them. I have had a few cancellations as well as dramatic guest count drops, resulting in a change from large-party status to a regular reservation, but I'm not seeing as dramatic a drop-off as expected. We'll see what happens as we move forward, though."
Lisa Marks, owner, Brand Alive Inc., Calgary
"I haven't seen any cancellations with my clients—lots of projects are booking for late fall as well as 2022. Cautious optimism, things are moving ahead here."
Jordan Kaye, owner, Analog Events & Marketing, Los Angeles
"Many of our entertainment clients' health and safety departments have canceled all in-person events for the near future. Over the past two weeks, multiple events were all canceled, and many discussions happening for future events. It feels as if we go one step forward and two steps back with COVID and events. It's a yo-yo effect on our industry—but as event profs we know how to make it work in any situation."
Elaine Davidson, founder, Elite Casino Events LLC, Dallas
"We are moving forward as planned. … We learned to adapt. While we have hybrid options available, people want to meet. They want to gather. We are social beings, and without that connection, people feel lost, productivity suffers and there is a withdrawal that occurs. While we understand the severity of the situation, we also know how it can be defeated. We've seized the opportunity to encourage wellness—beyond just vaccines. Vaccinations, healthy diets, good sanitization—all of these things work cohesively. Events will happen. As a professional, I pray they do so with seasoned professionals who will consider the risks and mitigate those for the clients and their guests. We will leave our hybrid and virtual options on the table for those groups with corporate guidance that require it."
Jenna Nelson, associate director of event logistics, Route Consultant, Nashville
"At this time, largely due to the fact that our organization caters to front-line workers, we are not canceling live events or switching to virtual. We do follow any local, state, federal or venue-specific guidelines and encourage our attendees to follow all CDC guidelines, however we do not ask for nor require any health questionnaires or proof of vaccination."
Amaury Arroyo, owner and founder, PK Productions, Plantation, Fla.
"Some events we have on the books are requesting to take it via livestream, so we are working with them. But we have to see how it unfolds. For concerts and city events, they are asking us to make 10-by-10 seating areas."
Isaac Rothwell, national director of business development, Digerati Productions, Chicago
"I had a large conference in early September switch to virtual after over 40 presenters backed out of attending in person."
Allison Gaddis, owner, Live, Laugh, Love Weddings, Knoxville, Tenn.
"I'm a wedding planner, and the Delta variant is strongly affecting some of my clients. I have clients who had planned to get married with their families in the States and they now can not cross borders. After my family being directly exposed and quarantining myself, I am moving forward with more virtual consultations and limiting attendees to specific meetings. My staff is continuing masks at all events, and creating safe seating arrangements for clients and their guests."