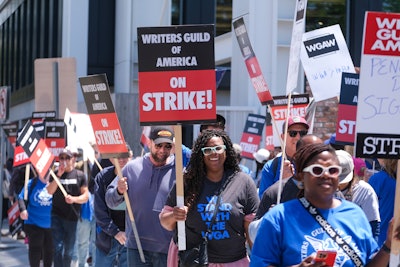 Photo: Ringo Chiu/Shutterstock.com
For the first time since 1960, both the Writers Guild of America (WGA) and Screen Actors Guild - American Federation of Television and Radio Artists (SAG-AFTRA) are currently on strike, with more than 11,000 writers and 160,000 actors fighting for better pay and working conditions, as well as contracts that include provisions on artificial intelligence.
Like many other event producers in the Los Angeles and New York markets, Jordan Kaye finds himself facing an unexpected summer. Due to union rules, tens of thousands of film and television actors must cease all work covered by their union contracts—which means no red carpets, no interviews, and no panels.
To Kaye, the owner of LA-based company Analog Events, that means a number of canceled summer premiere parties. "All events involving talent have been indefinitely canceled for the next few months, extending at least until the end of summer," he explains. "Since the commencement of the WGA strikes [on May 2], our entertainment clients have been diligently preparing for the fallout by adjusting release dates, restructuring their event strategy, and making the difficult decision to either entirely cancel premieres and red carpets or move their promotional activities."
Weston Garret Gonzalez, the owner and creative director of Westhaus—an event production, design, and management group that works exclusively for the film and television industry—sees echoes of the pandemic era. "The strike is forcing us to work closely with clients to pivot on upcoming premiere plans, which we had to do earlier this week," he says. "We have future events that require preemptive planning and production where we essentially have to plan as if the strike will be over, but have proper force majeure clauses in place with strategies on how to adjust if needed. Basically, every event feels like it's in limbo."
Ripple Effects
The first major event being affected is Comic-Con International, which kicks off today in San Diego. One of the most prominent pop culture gatherings of the year, the 2023 show's programming has been significantly affected by the strikes, with panels for projects like Dune: Part Two and Abbott Elementary being canceled at the last minute. (Even before the SAG strike, companies like Marvel Studios, Netflix, Sony, HBO, and Universal had announced they'd be skipping the show in the wake of the WGA strike.)
Many brands do plan to host their typical activations outside the convention center, though, with some—like Hulu's "Animayhem" experience and Adult Swim's Festival on the Green—focusing on animated content that isn't as affected by the strikes. As for the scaled-down panel schedule, some upcoming projects are being promoted by directors after the Directors Guild of America reached a deal with the studios last month.
Meanwhile, the Emmy Awards, currently scheduled for Sept. 18, will face even bigger consequences—and, according to Deadline, will most likely be postponed. While the WGA made an exception for the Tony Awards in June after the show was altered to conform to the guild's requests, that's unlikely to happen for the Emmys. A likely scenario, according to Deadline's sources? Moving the show to November or even January 2024. For context, the last time the Emmys were postponed was after the terrorist attacks of Sept. 11, 2001.
Another ripple effect? If the strikes continue, important festivals like the Venice Film Festival (Aug. 30 to Sept. 9), Telluride Film Festival (Sept. 1-4), and Toronto International Film Festival (Sept. 7-17) won't feature appearances by actors or writers—"so why would studios shell out hundreds of thousands, even millions of dollars, to launch a movie at one of these gatherings?" points out Variety.
Looking Ahead
A major impetus for the strikes is artificial intelligence. Writers and actors alike are concerned about technology replacing the need for human beings—a conversation that's also taking place in the event industry right now. The walkouts are also drawing worldwide attention to union disputes and labor laws at a time when thousands of Los Angeles hotel workers are striking, and when a UPS strike may be imminent ahead of a July 31 contract negotiation. The UPS strike in particular—which The Hill reports could affect up to 30% of shipments—could have far-reaching implications on the event industry.
Gonzalez and Kaye are closely monitoring the progress of upcoming Hollywood negotiations—and staying ready to adapt. "There will need to be a fine line on how to sensitively promote and celebrate upcoming content, which is important to all the creatives who passionately produced these projects," points out Gonzalez. "I foresee a lot of traditional press and premiere resources being diverted to consumer and fan events. I also think it will give below-the-line creatives who rarely get a chance to shine the opportunity to sit on panels and help promote their craft and the content."
Gonzalez continues, "We're all rooting for a fair deal to be reached as quickly as possible, and my hope is that this gets sorted out before too much irreparable damage is done to the groups and agencies that support this industry."
Regardless of the uncertainty for his own business, Kaye supports the actors and writers—noting that as the owner of an event company, his operations rely heavily on collaborations with unions of many types. "These unions encompass not only SAG actors walking the red carpet but also those working within hotels, stadiums, and convention centers where our events take place," he explains. "Although our clients may occasionally express discontent over the associated union fees and costs, it is paramount to recognize the significance of upholding labor standards as a unified entity. Without the indispensable contributions of these unions, events would simply be impossible to execute."
How to Help
Donations can be made to the Entertainment Community Fund, which is supporting crew members who are out of work.