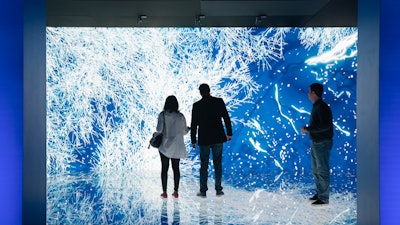 Photo: Courtesy of Red Paper Heart
In Case You Missed It
This month, BizBash's editors wrote about a wide variety of events—including in-person, hybrid, and even fully virtual—that showcase the power of technology. We chatted with Marriott about its new Fortnite-based experience, while Zoom and Sephora took us behind the scenes at their recent hybrid events. We also rounded up some steal-worthy engagement ideas from tech conferences around the country.
---
Spotlight On:
Macy's has unveiled mstylelab, a futuristic platform that blends the physical and digital worlds of fashion with the help of metaverse platform Journee. By visiting macys.com/mstylelab on any device, users can join a community, create a username, and dive into a metaverse-powered fashion experience. The platform's initial feature is an expansive, surreal representation of New York City showcasing Macy's newest brand, On 34th; participants can personalize their fashion experience and shop the featured collection. As users explore the virtual world, they can also unlock personalized digital items, like a unique T-shirt. (Next up: Mstylelab will include a metaverse experience of the Macy's Thanksgiving Day Parade.)
"We are excited to launch mstylelab, the next evolution of our Web3 digital strategy, creating a hub for style inspiration and discovery at the intersection of fashion and technology," said Dave Torres, vice president of interactive marketing for Macy's. "As we grow and evolve the mstylelab digital platform and community, new activations and experiences will be brought to life creating immersive storytelling focused on fashion and style, in a fun and shoppable environment."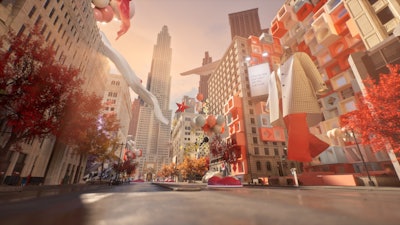 More Event Technology We're Excited About This Month
To streamline event payments
Catering and event management platform Tripleseat has introduced PartyPay, a new payment processing platform tailored for the hospitality industry's event managers, aiming to make transactions smooth and boost event sales. It allows for quick, secure online payments, including on-the-spot QR code payments, and consolidates all transaction management in one place. PartyPay comes with an easy-to-use dashboard for monitoring sales and optimizing payment strategies, plus robust reporting tools for deeper business insights. It also prioritizes security, being PCI-compliant, and offers dedicated customer support to quickly address any concerns.
"Tripleseat PartyPay revolutionizes how event professionals manage payments," said Jonathan Morse, CEO of Tripleseat. "This latest Tripleseat product will eliminate the hassle of chasing payments and allow event managers to dedicate more time to doing what they do best—crafting unforgettable events for their guests."
To seamlessly integrate additional speakers into virtual events
Virtual events company GlobalMeet has launched Centerstage, a new feature that allows for the seamless integration of preselected guest speakers from a managed "backstage" area, ensuring that the transition to the spotlight is smooth and that potential issues are resolved before they go live. The feature aims to facilitate a more interactive and engaging experience for all participants by allowing for live questions and answers, while giving event hosts greater control over their events' flow and minimizing risks.
"GlobalMeet prioritizes eliminating friction throughout every aspect of a virtual event for the best possible experience, and this new professional service feature elevates audience engagement to new heights," said GlobalMeet President Michele Dobnikar. "Audience collaboration and brand perception are crucial for a virtual event's success. Our expert operators now have the power to provide that participation smoothly, allowing special guests to provide their thoughts during a live event to add context to a discussed topic or to simply ask questions and have them answered live."
For a last-minute digital gifting option
Evite has introduced a feature that lets users attach an e-gift card from a variety of popular retailers and restaurants to any digital greeting card, without extra fees. The greeting cards, which come in many designs including ones from Disney and Minecraft, can also be customized with different envelopes and stickers. Customers can select the gift card's value, personalize the message, and either send the card immediately or schedule it for later. Additionally, there's an option to send a common message to an entire guest list from a previous event, with the ability to add individual notes for a more personal touch.
To leverage analytics to improve attendee engagement
BCD Meetings & Events has introduced a new platform called Engage, designed to enhance interaction and learning for both stakeholders and end users. This all-in-one platform combines the tools customers need to communicate, train, motivate, and meet (for face-to-face, hybrid, or virtual events) all in one engagement ecosystem. The global platform leverages advanced analytics and data-driven insights to inform decisions and investments while creating a tailored end-user experience. The company has partnered with global engagement firm Consensus to bring the new, customizable tool to a broad range of industries.
"Organizations across verticals are constantly looking for solutions to increase audience engagement," said Charlene Rabideau, managing director, NORAM, for BCD M&E. "Engage empowers our customers with the ability to connect with their audiences in a more meaningful and effective way."
To help manage independent contractors
Archie is an online platform that aims to revolutionize how hospitality, entertainment, and event businesses manage and pay their independent contractors. It addresses the industry's need for a specialized solution for individual contractors by providing a streamlined, transparent system for handling payments and paperwork, simplifying management, and automating payments—all while ensuring transparency throughout the process from start to finish. The company's high-profile client list includes Soho House, Gerber Group, and The Standard Hotel.
---
The Latest Updates, Funding, and Merger News
Event management platform Swoogo and Zoom Events, the specialized event arm of Zoom, unveiled their new partnership and an upcoming native integration at IMEX 2023. The collaboration aims to enhance hybrid event experiences by providing a comprehensive solution that allows event professionals to seamlessly blend in-person and online event aspects. Set to launch commercially in early 2024, the new offering allows event data to be easily synchronized between the two platforms.
Leap Event Technology has celebrated its 10th anniversary in partnership with New York Comic Con, the massive pop culture festival that took place Oct. 12-15. The ongoing team-up has included numerous technology and process innovations, created in partnership with the event's producers, ReedPop, designed to enhance the attendee experience. These have included a specialized RFID access control scanning solution to manage crowds, a fan verification integration into the on-sale process, a virtual meet-and-greet component, and more.
GlobalMeet has partnered with Hive Streaming to enhance virtual events by combining secure event solutions with advanced analytics on video performance and viewer engagement. This collaboration means businesses can host high-quality, bandwidth-efficient virtual events with detailed insights into how employees interact with content, helping to refine and optimize communication strategies for events of all sizes.