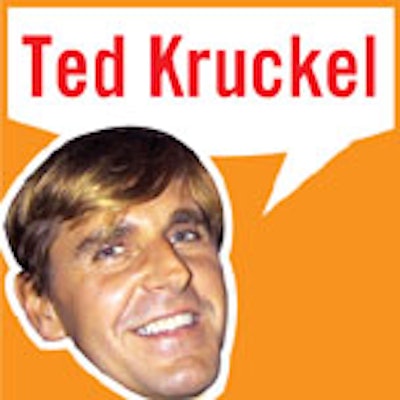 By Ted Kruckel
Tell a story? Do it or don't it?
I love truisms, slang and contractions, so
Rod Stewart
's observation that "every picture tells a story, don't it?" ranks high on my list. That's because it is true that photo exhibitions and auctions are among the most surefire event success formulas. This has been going on for a while, but it is a trend that is sustaining itself: Everyone's already been to a few photo auctions, it's not so cool anymore, we've all bought one dog of an item (I have a whole dog pound, but it's my own fault), and still the concept appeals.
If high attendance and earnings in cold New York winter weather equal achievement (duh) then these two achieved: The
International Center of Photography
(ICP) held a benefit auction called "Eros: Photographs of Love and Desire" on December 15, and
L'Oreal
's 30th anniversary exhibition to raise money for the
Ovarian Cancer Research Foundation
(OCRF) preceded it by a few days. Photos were also on display (amid much else) at
Playboy
's 50th anniversary curio-cabinet-style collection auction at
Christie's
, a venue that classed up the affair just a bit.
To ensure that you could begin the year anew with the absolute latest market analysis on photo auction dos and don'ts, I descended into this swirl with bid paddle in hand. (Actually, ICP provided a nice stiff art postcard with a
Helmut Newton
sapphic duo printed at the highest quality and a big numbered sticker on the back. It was the first time I ever took a bid paddle as a souvenir—it's nice enough to frame.)
I have organized quite a few of these photo auctions, and in fact have worked with all of the entities named in the second paragraph, so this paragraph should provide both my journalistic disclosure and qualifications. Now here goes:
DO
give a program that lists photographers in both order of appearance in the show as well as alphabetical by last name. This makes it so much easier to figure out quickly what's what and where. At the ICP auction sponsor
Conde Nast
must have kicked in on the printed materials, because the programs were also top-notch. (Conde editorial director
James Truman
chaired, along with uber-photo agent
Marek Milewicz
—they are longtime ICP burden-shoulderers.) My only gripe was that they did not include information about whether photos were signed, stamped or unmarked. Sometimes it is plainly obvious from looking at the photo, but often there's a scribble or a stamp on the back, which can be even better for long-term value. I guess you assume they are all signed, but experience tells me that this is never the case.
DON'T
forget to serve lots of liquor if you want to make money. ICP's event, beautifully staged and administered by
Phillips, de Pury and Luxembourg
, had a bar right in the auction room. I loved that. And it's smart too, because the minute sitting at an auction feels like detention hall, people head for the hills. I know I do. L'Oreal made a custom cocktail with mixed reviews, but it must have worked because they sold every lot (more than 100) and raised a stunning $450,000.
DO
give the collection a theme, as both L'Oreal and ICP did. L'Oreal was celebrating 30 years of its "Because I'm Worth It" ad campaign (my favorite—hands down—was
Meredith Baxter Birney
), so the cosmetics company asked photographers to donate images of womanhood. ICP's event went right for the money shot with its "Eros" theme. In both cases, the theme was broad, and the offerings diverse, but it carried through after you looked at the whole set.
DON'T
force winning bidders to cash out and carry; offer the option of having the photos delivered by messenger the next day. ICP arranged for the services of
Crozier Fine Arts
. The $110 fare ain't cheap, but it omits some night-of craziness. Otherwise you have people lined up and grumbling about being late for dinner.
DO
establish long-term relationships with both fine arts and charitable organizations if you want the brand image burnishing to come off as sincere. Like Conde Nast with ICP, L'Oreal has had a multi-year commitment to OCRF (the nonprofit once founded by
Liz Tilberis
, well-known for their
Hamptons Super Saturday
shop-a-thon). What happens is that you build a repeat clientele, and it's easier to sell tickets and move merch.
DON'T
hide a set of four
Helmut Newton
photographs behind a vitrine with garter belts, as
Playboy
did. The photos were great—there were also some
Herb Ritts
shots—but they were mixed in with bawdy framed cartoons and murals by
Leroy Neiman
(who was there with his handlebar-meets-
Dali
mustache intact, by the way). Nobody benefited from this mosaic. I would have liked all the photos in one area, all the cartoons in another. It would have felt more brainy, I guess. Some of the physical items weren't so bad—
Hugh Hefner
's little black book does radiate just a bit—but candid and casual party pics of
Barbi Benton
and Hef seriously devalued, in my mind, the important photos on sale. (Laugh all you want but my favorite vignette of the whole shebang was a room with hooked rugs—remember those? You had some nylon netting, a hook and all these little colored pieces of yarn that you hooked according to the color codes. Then, voila! You had a portrait of
Sean Cassidy
.)
(Speaking of Helmut Newton: After he published
Sumo
, a true coffee table book—it weighed like a 100 pounds and came with it's own
Philippe Starck
table/viewing stand—he was honored by ICP and I was hired to produce the event. We learned that the publisher,
Taschen
, had gathered signatures of photo subjects in one copy of the book, and that it had been auctioned off for charity in Europe for more than $100,000. So we decided that we would collect signatures in one here and auction it for ICP. We went about collecting signatures, which was fun in the beginning. We waited at the stage door of
Lincoln Center
for
Pavarotti
to sign. We brought the book to photo shoots for models like
Naomi
and
Cindy
to sign. I packed the book up and took it to LA—remember how heavy it is—where I had back-to-back meetings with Hefner and
Larry Flynt
. If
Bob Guccione
had been in the book I could have done the soft-core porn trifecta.
Anyway, back in New York, we heard that Helmut didn't want us to sell the autographed book. So the lesson for photo auction organizers in this tale: It's best to check with the photographer first before you spend a lot of time and energy on this type of effort, particularly it is Helmut, who is fussy. I once saw a couple approach him at a
Vanity Fair
party and ask him to take a picture of them with a throwaway camera, and that is something else you should not ask him to do.)
DO
fill the house with fabulous people. And I don't just mean celebrities. Auctions really work when there's a frisson of relevant energy in the room. People get edgy and nervous, the next thing you know they're waving their hands in the air desperate to own something they hadn't laid eyes on 30 minutes ago. Plus you need a lot of bodies to make you feel safe, and they have to feel like bidders. At the
Playboy
event, the room was packed, but not with what I would call heavy-hitters, which makes you kind of reach for your wallet—not to plunk down money, but just to make sure it is there.
ICP had the right types (photographers
Josef Astor
and
Alexandra Penny
were on hand) but there was room for many more. L'Oreal got "Worth It" lady
Andie MacDowell
, who is breathtaking, and OCRF had the blonde and striking
Stephanie March
on hand, too. Ain't nothing like a dame when the theme is "womanhood." But they also had 650 total attendees, which turned it into a bid fest. You know you have some competition when you have fights over the clipboards with the bid sheets, which besides indicating some nice proceeds, are very entertaining.
DON'T
think for a second I will reveal any of my techniques for getting good deals on silent auction photos. Oh, okay, here are a few:
1. Do not hover.
2. Have shills, and send them to check on prices but by all means don't have them come rushing up to you afterwards and whispering.
3. If desperate, spill wine on competitive bidders. (Note: red wine works best, but museums and other fancy places don't allow it.)
4. Move in at the last minute.
5. Never increase the bidding by lowest allowable increase. It shows no chutzpah and invites another niggling bid. It's better to step right up and blurt out the amount you are willing to part with and then hold your breath.
DO
buy a ticket to
Elle D?cor
's
Dining by Design
benefit for
Diffa
on February 1 if all of this makes you want to rush out and get a picture. The collection is always pretty good, and because there is so much going on at that event—everyone's looking at the devastatingly creative tabletops—occasionally nice shots get overlooked. Just don't bid me up.
And finally a farewell is in order for
Francesco Scavullo
, who donated work to both the ICP and OCRF fund-raisers, and who recently passed away. Any time I (or just about anyone) asked him to participate in a charity photo auction he would send a giant print that was always among the biggest earners.
Posted 01.14.04
Columnist Ted Kruckel is an experienced and opinionated former event and PR pro who ran events for 20 years for high-profile clients like Vanity Fair, Elle Decor, Christian Dior and Carolina Herrera. He shuttered his firm, Ted Inc., in 2003. You can email him at

[email protected]

.