Guest Column: 5 Tips for Live Streaming Events
Thinking about broadcasting your next event online? Here are some questions to ask and things to consider before making the decision.
June 28, 2013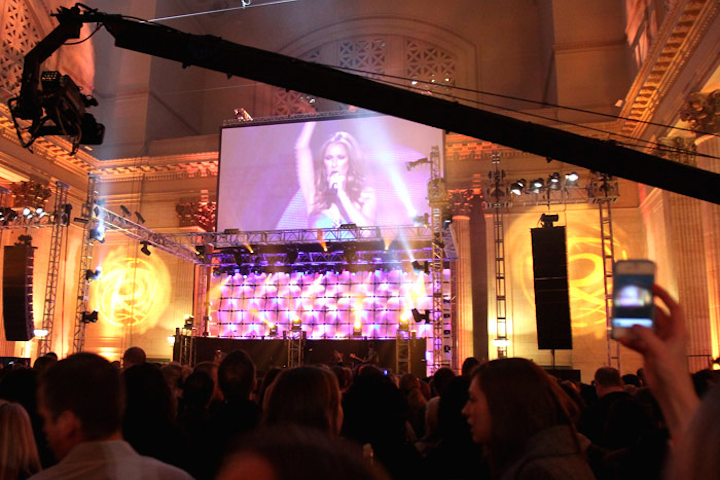 Photo: Tasos Katopodis/Getty Images for Caesars Entertainment
Alex Frias (@iamalexfrias) is the president and co-founder of New York-based experiential agency Track Marketing Group and has overseen live-streamed productions for PepsiCo, Billboard magazine, and T-Mobile.
Up until a few years ago live streaming, or delivering live content directly over the Internet, required a large investment both financially and technologically. Fast-forward to today and you can flip the live-stream switch through turnkey plug-and-play systems and broadcast partners that allow you to stream your event on Web, mobile, and social platforms.
The moment you start talking about live streaming your event is the same moment that you've crossed over into the world of broadcast production. You are no longer planning a traditional event but rather producing a live broadcast of an event. Whether it's the Grammys or a B-to-B conference, the basic elements are the same.
What does this mean? Things that you have never thought about before now come into play, including important questions like: Who's directing the show? How many cameras are needed? Who's producing your graphics package? Where are the cameras being placed and how does that affect the traffic flow of the event? One key consideration is deciding what's more important—on-site event attendees or those watching online.
Here are five tips to help you properly manage the event and broadcast production teams as well as help boost your event's R.O.I. and amplify its digital reach.
1. Plan for changes to the event's physical layout.
Whether your focus is on engaging guests at the in-person gathering or the digital viewers, realize the event's dynamics have changed, with camera plotting and additional lighting needs eating away at your traffic flow and space. The placement of cameras is crucial to the quality of the live broadcast as well as the on-site experience, but that, along with the footprint of other broadcast production needs, means there's less room for guests and potential problems with the flow.
2. Don't forget to engage the online audience.
Keep the digital event interesting by giving the online audience the ability to contribute to the live event and consider using an M.C. or event host to keep them updated about what's happening on site. You can also leverage graphics and B-roll video footage to maximize any on-site changeovers or "dead time" during the broadcast.
3. Source the right video production team.
Just as there are those that might say anyone can produce an event, there are people who think any traditional video company can handle live video. In my experience, this is simply not true. Video production for live streaming requires a specialized knowledge and skill set that most traditional crews are not equipped to handle.
When identifying a video production partner, be on the lookout for the following qualities and capabilities:
A production team that understands that you are still producing a live event and not a broadcast commercial shoot.
The ability—and willingness—to interface with your creative, marketing, and technical productions teams to maximize the exposure of the live stream.
Knowledge of satellite delivery and encoding services.
The ability to contribute and/or project-manage the postproduction editing process. This is not a must-have, but it will help save you time and resources so you can focus on the hundreds of other tactical details around your event.
4. Decide how and where the event is streamed.
Once you've realized the scope of producing a live broadcast and selected the right video production partner, the next step is to decide how and where are you streaming. There are two main approaches you can take: existing live-streaming platforms like Ustream and Livestream, where you can broadcast your event to a preexisting built-in audience; or a wall garden approach, where you host the content on a corporate site, micro site, or social media channel and drive traffic to that URL.
The good news is that you can actually do both, as software advances now allow you to plug into active third-party user bases while continuing to leverage the content on your own Web site and social media platforms for what some pay for monthly cable service.
When considering the best approach, think about leveraging traditional digital media buys and real-time advertising via Facebook and Twitter to drive people to the live stream. You can increase your community size and drive engagement by embedding a video player on a Facebook tab. (Don't forget the "Like" gate.) And knowing whether the event is a one-time live broadcast or one that will live on for days and months after will help determine where you host the content.
5. Budget time and expenses.
How do you budget for a live stream? You can always make a few calls to executive producers, sign a check, and just watch the final live stream on your tablet. Or you can ask those same executive producers a few more intelligent questions before signing them. Either way, there are certain elements you should keep in mind as you plan the budget:
You will have additional technical production expenses, particularly with lighting, labor, and venue rental. Start planning for an extra load-in day from the beginning.
Don't forget about your producer and director fees. Someone needs to produce and direct the broadcast.
Are you showing a musical performance? If so, you'll need to add a line item for artist clearance.
Last but certainly not least is graphics and editing. Don't you want cool graphics and animations on screen for those watching the stream? And once the show is over, you'll want to cut sizzle packages and edited versions of the performances and speeches so you can tweet out and post to YouTube the following day.
Featured Venues/Suppliers: