What's a Must-Have Tool That You Can't Work Without?
From organization-focused apps and social media platforms to compression socks and fishing wire, here are the tools event pros around the country use the most.
October 17, 2019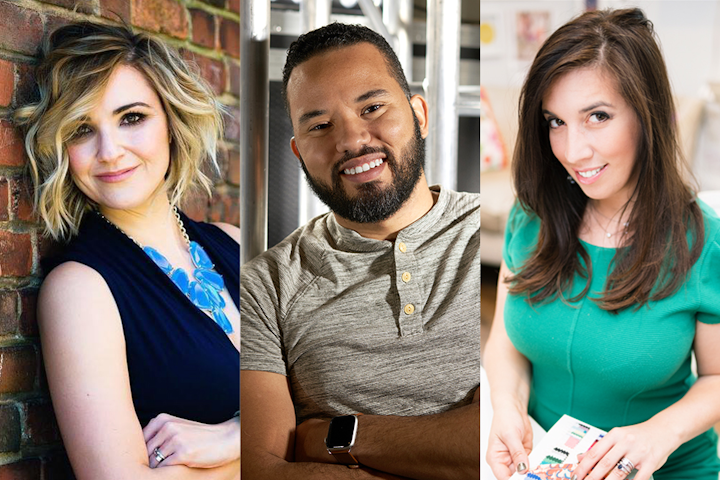 Photos: Courtesy of Readers
"I've become dependent on Amazon's Alexa. I use it to keep me focused and on schedule with reminders and calendar invites, as well as background ambiance. Anything that saves me keystrokes having to type and keeps me on schedule for calls, meetings, or even to drink water is a good thing in the hectic world of event production."
—Lenny Talarico, director of sales, Blueprint Studios, Las Vegas
"I cannot live without my compression socks. (Yes, I know I sound 80, but stick with me.) Most of my events are three- to five-day conferences so I am constantly on my feet logging tens of thousands of steps. The best flats in the world won't save you after the hours we put in. My solution: sleeping in compression socks. Next to some vinyasa yoga stretches, the socks really help reduce soreness and improve circulation."
—Amaia Stecker, owner and lead designer, Pilar & Co, Alexandria, Virginia
"Dropbox is critical for sharing large files, graphics, and photo storage, and AllSeated is such a quick, easy platform for floorplanning with clients. I set up a dedicated Google Drive for every event, which helps me stay organized and boosts communication and transparency with my clients and vendors. Also, a Pantone color book—I carry one in my bag wherever I go. Inspiration is everywhere, and color is so important to every event; I also love to teach my clients about why Pantone exists and how we use it. I use Pinterest's secret boards to speak to my clients in visuals, which is often easier than words. It's also just fun to get inspired and share our work, too. On Instagram, I love connecting with other vendors, sharing tips and tricks, and posting full IG stories about our events as they unfold."
—Amy Shey Jacobs, founder, Chandelier Events, New York
"I can't live without my iPad Pro and my laser measure tool."
—Miguel Peguero, event specialist, One Way Event Productions, New York
"My master doc, which I develop for every event we produce. Created in Google Sheets, this is truly a one-stop-shop for our entire team, including our clients and vendors. Containing a tab for every aspect of a show, it's easily accessible—no matter where we are around the globe, it enables absolutely every event detail to be stored in one place and ensures the entire team is well-informed. It's 100 percent customizable—[you can] color code until your heart's content, and it allows you to tag someone, ask a question, send a quick task reminder, and track conversations, without having to leave the document or rely on any other software program."
—Melissa Park, global event producer, New York
"My 18-inch by 24-inch whiteboard! I use it every day—on calls for notes, to brainstorm, to map out workflows and strategies. I take a photo and organize it in an album. I definitely have saved so many notebooks since I got my whiteboard. It fits in my suitcase, so I even take it with me when I travel."
—Michelle Nicole McNabb, owner, Emenee Marketing 'n' Events, West Chester, Pennsylvania
"As far as applications and software, I live by HoneyBook. It helps keep me organized and everything is in one place—contracts, proposals, quotes, brochures, client information, and billing info, as well as email reminders when things are due. As far as tools, I must have fishing wire and floral wire. There is a lot you can do with these two."
—Terri Villafana, owner, Party Designs by Terri, Key Largo, Florida
"Slack. This inter-office communication device has single handedly saved our inboxes. Before Slack, we emailed around the clock. Then, we discovered that we could utilize a tool that would minimize the one-off messages and allow us to have a free-flowing chat without needing to always hit send from our inboxes. As event planners, things are constantly changing (from pre-planning to on-site), so having a device that allows us to talk in real-time is a lifesaver. It can be addicting, so we try to impose rules so we don't end up 'Slacking' all day long!"
—Erin Rynn, senior director of projects and team dynamic, Sequence Events, New York
"My must-have event tool is an in-house graphic artist or designer. Providing proofs and visuals is extremely important to myself as a producer and to my clients so that we are both on the same page and their vision is properly executed. Relying simply on descriptions of custom-fabricated event elements is too risky and totally avoidable in today's world."
—Weston Garret Gonzalez, owner and lead creative producer, Westhaus, Los Angeles
"Microsoft OneNote. We are working on dozens of programs at the same time and this is our main productivity tool. Back in the day, we had a physical notebook where we'd print out every correspondence, contract, order, receipt, checklist, contact sheet, etc. Now it's all digital in OneNote, in the Cloud to access anywhere, anytime."
—Jill Snodgrass, partner, Daily Plan-It, Key West, Florida
"We use a lot of cloud-based software like Google Drive for all of the key documents, and Trello for overall project management. In Drive, [we have] three documents that are standard for every event: First, the budget spreadsheet, second, the master list of when everything will happen and by who, and the most important, third, the PowerPoint of how it all plays out. Each week we update the PowerPoint with pictures, renderings, floor plans, and all of the information about how the event will go so everyone on our team, as well as the client, can visualize every step of the event itself."
—Valerie Bihet, director, Vibe Agency, Miami
Editor's note: Some of these comments were shared by readers on our social media networks. Join our discussions on LinkedIn, Twitter, and Facebook.