How Will Prince Harry and Meghan Markle Secure Financial Independence? Six-Figure Events
Expect the Duke and Duchess of Sussex to hit the event circuit—on their own terms.
January 29, 2020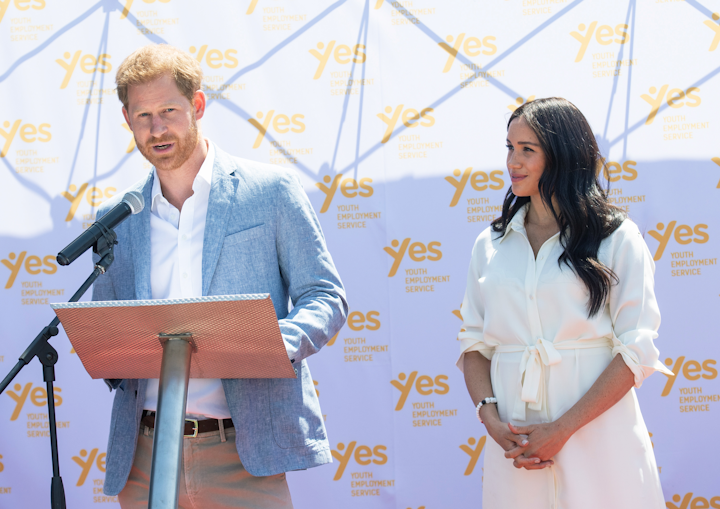 Photo: Samir Hussein/WireImage
Prince Harry and Meghan Markle announced through their Instagram platform on January 8 that they intended to step back from their duties as "senior royals" and work to become "financially independent." Buckingham Palace since confirmed the Duke and Duchess of Sussex will continue to maintain their private patronages. And while they'll no longer be responsible for attending hundreds of events large and small annually on behalf of the queen—from ho-hum ribbon cuttings to glittering galas—they likely will be active on the event circuit in their new capacity as primarily North American residents.
So what might that really look like—and how could events support both the couple and their chosen charities financially?
In just the same way that they've forged their own path to this point, expect the Sussexes to be "innovative and actually create their own events, which are really built around them," says Todd Hawkins, president of event production firm the Todd Group, as well as co-founder of the social impact agency Hawkins Mikita. "My prediction is they're going to curate and create their own version of South by Southwest."
As a point of comparison, Hawkins cites Maria Shriver's development of the Women's Conference in her role as California's first lady. He sees Markle and Prince Harry doing something similar, "gathering people in a thought leadership way and trying to advance impact, break norms, be independent, and follow passion at the same time."
Beyond innovating their own events, Hawkins predicts Markle and Prince Harry will participate in events such as major thought conferences that are intentional in nature. "I don't see them taking big payouts to go talk to major companies," Hawkins says. "I don't see them going to talk to Bank of America about leadership, or to a traditional company. I see them creating and curating their own."
If the pair were to consider a Bank of America-type event engagement, "They could command a six-figure speaker's honorarium on the level of former presidents," Hawkins estimates.
Howard Bragman, C.E.O. of PR and crisis management firm LaBrea.Media, postulates a similar speaking fee in a recent USA Today op-ed: "The question becomes, do you want 60 years of ribbon cuttings at suburban supermarkets, or do you want … hundreds of thousands of dollars just for showing up and talking about things you're passionate about. And, perhaps most important, a chance to shine a light on the ills of the world and give time and money to things you think will make a difference."
(For context, Markle alone commanded 15,000 British pounds per appearance, or about $20,000, even before she married into the royal family, as cited in The Sun. She signed to celebrity agency Kruger Cowne after a hugely buzzy speech to the UN in 2015.)
Hawkins suspects the couple will "get creative in negotiating their appearances," likely arriving at a model where they take a fee that will go toward their own charitable foundation and build their own financial independence.
"If they create their own conference or summit, they will build in an opportunity where they can make money for it," Hawkins says. "The only way they're going to take the big payouts from big corporations is if they can also make an impact at the same time. I see them as the future of what impact looks like, embodying everything Princess Diana was, and also the royal family [at large], while shaking things up and staying true to their identity and culture of independence."
Veteran event producer and nonprofit board member Mark Flaisher explains that starting their own philanthropic foundation would allow the pair to draw their own salaries as well as support their charitable organizations of choice at the same time. All of their salaries and expenses would need to be disclosed. "But as long as it's disclosed, they're not doing anything wrong," Flaisher says. "They're employees of the organization; they get a salary."
Of course, if the Duke and Duchess of Sussex are on any event's lineup, producers can expect them to be a massive draw for tickets. "It's a huge opportunity because people want to hear firsthand from them—they have a lot to share," Hawkins says. "Wherever they go, people will turn out in masses, and they'll pay a high premium to be in the room and to engage as much as possible." Even without any direct access to the couple, attendees might be willing to pay $40,000 to sit and have dinner with 40 other people in the same room with them, in the manner of other major state figures, Hawkins ventures.
Also in the vein of events bringing heads of state or other A-listers of global significance, any events featuring Markle and Prince Harry will come with significant additional logistics: road closures, heavy security, and more. And while the British taxpayers won't be picking up the tab anymore, some of the expense will fall to the event organizers.
"Even with them removed from their role, Prince Harry will always be part of the family whether the title is stripped or not. [Consequently,] security will have a major effect on your event," Hawkins says. So the Sussexes' impact on events will bring both "the good and the bad," he says. "You may make profits, create a really good experience. And there are logistical issues that are going to impact your budget that you wouldn't otherwise have."