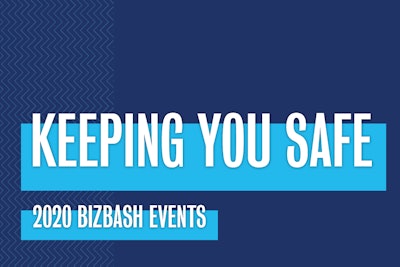 We have the privilege to be in an industry built on face-to-face connections, game-changing handshakes, and meaningful relationships. And as with every line of work, the event industry has faced its fair share of challenges—but we've always pivoted, adapted, and come out stronger.
With the current events surrounding COVID-19, better known as coronavirus, we're making a conscious effort to protect our most precious asset (you!). Our team is working tirelessly with our event partners to create safe and clean spaces for all BizBash events across North America in 2020, and beyond.
Here's a quick look at what we're doing for our live events in 2020:
Education: We'll be hosting event safety sessions that will be open to all BizBash event attendees.

Wipe Downs: Surfaces inside our event venues will be wiped down with appropriate disinfectants a minimum of once daily.

Hand Sanitizer Stations: Hand sanitizer stations will be located throughout all venues and conference spaces.

Emergency Ops and Planning: The BizBash team will meet with the emergency operation and planning teams at each venue to ensure all staff is prepared for situations that may (or may not) arise. Betty the BizBash Chatbot will also push important information to our registered and onsite attendees.

Expert Insights: Through our parent company Connect, we have insights and information from a health consultant, a world-renowned expert in the areas of immunology and infectious diseases who has decades of experience at the Centers for Disease Control and Prevention. Connect and BizBash will work with this consultant throughout the planning and execution process of our events.
Here's what you can do at home and work to stay safe:
Stay home when you are sick, except to get medical care.

Cover your coughs and sneezes with a tissue.

Wash your hands often with soap and water for at least 20 seconds.

For Old School Vets: Sing the first verse of "Proud Mary" by Tina Turner

For Millennials: Sing the first verse of "Bye Bye Bye" by NSYNC

For Gen X: Sing the chorus of "Say So" by Doja Cat twice

Don't know these songs? Check out #washyourlyrics to find your jam.

Avoid touching your eyes, nose, and mouth with unwashed hands.

Clean frequently touched surfaces and objects daily.

Instead of a handshake, flash a peace sign, bump elbows, exchange a foot tap, or get wavy with it (as per Hawkins International PR).
It's more important than ever to connect with people who share your passion for live experiences and understand the challenges that come along with it. At BizBash, we're making decisions based on the expert guidance of public health authorities, and we're ready to shift as necessary—but for us #ThisShowIsOpen.
Stay tuned to bizbash.com for the latest news on how the industry is being affected, plus the usual mix of event inspiration and education. In addition, BizBash's Event Planners Gather group on LinkedIn has come to be a digital platform where event and meeting professionals can gather virtually and support one another during this time. As we strive to provide support to our industry that's currently facing extreme hardships, we encourage our readers to reach out to [email protected] and let us know how we can offer further guidance. We know our business, civic, and world leaders are doing everything in their power to keep us safe, but this too shall pass. When it does, our shows will be perfectly timed to get back to business.
- The BizBash Team