Creating Authentic Events for Women in the Era of #MeToo
The rules have changed for women-focused events. Here's what you need to know.
July 9, 2018
From the Women's March and its four million attendees, to an award season dominated by discussions of sexual harassment, to a series of new women-led conferences from major brands, more and more events are taking steps to accommodate—and empower—women in thoughtful and creative ways.
The barriers to equality still exist: According to a February 2018 study by Georgetown University, over a course of a career women earn a whopping $1 million less than men. Meanwhile, women are facing—and exposing—an undercurrent of sexual harassment across all industries, while domestic violence still affects one in three women and the current presidential administration is taking steps to roll back abortion rights and other hard-fought measures.
In the wake of this, an increasing number of brands are using events to fill the gap, facilitating networking opportunities and thoughtful discussions, creating accommodations for working mothers and gender-fluid attendees, and focusing on empowering women of all ages, races, and socioeconomic classes.
"Major brands are hyper-aware that they have to go above and beyond right now to communicate to their audience that they're not alone," explains Nicky Balestrieri, co-founder of the Gathery, a New York-based production firm that recently designed women-focused events for brands such as Girlboss and W Hotels. "Brands want to be spending their money on things like [women-led conferences] right now, more than they want to throw lavish parties. They're stepping up where the government is lacking."
The Gathery co-founder Luigi Tadini agrees. "I also think that brands are afraid of just jumping in [to these types of events]; they don't want it to seem like they're only doing it because it's trendy," he notes. "The key is to find the best way to communicate to that audience that remains true to the brands."
So how can events become places for authentic discussions and empowerment? 
Focus on substance over style.
While eye-catching decor and Instagram-worthy moments will always be important, women have come to expect more.
 "I find it played out to see so many 'you got this' messages spelled out in neon pink lights at lifestyle conferences," says Katie Hintz-Zambrano, the editor of Mother magazine and the founder of In Good Company, a conference for working mothers held in San Francisco in October. "As feminists and leaders in 2018, we don't need a sign to tell us that. We know we've got this, and we've 'had' this for a while now."
Tadini notes a recent shift of brands and events trying to insert a more human component. "It's no longer about just going to an event and taking beautiful pictures and sharing them online," he says. "It's about how marketing can really impact change."
Sponsors are beginning to do their part. At the inaugural Teen Vogue Summit, for example, which was held in Los Angeles in December, sponsors such as Facebook, LifeWtr, and Playstation created interactive experiences that encouraged creativity and expression, rather than simply displaying their logos.
"In the last two years, we've seen a lot of companies that wouldn't previously have focused on women shift their focuses—particularly tech companies, or companies focused on entrepreneurship," says Tadini. "As the conversation grows about women as an attentive audience, the brands are listening."
[PULLQUOTE]
Create comfortable spaces for conversation.
As events expand to accommodate a more diverse crowd, certain logistics may need to change. Recent events, for instance, have turned men's restrooms into all-gender restrooms, and made sure to have concierges on site who can accommodate special needs, dietary restraints, and more. 
Erica Boeke, the vice president of experiential for 23Stories—the event arm of Condé Nast that produces the Teen Vogue Summit, Glamour's Women of the Year awards, and more—notes a few other trends in women-focused events.
"Women want to know the [event] details and specifics well in advance," she notes. "We also strike a balance of hands-on activities to participate in, while ensuring plenty of downtime for connection and networking. Women want to bond."
One of the biggest structural changes is in speaker format. An increasing number of women-led events are breaking down the division between speaker and attendee. At a series of small meet-ups leading to the Teen Vogue Summit, for example, every guest was given a two-minute mentoring session with the speakers, and attendees were encouraged to discuss their passions throughout the event.
"We find some attendees are very confident and walk right up and introduce themselves, while others are shy," says Boeke. "So we produced fashionable lanyards that included each attendee's social handle and a cause they were most passionate about. It's the perfect conversation-starter."
The Gathery also tries to create environments that are catalysts for conversations. "For example, when we do W Hotels' What She Said [speaker series], the seating becomes almost part of the staging," says Tadini. "The breaking of the fourth wall is something that's pretty consistent in women-led series."
Make it accessible for mothers.
While breastfeeding lounges have been a staple at certain events for several years, some new conferences are taking it a step further. For the inaugural In Good Company conference, Hintz-Zambrano thought through logistics such as what day the event was held and what type of lounge would be most comfortable for women who were breastfeeding.
"[Mothers] often have specific needs that aren't always addressed at professional events," she explains. "We know that a Friday often works better than a weekend for a full-day conference, because women have their childcare situation figured out on Fridays. For smaller networking events, we know that there are pockets of time that work better, depending on a mother's child's age, nap schedule, and school pick-up time."
Hintz-Zambrano also encouraged women to bring their children to the In Good Company conference. "If you have mothers of babies and small children invited, you have to make it an option that they bring the child with them," she says. "There should always be a relax/play nook of some sort that caters to breastfeeding women and women who have babies strapped to them and need a moment to decompress."
Younger women crave authenticity more than ever.
In terms of young millennials and Generation Z, Boeke cites the recent March for Our Lives demonstration as an example of what they are seeking from face-to-face gatherings.
"It demonstrated that this audience wants real people with real experiences—rather than celebrities on stage sharing pre-rehearsed conversations," says Boeke. "The spotlight was on the students—and in the cases of the few big names who were on stage, like Ariana Grande and Lin-Manuel Miranda, they had authentic experiences and performances to share."
Boeke also notes that younger generations are looking for social-media moments that are more organic. "Happy attendees who want to share their FOMO-inducing moments are your best ambassadors," she says. "And women and teens are more likely to share socially from events."
Continue to strive for a diverse, engaged audience.
While women-focused events have been making great strides, there is room to improve.
"Giving women a space to connect and gain other perspectives is very important," says Boeke. "And the next phase is really facilitating action. At [our next] Teen Vogue Summit we will continue to host hands-on workshops that net tangible outcomes, [such as] a day of action where smaller groups will volunteer with various organizations around the city."
Hintz-Zambrano predicts that events focused toward men also will adopt some of these ideas. "Having men just as engaged in issues affecting women and the work/life juggle is definitely a part of the future."
Meanwhile, Balestrieri believes that the idea of intersectionality—a dialogue touching not just women, but people of color, the L.G.B.T. community, and other marginalized groups—will increasingly come into focus in the event world.
"I've always had this vision of 'the other'—while I don't live a women's experience, [as a gay man] I can empathize and understand it because I too have felt like the other," he explains. "I hope that the marketing trend of what we're seeing women do can really bleed out into the broader category of the other."
"And I think it will," adds Tadini. "The initiatives we have created are much more inclusive in terms of dialogue and conversations than ever before. The wider these conversations get, the more interconnected all of these platforms will be."
This story appeared in the Spring 2018 digital edition of BizBash.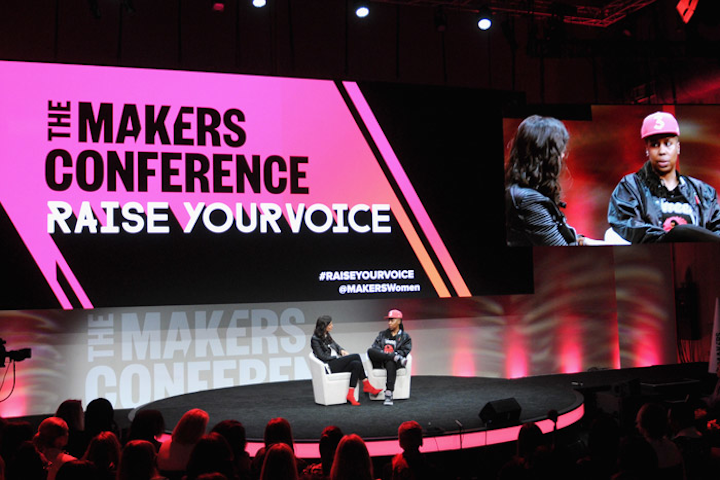 Photo: Vivien Killilea/Getty Images for Makers
Featured Venues/Suppliers: