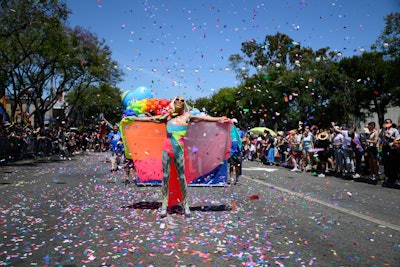 Photo: Courtesy of JJLA
It's an interesting time to be celebrating Pride Month in the United States. LGBTQ+ rights are increasingly under attack in various states, and several Pride events and festivals have recently been targeted by hate groups. But at the same time, Pride-related gatherings continue expanding, and many brands have been ramping up their efforts to show their support with cause-driven campaigns.
"Attendance is strong for LGBTQ+ events right now," says Bruce Starr, CEO and co-founder of BMF, an LGBTQ-owned agency that has worked with clients like LA Pride and Peacock's new Queer as Folk reboot. "People are out in force wanting to go to things and support the community."
The key, of course, is going beyond the so-called "rainbow-washing"—where brands voice support for LGBTQ+ rights but take little to no real action—to create meaningful campaigns and celebrations that are truly inclusive, authentic, and safe. BizBash asked Starr and Jeff Consoletti, the founder and principal of event production company JJLA, to share what's resonating now. Here are their tips.
1. Make it inclusive.
"LGBTQ+ events continue to evolve because of how much more inclusive they have become," explains Consoletti, a longtime producer of Pride festivals and the founder of the Outloud Raising Voices Music Festival, which served as the cornerstone of the inaugural WeHo Pride event earlier this month.
"There was a time when Pride events felt geared toward a gay male demographic only. Now, Pride events have spaces for families and for women, and expanded programming for trans and nonbinary individuals," he adds. "As Pride continues to evolve, it's important for events to ensure that they are creating a safe and open space for all individuals across the rainbow spectrum."
Starr—whose team recently helped redesign the LA Pride logo to better represent Black, brown, and trans identities—agrees that the face of Pride is still mainly white men. But, he argues that we're at a juncture where so many aspects of Pride have been accepted into mainstream culture—which leads to opportunities to be more open and inclusive.
Consider hosting daytime options like festivals and parades, Starr advises, to help families and children participate. And don't shy away from hard truths about the discrimination and even violence that the lesbian, non-binary, and transgender communities are facing.
"Even within the LGBTQ+ community, there needs to be a broader acceptance that it's no longer just gay pride—it's pride for the full community. Powerful gay men have the opportunity to support other parts of the community in a more meaningful way," Starr says.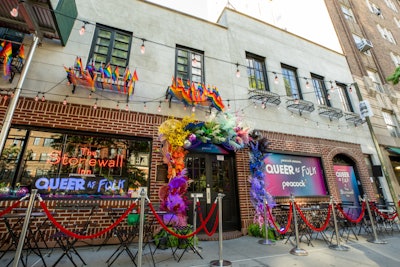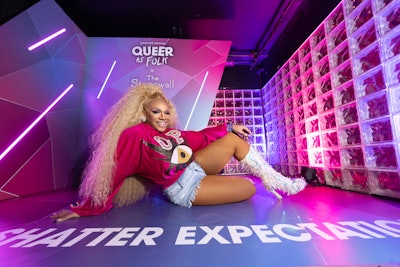 2. Focus on cause-driven initiatives and meaningful engagement.
Brand-focused events and activations are common throughout Pride month—but there needs to be an indication that the support is going beyond the superficial.
"There is an opportunity for brands to show how their event actually supports charity and positively impacts the causes that are important to the LGBTQ+ community," Starr says. "You see all the merchandise in stores and the rainbow windows, but what is the actual impact of this support? How does it actually go to the people in need or the programs supporting vulnerable communities? Brands can stand out by connecting the dots with their effort and showing that they're not just along for the ride to help support sales."
Consoletti advises doing this via "multifaceted programs that allow for maximum participation and engagement. High-energy concerts and dance parties can be mixed with community fairs profiling nonprofit and community-based organizations working in the space," he suggests. "Brand partners and sponsors should be matched with cause-driven initiatives that show their commitment to the community."
Ultimately, consumers do want to see brands showing their support, whether it's digitally across social media or IRL at events. "Creating safe spaces and activations that mix learning and history with entertainment and activations have made for the most exciting Pride activations," Consoletti says.
3. Involve local businesses and tourism boards.
Community support is crucial to creating a safe, inclusive Pride experience. When working on the inaugural WeHo Pride in the city of West Hollywood, for example, Consoletti aimed to integrate the local business community, which included a high percentage of LGBTQ-owned and -operated businesses.
"From pre-events leading up to the festival, to a special ticketed promotion, to special after-parties and branding integration throughout the month, we ensured businesses were informed and participating fully in the event calendar planned," he notes.
And often, that collaboration can lead to new event ideas and opportunities. "The city [of West Hollywood] wanted to ensure we were providing opportunities for all to enjoy, which is why the free community street fair was equally as important as the Outloud Raising Voices Music Festival," Consoletti adds.
Starr is also seeing great support from cities, businesses, and various allies right now. "[Pride has] become a major moment for cities and tourism boards," he says, noting that Pride events in cities like Los Angeles, New York, and Tel Aviv have expanded beyond a one-day affair into massive, highly anticipated gatherings. "Pride is a big deal for local economies as well."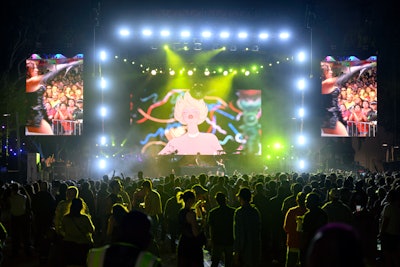 4. Acknowledge the history of the Pride movement—and keep the conversation going year-round.
Consoletti thinks that the most meaningful events include a nod to the historical significance of Pride. "Ensuring historical components remain part of Pride is important to the legacy of the movement. [For example, ] throughout our Twitch broadcast of Outloud Raising Voices, we profiled leaders in the movement to provide viewers at home and [at the live event] anecdotes of the important work that has allowed us the privilege to celebrate Pride so openly and safely today," he says.
And make efforts to keep the conversation going year-round, beyond the official Pride events in June, Starr notes.
"The LGBTQ+ community often struggles and feels the most alone and unsupported around Thanksgiving, Christmas, and Valentine's Day—we have to keep thinking through these moments. Education needs to continue throughout the year," he says.
5. Yes, the rainbow is still a great decor choice!
Sure, "rainbow-washing" is a thing. But that doesn't mean rainbow decor isn't still a great choice for LGBTQ+ events. While event producers are finding ways to evolve and modernize the traditional rainbow decor, it isn't going anywhere, say our experts.
"For instance, we supported creative direction this year for LA Pride and created a vertical rainbow that was showcased throughout the event signage and way-finding at the Pride in the Park [event]," Starr explains. "The rainbow was both immediately recognizable, but also a new and modern interpretation."
Consoletti compares the rainbow theme to using red-and-green decor and twinkling lights during the holiday season—it's synonymous with the Pride movement.
"I love the ways that brands take on using the rainbow in refreshed ways, whether leaning into a more neon or pastel palette or integrating the full colorful spectrum of the equality flag," he says. "The rainbow flag and multicolored decor not only define the Pride season, but are a testament to the historical significance of the LGBTQ+ movement."