Lessons Learned Over Four Decades As An Industry Leader
GES executive John "Jack" Patronski reflects on how the meeting and trade show industry has changed, what we can learn from previous times of crisis, and his hopes for the future.
June 10, 2020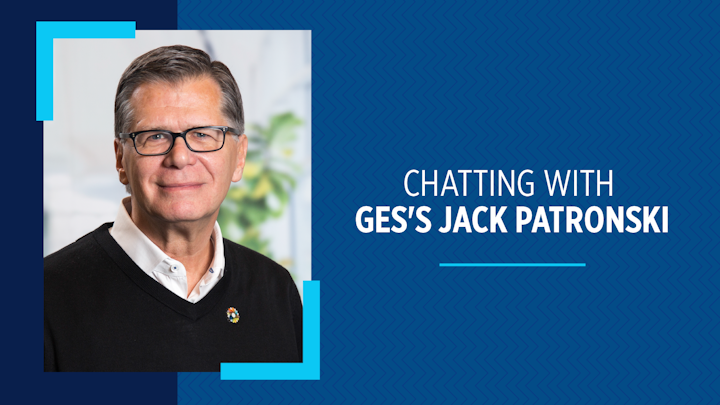 Photo: Courtesy of GES
CHICAGO—After 44 years in events, John "Jack" Patronski will retire on June 30. The longtime industry leader is currently the executive vice president of industry development for global event management firm GES, where he's worked for the last 25 years. He previously served as director of operations for the Donald E. Stephens Convention Center; he also was chairman of the board of Choose Chicago from 2007 to 2009, and chairman of the board for the PCMA Foundation in 2006. Patronski has been awarded numerous industry recognitions, including a spot on BizBash's Top People in the U.S. Events Industry list in 2019. 
This week, BizBash caught up with Patronski to discuss the biggest changes he's observed over four decades, why he thinks volunteer work is crucial, what event pros can learn from September 11 and the Great Recession, and his hopes for the future. 
On getting his start in the industry:
After graduating from Northern Illinois University with a marketing degree, Patronski did short stints as a police officer and an EMT. "During this time of my career, I learned how to deal with challenging people, unknown situations, and the importance of quick decision-making," he remembers. "In hindsight, the variety of work at the department provided a nice platform for what was ahead for me."
Patronski ultimately did not want to make a career in law enforcement and interviewed for the role of director of operations of the O'Hare International Trade & Exposition Center—now known as the Donald E. Stephens Convention Center. "I secured the position and a new learning curve started all over again," he says. "I learned about the long work week that is common in the events industry, [and] I discovered I enjoyed the challenge of the entire operational process for the event. … What kept me going was the interaction with the clients bringing shows into our facility and receiving positive feedback on service."
Three years later, Patronski landed a job at Andrews-Bartlett, which merged with GES in 1993.
On volunteer work:
"It has been in my family DNA to volunteer, and it carried over into my work life," says Patronski, who was drawn to leadership roles with organizations such as IAEE and PCMA. "I appreciate the recognition I have received over the years, but I really enjoyed the opportunities to serve on boards where there was a potential impact for real and significant change."
Patronski cites his stints on the PCMA Foundation board as the most rewarding of his career, due to the opportunities to help others through scholarships, student recognition, giving back to the communities, and other programs. He also notes his time at Choose Chicago, which fell at a crucial time for discussions on labor reform and exhibitors' rights—a topic that was a focus of his volunteer work for many years. 
"My interest in labor and service improvements was always present; eventually you get tired of the complaints and confusion of jurisdictions and rules that have multiple interpretations, and you want to contribute to finding ways to make it all better," Patronski remembers. "Organized event labor is a critical element of the industry, which is needed to complete the installation and dismantling of events. However, restrictive work rules for exhibitors, unnecessary large crew sizes, restrictive straight time windows, and the overall service attitude needed change."
In the 1980s, he says, there were a few smaller movements in Chicago that aimed to bring about labor improvements, including a group called Friends of McCormick Place. But he quickly realized that legislation was needed to bring about real change. "I was ready and willing to contribute my time and resources to provide viable information to explain the real differences in work rules and associated cost between major convention venues across the U.S.," he says.
Ultimately, Patronski and a friend, former Freeman executive Doug Van Ort, spent a two-year period gathering information on work rules, crew sizes, and cost, and presenting the facts to key stakeholders. "These efforts, along with the testimony of Chicago clients, helped drive real change at McCormick Place, resulting in legislative law changing work rules, providing exhibitor rights, expanding the window of straight time, and a clearer definition of crew sizes and safety requirements," he says, noting that he also did some work to support labor reform in Las Vegas and Philadelphia. "Positive labor change for the exhibitor and show organizers makes the show experience much more rewarding." 
On what the trade show industry looked like four decades ago:
"In the early years, we were very focused on production and operations," Patronski notes. "Then elements of the business evolved to a more strategic discussion, to keep the shows growing for attendance and exhibit space. New technologies allowed us to do business differently and be more creative. That is what I enjoyed—learning new skills, teaching new skills, and approaching business models in a different way."
When he got his start, trade shows were much smaller, taking over one floor or one hall in a convention center or hotel. "Marshaling trucks was an absolute nightmare, as there were no marshaling yards for most convention centers," he remembers. "Service contractors became creative in storing empty crates. On one show, the contractor used the outside pavement under the highway to store the empties [and] the police gave tickets to the empty crates."
Patronski also reminisces on uncarpeted aisles, rotary phones, and hand-drawn signage. "Registration systems punched out credit-card type badges that fit into a plastic pouch, and exhibitors had the old slide machines to read the embossed names on a carbon paper form to capture their sales leads," he says. "Can you imagine these machines embossing the plastic cards for the raised letters for the attendee's name and company name? It was like being in a small manufacturing plant pumping out a product in the registration area."
On surviving hard times:
As someone who has worked through September 11, 2001, the Great Recession, and other difficult times for the live event industry, Patronski is no stranger to crisis. "We recovered and the economy became stronger, but it took sacrifice by all," he remembers. "Furloughs, pay reductions, and lost jobs were part of the recovery process, but eventually we were back to what we considered normal."
Patronski believes that COVID-19 will create a new normal for the industry. "I am uncertain how the recovery will play out, as the epidemic has added an unknown factor into our world. This unknown, along with the growing civil unrest in our country, creates new pressure on our economic recovery—and the road map does not exist," he says. 
But, he adds, face-to-face events are here to stay. "The execution of exhibitions, conferences, and corporate events will change in the future, but will continue to be a vital and integral part of the economic engine around the world. Through this pandemic, more and more data has become available emphasizing the economic impact of the exhibitions and events industry, direct and indirect. It is quite staggering. Live events will not go away," he says.
On virtual events:
"In every conversation I have had about the future, the question of 'Do you think virtual meetings will replace face-to-face meetings?' comes up," Patronski says. "My simple answer is 'no.' The advancement and use of technology in the events world have been significant, and a virtual component of many face-to-face meetings already exists—and in some cases that may expand. However, I firmly believe it will not be a replacement for exhibitions, conferences, or corporate meetings. It will not replace the need for face-to-face presentations and meetings, interactions between buyer and seller, new product reveals, sharing of new ideas, or the need to make new contacts professionally or personally."
On what he'll miss the most about the industry: 
"Though my plan for retirement has been in the works for some time, my departure comes with mixed emotions as I reflect on the people, projects, and initiatives that made my career so rewarding," says Patronski. "That is what I will most miss about working in the events industry."
This interview has been edited and condensed.