What Worked (and What Didn't) at the 2020 DNC and RNC
Event professionals discuss what they liked and didn't like at this year's Democratic and Republication National Conventions—and how these lessons can apply to their own hybrid events.
September 1, 2020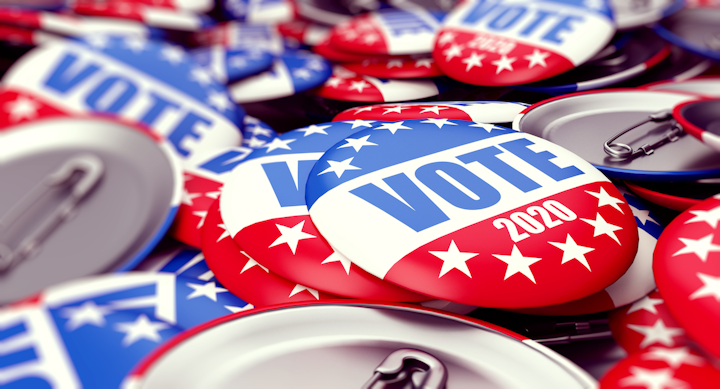 Photo: 3dfoto
After this year's Democratic National Convention, which ran from Aug. 17-20, a photo went viral on social media that many event professionals could empathize with: director Glenn Weiss, barefoot in his Los Angeles-area living room in front of a wall of monitors.
The image was instantly relatable—and inspiring—for any event planner who has spent the last six months immersed in the wild world of virtual events. And it helped illustrate just how ambitious this year's convention was, using a reported 800 video feeds and 64 set designs to pull off the hybrid event, which also drew headlines for a virtual roll call around the country and a drive-in fireworks show. (In addition to Weiss's living room, the show was produced from a control center in Milwaukee.)
The Republication National Convention, which ran from Aug. 24-27, took a slightly more traditional approach, with delegates—each of whom had reportedly received a COVID-19 test—gathered in person in Charlotte, N.C., plus a mix of live and prerecorded speeches from locations such as the Andrew W. Mellon Auditorium in Washington, D.C. (Or—in President Trump's case—from the White House's south lawn, which drew criticism due to the lack of social distancing as well as potential violations of the Hatch Act.)
We asked experienced event professionals around the country to put their political views to the side for a minute and focus on the event production elements of the two conventions. Here, eight planners discuss the pros and cons of each event, what they would have done differently, and how these high-profile events might impact the future of hybrid gatherings.
Greg Jenkins, partner, Bravo Productions, Long Beach, Calif.
"[For the] DNC, the speeches over the virtual platform had more impact, and viewers were able to hear them in their entirety without interruptions—in comparison to the large in-person convention with all the shouting and clapping from delegates. And because the speeches were shorter, I tuned in to the entire telecast. Shorter presentations always work better for engagement and the average attention span.
While they can be effective, I'm personally not a big fan of balloons or balloon drops. It seems passé. Watching supporters in their own vehicles, under the skies of a fireworks display, was thrilling to watch for a couple of reasons: It accomplished the goal of adding a crescendo to the convention, and watching supporters in their own vehicles (obviously practicing social distancing) made the experience seem real, relevant, and relatable.
At times. the cueing for speakers was a tad off and had a small lapse before one actually spoke—however, overall the show moved at a nice pace, and the technology to put on such a weeklong televised convention is a major feat.
For the RNC, while having in-person speeches in front of a live audience was effective, the lack of practicing social distancing at times and supporters without masks made the show look as though it were televised pre-pandemic. … As an event planner learning how to manage COVID-19 and learning about best practices for public safety and health guidelines, it made it difficult to watch the segment without cringing. This has nothing to do with speeches or politics—whether you as a planner are a registered Republican or Democratic voter, public health and safety have to be incorporated into any convention plan."
Brett Hyman, president, NVE Experience Agency, New York and Los Angeles
"This is a great opportunity to differentiate the definitions of 'virtual experiences' from 'virtual broadcasts.' In my opinion, a virtual experience requires a 'lean forward' program where the audience can actively influence the narrative in real time. A virtual broadcast is more of a 'lean back' experience, where the audiences passively absorb content. Both the RNC and DNC were virtual broadcasts—there was zero opportunity to engage, participate, or co-create alongside content. Here are some things that could have been done:
User-generated content: They could have utilized a live social media aggregator. Or they could have included more grassroots sent-from-home viewer content. (The DNC did have some feeds of audiences behind the speakers, but no audio was played). This would have allowed the audience to feel like they were a bigger part of the story.
More explanation of the process: They would have benefited from someone who breaks down the nominating process, explaining to the audience more about the roll call. This would have been able to bring in and keep new and young voters engaged, especially those who had never seen a political convention before.
Second-screen experience: I believe the single most experiential element that was missed was integration of formal second-screen experience. Anyone watching was likely engaging with their friends and family in real time via text or social media—meaning, they all had their devices in their hands. The DNC/RNC could have created a unique second-screen experience with everything from live fact-checking and social media aggregation to AMA's with speakers right after their speech, polls, and so much more. This was a major missed opportunity."
Jennifer D. Collins, president and CEO, JDC Events, Silver Spring, M.D.
"I thought each of the productions worked for their brand. The DNC had more professional character and unique elements in how they featured speakers and presentations. The roll call was fun and engaging, and you felt the camaraderie and spirit of being an American. Some of the panel conversations probably weren't needed, but the symbolism, features of real Americans, diversity of people and locations, and montage of candid moments kept it interesting and brought you in for connection. The drive-in and fireworks were a great finale, as it commemorated where we are as a country in fighting this pandemic—yet still provided happiness and celebration.
For the RNC, its elements of a TV-style production worked even if more traditional and predictive in nature. Given that the Mellon Auditorium was the main venue there was less character, but the recorded presentations coupled with the live elements and video presentations gave it a polished presentation. Similar to the DNC, I don't think the staged conversations were the best moments.
For both, I believe featuring real people was a great asset in making the connection and drawing people in. This format also allowed people to focus on what was being said, rather than being drowned out and lengthened by applause and other antics. I think some semblance of the DNC's roll call should continue for future conventions, as I believe that element was much better than in person."
Joe Faulder, director of creative and strategy, Projection, Springfield, Va.
"One thing that stood out to me was during the Democratic National Convention when they had the panel of former candidates. As someone who designs and produces shows myself, I have a high bar for how events are done—and this one blew me away. The technical team made it seem so natural; I felt like I was in the room with each of the former candidates. For me, it was the way it was edited, how they added in people's reactions to comments to make it seem like a completely natural conversation. Even though it was all prerecorded, it felt live. In this one segment, they made me believe that these people—who had been in opposition—were now all aligned. They did that through the power of technology, execution, and delivery, which is so incredible."
Jeff Consoletti, founder, principal, and CEO, JJLA, Los Angeles
"After two weeks of nonstop politics on TV, regardless of what side of the aisle you sit on, one item is clear: Vote like your lives depend on it.
I felt like the DNC had a lot more mixed-use content that went into each show. From pre-taped segments to video packages to Zoom town halls to their unique roll call to celeb 'hosts' in a studio, the DNC ran the gamut of pulling together a program that needed to have a very specific run of show and theme to each night of programming. The DNC took more risks with pivoting between live and pre-taped segments as well—which was a bit stilted earlier in the week, but I thought they maneuvered it better on their bigger nights (Wednesday and Thursday). The DNC felt like they adjusted to meet the times—they didn't try to produce a convention in the traditional sense, but presented their platform and their candidates in a refreshingly new format that even post-COVID might be a more unique way to engage Americans.
For the RNC, I thought the mixed-use of locations or 'sets'—from the Mellon Auditorium to Fort McHenry to the White House—has the potential to be a solid approach and, initially, I was hopeful that this would be a solid use of showing how people can begin to gather safely for live events. I was particularly hopeful this would provide a good example from a government perspective, seeing as the industry hasn't had much support federally to date. Unfortunately, the lack of social distancing, mask-wearing, and the overall disregard for COVID safety measures was disappointing and blatantly disregarded the severity of the pandemic we are in. 
In contrast to the DNC, the RNC felt a bit more like a news special rather than a TV special. The RNC was trying to preserve traditional aspects that you would see at a live convention in an arena, instead of adapting to the new-normal the COVID world presents. I felt like the DNC was targeting and talking to a more nimble, savvy, young constituent in how their content was produced, while the RNC seemed more traditional."
Jen Skeldon, principal, J. Skeldon Consulting Partners & Events, Toledo, Ohio
"DNC wins: The speaker lineup was a transparent reflection of Biden and Harris's lifelong professional relationships and friendships. ... The DNC also hosted top recording artists John Legend, Common, Jennifer Hudson, The Chicks, and Billie Eilish. The party's principles were woven throughout the convention. DNC losses: The prerecorded speeches fell flat and lacked cohesion, and the energy level was low.
RNC wins: The speakers were well-rehearsed, and a variety of locations and live remarks translated well and complemented the RNC message. There was First Family engagement and convention participation. The Mellon Auditorium's set, sound, and lighting were on point for live television, as well as the quality and production of videos. RNC losses: Social distancing protocol for live events was absent, and there was a lack of incorporating entertainment to reset the energy between speakers."
Lizz Torgovnick, chief creative officer and co-founder, Sequence Events, New York
"Our team really appreciated the variety of program segments within the virtual DNC. One of our favorite elements was the roll call, which brought the uniqueness of all the states and territories like never before and used the classic convention vertical sign and a 3D map to tie it together. From cacti in Arizona to the iconic Las Vegas sign in Nevada to Joe Biden's childhood home in Pennsylvania (with cheers from a small live crowd!), this trip felt like a journey across the country and was more personal than the arena setting would have been. This was definitely a silver lining opportunity that the virtual convention made possible.
There was clearly a mix of both live and prerecorded content throughout the program, but it was unclear to us the rhyme or reason behind those choices. Sometimes it was impossible to tell unless you noticed the timestamp that indicated on CNN's feed that someone was live. However, there were also some notable differences in speakers' energy in a prerecord, such as a more quiet AOC in a studio versus Tom Perez, who was standing at a lectern and speaking with the passion inspired by a live audience and posture."
Eyal Simko, creative director, The One Up Group, Los Angeles
"The DNC looked and felt very different this year due to COVID. In my opinion, it was a good kind of different. What used to be a convention with an emphasis on stage design and large-scale production in arenas became an intimate, more connected production that resonated with America and successfully tapped into people's emotional connection. It became more about the people versus the production.
From a production standpoint, we immediately noticed a few things that had to be altered due to going virtual. The shortened speeches. There were no pauses for clapping, cheering, and standing ovations as the messages were delivered. It was concise, to the point, and quick. The virtual roll call made it more authentic, allowing us to be heard from all over the nation by simply connecting with people virtually. 
The virtual format of the DNC also played a massive role in highlighting the emergence of virtual events, virtual platforms, virtual productions, and the future of the events industry as whole. As someone who adopted virtual events early on, the discussions I've had with our colleagues quickly shifted from 'Oh, it's just an event on a computer' to 'Wow, I didn't realize so much can go into a virtual event.' At the end of the day, virtual did not completely revolutionize the way events will move forward, because the main ingredients will always be the same. Whether it's a live or virtual event, content is your driving force. … I personally am a fan of the virtual format and I thought [the DNC] did a wonderful job at making it feel more authentic and curated for us, the people."