What's In Your Event Emergency Kit?
From handheld mics and backup flash drives to granola bars and comfortable shoes, planners share their must-bring items for the day of an event.
April 25, 2014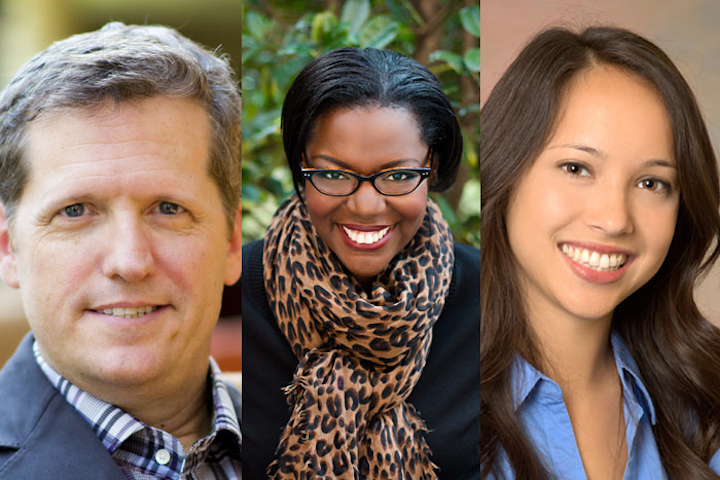 Photos: Courtesy of Thom Singer, Michelle Lindsay Photography (Weekes), Courtesy of Kelly Woo
"Knitting needles, pre-threaded needles, eyeglass cleaner, Evian face spray, tools, WD-40, snacks, and so much more."
Shannon Lemp, wedding planner, Panache and Promises, St. Louis
"We have two 'take boxes' that we pack for every event. One has office supplies, and the other has beauty supplies. Between the two we have just about everything someone could need."
Kelly Woo, meetings assistant, Special D Events, Royal Oaks, Michigan
"We often need last-minute signs, so chalkboards and bright-colored chalk are always in my kit."
Catherine Billings, graphic artist/communications assistant, Saugeen Conservation, Formosa, Ontario
"From the geek side, I always carry a switchable handheld mic and tabletop stand. Those two items have saved me when wireless mics have failed for one reason or another. When I can, I try to have a small printer, wireless network, and a slim USB paper scanner."
Peter Blue, creative specialist, Evident Productions, Las Vegas
"Granola bars (because no one likes a hungry event planner) and flats to wear post-event."
Nilaja Parker, senior account executive of engagement marketing, Burrell Communications, Chicago
"Sharpies. Lots of Sharpies."
Thom Singer, speaker and M.C., Davis/Hill Solutions, Austin, Texas
"In addition to the basics, I also always have a roll of Velcro, a few Coroplast arrows to throw on signs if needed, gaffer's tape, a hand clicker for counting attendance, a flash drive, and a contact list for every vendor working the event."
Joshua Durando, assistant director of programs and special events, University of Pennsylvania, Philadelphia
"Gaffer's tape, an iPod loaded with a family-friendly DJ mix, and a corkscrew."
Leslie Weekes, wedding and event consultant, Leslie Manning Events, Washington, D.C.
"We make sure to bring a step stool. You can't always rely on the hotel to provide a ladder to help with decor emergencies."
Cheryl McShane, president, PEC Meetings Company, Milwaukee
"A solution to wasps swarming around a dessert plating station: fabric softener dryer sheets taped to the bottom of the working table and on a nearby wall."
Kevin Bergsma, event planner, Culinary Capers Catering and Special Events, Vancouver, British Columbia
"Backup flash drives, duct tape, pens, a phone list, copies of the event schedule, and plenty of Advil."
Mina Cicconi, event planner, Planning House Event Services, Toronto
"We have a huge rolling toolbox that comes to every event. This box is legendary among our clients. Besides the usual—tape, pins, wire, tools, etc.—some of the more unusual items included panty hose, a door wedge, batteries, breath mints, a sewing kit, Shout wipes, Lysol spray, and even toilet paper."
Lorraine Mariella, president, Celebrations Event & Meeting Management, Totowa, New Jersey
Editor's note: Some of these comments were shared by readers on our social media networks. Join our discussions on LinkedIn, Twitter, Facebook, and Google Plus.
Featured Venues/Suppliers: