Event Pros on How California's New Wave of Gay Weddings Will Impact the Industry
Industry professionals weigh in on how the Supreme Court's ruling on Proposition 8 will affect event vendors, planners, and venues.
July 18, 2013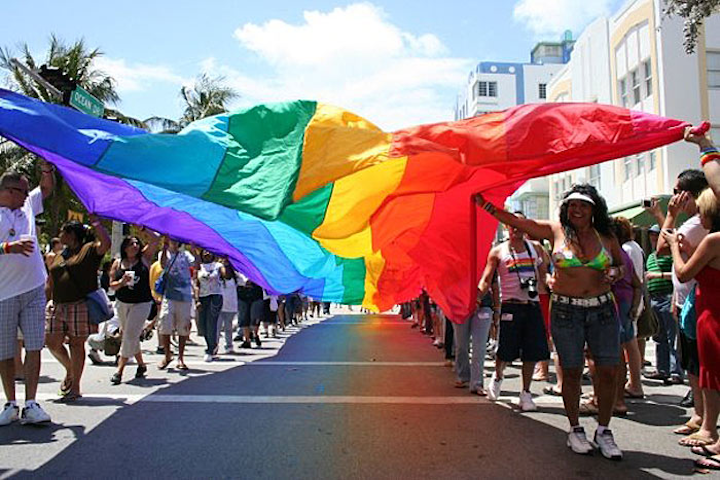 Photo: Felix Becerra
With Prop 8 overturned, the surge of gay weddings is expected to be a major cash infusion for the event industry: Close to 40,000 same-sex couples are expected to marry in the state of California over the next three years, generating close to $500 million for businesses, according to a U.C.L.A. think tank's report cited in the L.A. Times. Moving to capitalize on that money-making opportunity are vendors and venues like the Hotel Maya, which recently announced its new "All Love Is Equal" wedding packages—and there are tons of other marketing efforts just like it.
But it's not just a financial boon that has industry pros excited: It's the potential for creative innovations in format and style, as well as new pricing, marketing, and supply-and-demand models. Here's what they had to say.
"In terms of marketing and positioning, I see the impact in three areas. The first is at the most basic level: the words we use. Even before this court decision, same-sex weddings were affecting the event industry with Web sites, contracts, and speakers shifting from 'brides' to 'couples,' and losing 'he' or 'she' where possible. You know when pronouns become important in marketing, something big is happening at ground level. The second is breadth of services. Corporate planners and creative partners with a solid corporate client base, many of whom said they'd never do weddings, have started to add wedding pages to Web sites, have looked into how to serve this market. Pages are now being added specifically for the L.G.B.T. market. Many are finding a newfound respect for the financial power of weddings, which brings me to the last, most important shift.
During my time in this industry going back to the '90s, weddings have been also runs. 'There will always be weddings,' everyone said, implying that they weren't on the same playing field with corporate events for whatever reason. But quietly, the wedding industry, mostly young people with little funds for big-budget advertising, were adopting social media for marketing and thereby actually connecting with the wedding couples, who were also their age. They were burning up Twitter and Facebook, then Pinterest and Instagram, giving rise to bloggers and creating an inclusive community that made it attractive to TV and media, giving it a foothold within the world of events. Now, with L.G.B.T. weddings ramping up after the initial city hall wave, planners, designers, and creative partners new to weddings will have to step up their social media game fast to catch up."
—Liese Gardner, owner, Mecca Communications
"I can't imagine that the traditional way to buy [wedding] services will resonate with the L.G.B.T. community. Speaking for myself, a wedding magazine isn't something I'm planning on purchasing even if I was getting married. Many might not know where to look first, which is why I think Facebook and other forms of viral marketing will be employed to [market to and] reach them. As an industry, this is one of the rarest opportunities we will have to reach a largely untapped market with a lot of disposable income. And as many states fall in line in coming years, I believe there will be an even larger opportunity nationwide."
—David Merrell, owner and creative director, AOO Events
"We have seen in city after city how when the G.L.B.T. community moves into a neighborhood, the property values increase. Why? Well, the TINK (two incomes, no kids) economic advantage, as well as the large percentage of creative and artistic people in the out G.L.B.T. community. There is every reason to believe the wedding industry will be impacted much the same way. As our creative industry meets the demands of a very creative and affluent segment of our population, once again our limits will be challenged. We will see new traditions, new norms, and new standards. Visually we will see creativity, and the lid will be taken off of the box we call appropriate design for weddings. The norms will be challenged.
This is an exciting time to see great and inspirational change. We are not talking about damaging a tradition—but we may very well see more lightheartedness, fun, and surprises in the celebrations. Remember this is the first generation in recorded history that has had the opportunity to legally unify as same-sex married couples. We are going to make some of our own rules.
As far as venues, I think again, we will see very unexpected places being chosen. We have been unfairly pushed into the dark for so long, our group psyche is not focused on the normal church or wedding hall idea. I think we will see a lot of destination weddings, as many of our community unfortunately do not have the support of our families. On the flip side, I am certain there will be very prominent members of the G.L.B.T. community that will take a bold stance and throw an amazing affair, just challenging the People and Us not to give them the same coverage the straight celebs get.
How will this affect the straight wedding industry? Only in a good way. I guarantee within a year straight brides will be bringing me pictures of G.L.B.T. weddings I have done and say, 'I want my wedding to look unique, different, and out-of-the-box like this wedding.'"
—Rrivre Davies, C.E.O. and founder/designer, Rrivre Works
"Being national, the Wedding and Event Institute enrollment of new planners didn't change much when other states legalized same-sex marriage. But with California's new court decision, we have seen a rise in our enrollment of people who tell us they have been thinking of getting into the wedding industry and are now getting active about it. We are now being approached by creative partners who never really considered the industry and want to reach not the couples, but the future planners. My own personal thoughts are that many couples were ready to go as soon as the decision came through and didn't go the big wedding route after waiting so long. I think after that initial rush, we'll begin to see those big weddings within six months."
—Kylie Carlson, founder, the Wedding and Event Institute
"From a professional perspective, the legalization of gay marriage will without question have an enormous effect on the event industry overall. We personally are looking forward to California seeing a huge economic boom, with the beautiful climate year-round, it is already an ideal location for a wedding. There will be an influx in travel as people from all over the country come to California for their destination wedding. Wedding planners, venues, caterers, florists, event producers, musicians, valet companies, hotels, lighting companies, to name a few, will all see an incredible increase in business not only from the surge of local weddings but people coming from all over the country to have a uniquely West Coast, California wedding.
In addition, most gay couples have a dual income giving way to larger budgets for their wedding. Not only is there going to be an increase in the sheer volume of business just due to the fact that there will be more people getting married, but additionally increased budgets from couples who have waited a long time to be able to make this great commitment. They are more settled and established in their careers.
Californians are people who are up on every trend. We live in a city that sets the tone for what is fashionable and interesting. We create food that is not only healthy and fresh but visually appealing. Every couple, gay or straight, are looking to make their wedding day the most amazing of their lives. It is our job to make sure we keep each event personal, unique, and memorable—adding new elements while simultaneously respecting the traditions that are important to each couple. We're just going to have to be even more on our toes then ever."
—Mary Micucci, owner, Along Came Mary Catering and Events
"Same-sex weddings in California will impact the industry in a number of ways, first beginning with the new business and revenue that it will bring to planners, venues, and vendors. It will provide an opportunity for more planners to become specialized in the type of weddings they produce and it will create an instant boost for many existing wedding planners who are highly sought after. Venues will have a unique opportunity to create special packages that will entice couples to their properties, offering them a one-stop unique experience. Vendors will have to increase their inventories and labor in order to accommodate the influx of weddings that will occur alongside existing corporate, nonprofit, and entertainment events; however you can expect to see a bump up in cost as these items become more in demand. Additionally, new rental companies and specialized rentals will have an even greater marketplace to be in.
Those that aren't producing gay weddings, will find that they will have to source vendors much faster, secure venues right away, and book caterers in a timely fashion in order to stay ahead of what will be a busy market. I also believe that the industry will see caterers increase their pricing as they become more in demand for weddings. One of the greatest impacts will be the unique creativity and inspiration that will come from these weddings and inspire corporate planners and others in the industry. Several same-sex couples are moving away from the traditional wedding concept and as a result are coming up with unique and innovative ways to celebrate and commemorate their special day. This out-of-the box thinking will inspire vendors, venues, and planners who will find ways to implement these creative ideas into other events."
—Todd Andrew-Barabino Hawkins, president, The Todd Group
"Same-sex weddings have given the wedding industry a new surge in wedding showers, rehearsal dinners, and destination wedding locations. It has become a huge victory and celebration for our clients and in turn, many of our future grooms or brides are taking it very personally. Every attention to detail is given to add their own special touches to the special day. It is a very magical moment in today's time to hear the words, 'You may now kiss your partner.' The trend is only going to grow as each client has their friends see that this too is not just a trend but an occasion that all should celebrate. Same-sex marriages and weddings will be as common as the everyday bride-and-groom wedding."
—Samantha Sackler, C.E.O., Samantha Sackler Productions
"Four Seasons Hotel Los Angeles at Beverly Hills is especially excited about [the Prop 8 ruling and] the repeal of DOMA. Beverly Hills and the surrounding areas have some of California's most desirable wedding venues and most sought-after wedding vendors in the world. We expect to see increased demand for our venues and services as the year progresses. Four Seasons Los Angeles has already seen a 25 percent spike in short-term wedding inquiries in the past 30 days."
—Greg Velasquez, director of marketing, Four Seasons Hotel Los Angeles at Beverly Hills
"My thoughts about same-sex marriages as a booming business are that it presents a huge opportunity to design magical, one-of-a-kind events tailored for the couples—and their guests. Having the joy of being able to wed—finally—and it being such a moment in time allows for all kinds of great themes. I can imagine dozens of different themes from French intellectual (referencing Gertrude Stein) to Mexican art (Frida) to Vegas fabulous (Liberace) to '60s cool (Rock Hudson meets Mad Men)."
—Judi Jordan, owner, Judi Jordan Productions
Featured Venues/Suppliers: