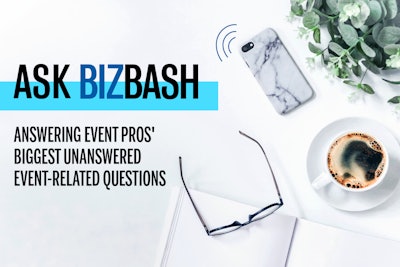 Trying to navigate the industry's new normal? BizBash is here to help. Every week, we'll be tackling your questions on the nitty-gritty details of events. Submit questions on BizBash's Instagram, Twitter, Facebook, or LinkedIn pages, or email us at [email protected].
Breaking into the event industry can feel like a daunting task at the best of times. To get you some guidance, we asked event professionals around the country to share their stories. Whether you've recently graduated or are looking to make a career shift, check out their advice for cultivating industry relationships, getting on-the-job experience, and more.
1. Relationships are everything.
Above all else, the event industry is built on human connection. "Keep in touch with your network, especially during this time," suggests Gabrielle Mourino, senior account manager for Imprint Events Florida in Orlando and a graduate of the UCF Rosen College of Hospitality Management. "Take this time to truly connect with people you know in the industry and create more genuine relationships. You never know who might be in a position to help you down the line. If you've recently graduated and are just beginning to create a network, start with those you were in school with who are also entering the workforce."
And "get involved with industry organizations like NACE, ILEA, or MPI," Mourino adds. "They might not be networking in person, but they are working to create virtual opportunities—and now is a great time to start getting involved as an active member."
Tonisha Landry, senior director of events of Points of Light in Atlanta, agrees. "Don't be afraid to make a connection with someone who's actively working on the types of events that interest you," she says. "Whenever you can 'apprentice' or intern, do it. You absolutely must get your hands into an event to truly appreciate the experience."
If you can, find a mentor. "And don't be afraid to work that relationship," says Mourino. "Many schools and industry organizations have mentorship programs to match you with a professional in your field, and those professionals want to help—but you have to put in the work and show up."
Related: Ask BizBash: How Can I Network During Stay-at-Home Orders?
2. Get on-the-job experience however you can.
If you have the means, "start with an internship and get your hands dirty," says Jordan Kaye, owner of Analog Events & Marketing in Los Angeles. "Try to learn from experienced pros as much as possible. ... In college, I found the PR team for a brand I liked, reached out to their agency, and started an internship which turned into a full-time job after college."
"My internships were so incredibly valuable in giving me both hands-on experience in event production as well as growing my network," agrees Jennifer Leibow, director of corporate events for Glow Events in San Francisco. "I worked literally any freelance or volunteer event jobs I could find before finally landing my first full-time job. ... Learn from other event planners as much as possible."
And be open to unexpected opportunities. Brian Hanley, account manager for Great Performances in New York, got his start as a cater-waiter in college and ended up forming strong connections that led to his first internship at an event agency. "Introduce yourself to others in the industry, join webinars, intern wherever you can, stay abreast of industry news, refine your skills, and if possible, find yourself a strong mentor that is willing to guide you on all areas of your career," he says. "How you spend your time today will help you in the future."
Natasha Miller, founder and CEO of Entire Productions in San Francisco, also started small by playing the violin and singing for weddings and other events at the age of 15. "I had no intention of opening an event-based business, but I was being booked more than I could perform so I started booking other artists. This snowballed into much larger corporate accounts and long-term relationships, which in turn allowed me to scale and grow," she explains. Miller's advice? "Become an expert in something that interests you or that you want to develop into. If you know of someone you really admire, ask them to mentor you—and make sure you're always thinking of how that relationship can add value to them."
3. Use this time to brush up on your skills—and cultivate new ones.
"Take any fear or doubt you are feeling and try to channel that into something positive," suggests Mourino. "Read more, attend webinars, take certification courses, learn a new skill, do what you can to continue forging ahead and continue learning. Figure out what makes you stand out from the rest, and be confident in that as you move forward."
Brittani Menina, CEO of Bold Creatives in Washington, D.C., and a graduate of Johnson and Wales University Charlotte's event management program, suggests using this time to "learn the fundamentals of planning an event. Learn as much as you can by taking advantage of the free or discounted certification offerings from industry leaders," she says.
Eric Wielander, director of event strategy and communication at Eventique in New York, notes that learning about the virtual event landscape is also key right now. "We all hope this is not the long-term path, but immerse yourself in as much as virtual production as you can," he says. "Learn and understand the difference between all the options and all the platforms, as there are already quite a few and they are only going to increase. The more technical know-how you have, the better. I would suggest also layering on a second set of skills or knowledge on the creative front, such as graphic design or storytelling—skills that you'll also apply to live events."
Adds Landry, "Above all else, keep learning, especially about other types of events or ways to engage and how to communicate with attendees. That goes for the seasoned pros, too."
Related: 5 Ways Event Pros Can Stay Creatively Inspired Through the COVID-19 Outbreak
4. Be bold.
"My recommendation would be to go boldly!" says Amanda Ma, CEO of Innovate Marketing Group in Pasadena, Calif. "[When our company was first started,] we didn't let the scale of the project or how impossible the idea was scare us—rather, it was fuel to propel us forward. At one point we were always the youngest one in the room. But we use that to our advantage. Did we have failures? Certainly, but those were lessons that we learn from and become the company that we are today."
Leibow agrees. "Don't be afraid to put yourself out there and take risks. Doors will open if you put in the work."
Want to learn more about breaking into the industry? Check out California State University Fullerton's Educate & Elevate virtual conference, taking place tomorrow, July 11. Planned by the students of the school's Center for Entertainment and Hospitality Management, the ticketed event—which is open to both students and professionals—will include speakers from HBO, Disney, Live Nation, and more. BizBash's own Claire Hoffman and David Adler will also be speaking about event trends, how to be an innovator during difficult times, and more. Register here.