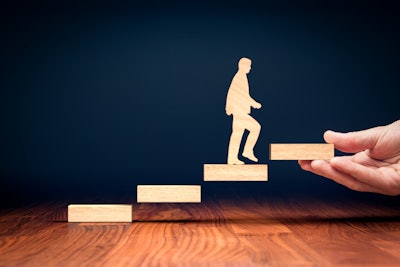 Photo: Jirsak/Shutterstock
You probably hear it all the time: The event industry is all about relationships. Making the right connections can lead to more work for you and your business—and finding the right mentors can be the key to navigating and thriving in this complex industry.
"You cannot put a value on having someone you trust that will give you 100% honest business feedback—even when that feedback is not always positive," notes James Auerbach, vice president, event segment, for the American Rental Association (ARA). "The immeasurable benefit of learning from others who have already successfully navigated through the real-world challenges of running a small business can be the direct difference between costly mistakes or long-term, sustained success."
Auerbach was chatting with BizBash about the ARA's new mentorship program, which debuted last July. The concept has already made 26 matches between mentors and mentees, and is currently accepting more applications. "The event industry is specialized, so finding a mentor to learn from [is] priceless," adds Marcy Wright, the association's COO who oversees the mentorship program.
The ARA's program is just one of many ways event professionals can find a mentor within this multi-faceted industry. Another option? Elevate, a free mentoring program for the event, hospitality and creative industries. The five-year-old program connects mentors and mentees and has helped over 1,200 people since it launched in 2017.
"Ultimately the power of mentoring is all in the relationship," explains co-founder Max Fellows, a United Kingdom-based event consultant and entrepreneur who co-founded Elevate with Melissa Noakes, head of events and sponsorship at Santander. "We take that seriously and look at all facets of both the mentor and mentee—backgrounds, experience, what they're looking for and able to provide, personalities—and if we don't get it right, we give them the opportunity to tell us, so we can re-pair them without any negative impacts."
But other than a formal program, there are plenty of ways to find a mentor on your own. BizBash asked some event professionals of all types to share their top tips.
1. Identify what exactly you're looking for with this relationship.
First things first: Figure out what you're hoping to accomplish by finding a mentor, advises Saroosh Gull, CEO of Eventcombo. "Is it about making your project successful, navigating a crisis, people management or something else? Identifying your top two to three pain points or goals is crucial before you set out to seek a mentor," he says.
JR Sherman, CEO of RainFocus, suggests looking for a mentor with "a proven track record of building and maintaining relationships and driving successful innovation for the industry. A track record of success and a genuine passion for accelerating relationships through events are the most key ingredients for making the right mentor," he says.
And when you're preparing to meet with a potential mentor, think through your strengths and weakness, as well as your short- and long-term career goals. "State clear objectives when meeting—[and] stay on the same page as your mentor in terms of what you'd like to learn from the meeting," notes hospitality consultant Leanne Calderwood in a blog post about the subject. She also suggests setting clear goals after each meeting. "Follow through on the gold nuggets of knowledge you've learned, and let your mentor know how you've bettered your situation; they'll appreciate knowing they helped."
2. Don't be afraid to just ask—but make sure to do your homework!
If you've identified someone whose career you admire, it's time to be proactive. "Often the hardest part people find is making contact with a potential mentor," says Elevate's Fellows. "With more platforms and means available than ever before, once you've researched and found the person or people who you aspire to, with the skills and experience you are looking for, just take the leap and get in touch—be it a message via LinkedIn, an email or a DM. It is a huge compliment to be asked."
Melissa Deslauriers, director of sales and marketing for bb Blanc and a professor of tourism and hospitality, has observed something similar. "Many in the world of events are very giving and eager to help others succeed, and most would gladly give their time and knowledge to assist someone," she says.
But make sure you're prepared before meeting with any potential mentors, notes Vijay Goel, COO of Bite Catering Couture and founder of Chefalytics. "The event industry is filled with warm, helpful (passionate, opinionated) people who are often crazy busy. I've found people are very open to taking you under their wing when you have specific shared interests or perspectives and are willing to do work to explore them," he says. "No one wants to be a generic mentor to someone who hasn't done their homework."
3. Remember that you may find mentors in unexpected places.
"You don't have to look for someone senior and super successful," says Gull. "Think about your professional circle, group of friends or alumni network, and identify who you admire or look up to—someone who sincerely inspires you. Experience and perspectives of certain people, regardless of their position in the industry, is sometimes all you need."
Deslauriers of bb Blanc agrees. "Sometimes your mentors are there without you even realizing it," she says. "I look back on my years in the industry and see that many of my biggest cheerleaders were some of my best mentors. They helped me learn and succeed—without me even realizing that was indeed what they were."
Calderwood agrees. "You may have found you've fallen into a mentorship of sorts very organically; let your mentor know that you'd like to formalize it a bit and report back to them on your learnings," she advises.
4. Get active in industry groups and platforms.
"Visibility should be your top priority while you are looking for a mentor," explains Gull. "Being active in meet-ups, startup groups, industry events, etc. could bring you amazing connections. The key is to expand your network and foster good connections with people. You never know which connection could pave your way to a great mentor."
He adds, "You can also explore online platforms to find your dream mentor. Technology has blessed us with so many channels where the task of finding and connecting with the right people who can mentor your professional growth has become convenient, easy and rewarding."
5. You're never too old to look for a mentor.
As the last couple years have taught us, the industry is always changing—and you need to be ready to understand what you don't know. "[For example,] I've been doing this for over 30 years, and I'm just learning all about virtual," notes Al Mercuro, senior account director for Genesis Exhibits, who also stresses the importance of leaning on formal and informal mentors for advice—no matter what stage of your career you're in. "It's important to know what kind of jobs are out there. They always say you'll have three careers in your lifetime … it doesn't matter what age."
It's all about "self-confidence and belief," adds Fellows. In the Elevate program, he observes, "It's incredible to see people grow and develop and surprise themselves with what they're capable of. Mentoring is not necessarily about giving people the answers, but helping them find the solutions.
6. Don't forget to be a good mentee.
After you've found the mentor of your dreams, it's crucial to make them want to keep working with you! "Once a meetup or call has been arranged—and this could just be for one-off coffee or a pre-agreed, ongoing relationship—the mentee should attend that meeting with clear objectives and questions to maximize the time together and outcome," suggest Fellows.
Gull agrees with the importance of nurturing that mentor-mentee relationship. "Know what you want and ask meaningful questions; don't pressure your mentor into finding a sure-shot solution to all your problems, be mindful of and respect their time and obligations, and put efforts to turn their insights into your success formulae. It's all about broadening your outlook and learning how to turn challenges into opportunities."
And never underestimate the power of gratitude. "Consistently and authentically thank your mentor for his/her time; it's a precious commodity in today's world!" advises Calderwood. "Remember, if you find the relationship is not beneficial, you can also politely end the relationship and pursue another mentor. It is a professional relationship, and both parties should be invested in the relationship in order for it to work."