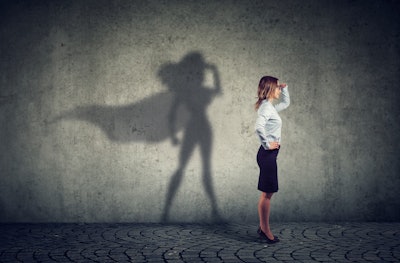 Photo: pathdoc/Shutterstock
At BizBash, we interview a lot of event professionals about their career journeys—and a common refrain we hear is a struggle with imposter syndrome. Officially defined as "persistent doubt concerning one's abilities or accomplishments accompanied by the fear of being exposed as a fraud despite evidence of one's ongoing success," imposter syndrome is really just a fancy term for self-doubt. And in a career like events, which can require a high level of confidence and leadership, it can be easy to starting doubting your abilities.
To help, we took to LinkedIn and asked event professionals of all types to share how they fight those creeping moments of self-doubt. Here are some of our favorite tips. (You can see the full conversation—and add your own thoughts—here.)
Be your own best ally.
Kali Heitholt, senior creative director, Jack Morton Worldwide, Los Angeles: "I had an amazing career coach that taught me to create a fictitious ally, basically the confident side of my brain. Imagine they were on my shoulder always backing me up. I named her Patrice; she's a beret-wearing, paintbrush-wielding creative badass. Whenever I feel impostor syndrome building up I ask, 'What would Patrice do?' Because, deep down inside, I know I've got this, and I am fully capable and really good at what I do. So my tip is to create that ally for yourself. Give her a name. And use that power to remind you of your greatness."
Marcela Lombardo, event services and parking coordinator, The Walt Disney Company, Los Angeles: "I like to imagine a friend saying their negative thoughts out loud to me. I would never want my friends to feel negatively toward themselves, so why am I putting myself down? That gets me out of my funk and reminds me that I need to be kind to myself!"
Alicia Jenelle, director of experiential event production, The Jenelle Group Inc., Toronto: "Being a woman of color in the events industry, I've definitely grappled with imposter syndrome. It's that feeling of not really belonging. ... Treating myself as I would a friend dealing with imposter feelings has been a key strategy. Challenging negative thoughts and embracing my unique perspective have also been crucial. It's a strength that adds so much to the industry."
Remind yourself of your wins.
Katie Pehrson, senior planner and designer, 2 the 9s Events, San Francisco: "Whenever I feel like I have no idea what I'm doing, I look at my 'good things' folder on my desk! It's full of client/vendor/venue thank-you notes, post-its I've written to myself, and pictures of past client events. It's an affirmation that I can handle anything that comes my way, and that I'm good at what I love to do! I would say to show yourself all of the things you've accomplished thus far and remember that at the time, you may have felt the same imposter syndrome but you powered through it to create something beautiful."
Alicia Jenelle, director of experiential event production, The Jenelle Group Inc., Toronto: "I've realized that focusing on my wins, big or small, is vital. I keep a record of them and turn to it whenever doubt sneaks in. Having proof of my hard work right in front of me is a great confidence boost."
Dionne Bishop, founder and CEO, Events by Dionne Inc., Toronto: "I've accepted that every now and then a new experience will bring up self-doubt and a feeling of not belonging. When I feel the emotions arise I say, 'Welcome; thank you for keeping me grounded.' Then I visit my text messages from friends/family, my emails from clients, and my messages from colleagues, and remember I am seen, I am cared for, I am worthy of the good things because I am enough. Be as supportive to yourself as you are to others."
Find your community.
Alicia Jenelle, director of experiential event production, The Jenelle Group Inc., Toronto: "Accepting that imposter syndrome is a shared experience has been freeing. Building a network of peers who understand my challenges, and hearing their stories and advice, reminds me that I'm not the only one on this journey."
Maggie Soergel, head of events, Semafor, Washington, D.C.: "Nothing helps instill confidence more than having a trusted and accomplished event professional to grow new skills alongside. For me personally, finding these mentors has helped me feel like I have a 'safety net' of external experience that in turn emboldens me to take risks and execute ambitious live event visions with far less fear of failure."
Don't be afraid to speak up.
MK Bedosky, co-founder and head of marketing, Gen City Labs, New York City: "I realized that what felt obvious in my mind might not be obvious to others. Share ideas and opinions out loud, and you'll be surprised how often the ideas you take for granted as basic are actually great for fueling teamwork and collaborative development of a plan."
Kate Patay, vice president of engagement, Terramar, a DMC Company, Reno, Nev.: "Take a deep breath and state your case—without a question mark at the end of it."
Take risks and embrace fear.
Stella Rankin, co-founder, Pinch Food Design, New York: "Growing up, I was always told to have a plan B—and somewhere along the way, I made that mean I probably wasn't going to succeed. I had to continuously quiet the outside and inside voices. Through that, I've discovered that fear is an arrow pointing where to leap. So, I embraced it all—the good, the bad, and the ugly. I've learned to sit in the scary moments and let them pass. As Susan Jeffers coined, 'Feel the fear and do it anyway.'"
Melanie Reid, event marketing manager, Riskified, San Diego: "Truthfully, I think no matter where someone is in their career, they may still experience imposter syndrome. Trying new and challenging things can always be scary, but [I remind] myself it's not just luck that has gotten me to where I am: It's luck and hard work. I'm where I am in life, professionally and personally, because I embrace those challenges. Creating space to make mistakes and knowing that I'll always be learning helps me channel imposter syndrome into something productive rather than letting it stifle me."
Nicole Swickle, founder, Honest Interactions, Nashville: "I love the saying 'acts of esteem build esteem.' By doing all the things that you're nervous to sooner and more often, the more second nature they become. Our knee-jerk reaction is to shy away from the difficult or scary things, which only perpetuates the cycle of self-doubt. Nip it in the bud. Watch yourself shine."
Ask questions and keep learning.
Kara Dickerson, founder and principal, Content With Impact LLC, Alexandria, Va.: "Many of us found our way into events by accident—I certainly did. When I first started my events career, I was doing so from a leadership position and hadn't had years of learning to inform my decisions. This definitely led to many thoughts of imposter syndrome! Hiring smart, entrepreneurial team members devoted to stellar outcomes helped tremendously; they taught me so much. I also had to trust my gut and remind myself what I was good at: communicating and storytelling; building strong teams; a love for discovery and learning; developing trusted relationships with peers, vendors, members, speakers, and partners; and, most of all, asking a lot of questions!
Amanda Ma, founder and CEO, Innovate Marketing Group, Pasadena, Calif.: "It's natural to have moments of self-doubt, but remember that you've earned your place through hard work and dedication. My advice: Embrace your accomplishments, focus on your growth, and surround yourself with a supportive network. Recognize that learning is a journey, not a destination. Believe in your unique perspective, and you'll find the confidence to overcome any challenge."
Martin Smith, The Keynote DJ, DJ Graffiti, Ann Arbor, Mich.: "When I'm faced with imposter syndrome, I immediately question my thoughts: 'Why am I thinking this,' 'Is it true?' Actual imposters don't have imposter syndrome, so by questioning thoughts that say I'm not good enough, I can revisit past accomplishments and combat lies with the truth. Finally, representation helps. When I can see others that remind me of myself doing it, it's easier to say, 'If they can do it, so can I.'
Lauren Austin, chief creative officer, MKG, New York: "My advice is to remember that imposter syndrome is simply the feeling that you're not the best. Let it fuel you. We all have room for improvement and evolution, and if you're not trying to get better at your craft, then you're not doing it right."
Recognize that everyone has moments of self-doubt.
Dani Velazco, senior event planner, Mosaix Group, Charlotte, N.C.: "When I started in the event industry, I was building movie premieres and red carpets for Sony and Disney at an agency. I am a first-generation college student and came from a low-middle-class family, so getting to travel and dealing with celebrities and movie executives was a dream come true, but I always felt I didn't belong. Always a ball of nerves trying to impress the movie executives with our events and publicity, I could beat myself up real quick. An executive in LA for my company joined me for a movie tour and told me at dinner one night, 'Everyone in events and entertainment fakes it until they make it.' I've learned over the years that there is no blueprint to being perfect for this industry or being successful in it—we all fit and bring our unique flair."
Monique Ruff-Bell, head of events, TED Conferences, New York City: "This is one of my favorite TED Talks because it speaks to the heart of what many women have been raised to be—to forever reach for perfection. And if we don't feel we will be perfect at something, it stirs up fear and imposter syndrome, and it makes us question if we really belong there. Bravery and risk-taking aren't something we are pushed to do, and it is one of the major ways to combat imposter syndrome and to get comfortable with growth and boundary-pushing. I learned a very long time ago that everyone is just winging it and doing their best (most times). So, if I earned my spot at that table, in that room, I am going to be proud, not fearful. You are going to hear this voice whether I make a mistake or not!"