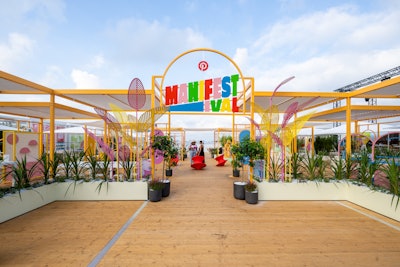 Photo: Courtesy of Pinterest
Because data can be extremely telling, we thought the rest of the industry could benefit from what our editors are seeing on the back end—that is, what event pros are really staying on top of right now. Consider this monthly list your own insider pulse on the event and meeting industry.
1. Cannes Lions 2023: 45 Steal-Worthy Event Ideas From the Massive Festival of Creativity
Here's how brands like Pinterest, Netflix, Spotify, Meta, and The Wall Street Journal made a splash in the south of France.
2. Ready for Barbie? Take a Look at Some of Our Favorite Barbie Events, Activations, and Campaigns
Margot Robbie fills the iconic doll's shoes in the new Greta Gerwig-directed movie.
3. VidCon 2023: All the Eclectic Booths and Lounges That Caught Our Eye This Year
Here's how brands like YouTube, TikTok, Instagram, and Snap stood out at the convention, which drew 55,000 digital creators and fans—plus, how the show put an even greater focus on sustainability this year.
4. Gov Ball 2023: 20+ Inspiring Brand Activations From the NYC Music Festival
Here's what you might have missed at the annual event from companies like Snapchat, Google, Verizon, and more.
5. Fresh Faces 2023: 10 Rising Stars in the Event Industry to Keep Tabs On
We can't wait to see what these experiential designers, destination sales managers, and event producers do next.
6. Coachella 2023: 40+ Steal-Worthy Event Ideas From the Creativity-Packed Music Festival
Couldn't make it to the desert this year? Here's what you missed at weekend one's most eye-catching parties, pop-ups, and activations from the likes of Adidas, American Express, NYLON, Lucky Brand, and more big brands.
7. 25 Cool Event Ideas You May Have Missed From Mastercard, SKIMS, Match, and More
Here's a look at some steal-worthy ideas we spotted in June 2023.
8. 26 Cool Event Ideas You May Have Missed From Beyoncé, Frito-Lay, Adidas, and More
Here's a look at some steal-worthy ideas we spotted in July 2023.
9. GRWM: See How Beauty Brands Engaged Consumers with Creative, Colorful Events
Brands like Glossier, KVD Beauty, and Make Up For Ever have been hosting fun product launch activations and mobile pop-ups.
10. Trend Spotted: Y2K Is Having a Moment in the Event World
Brands like American Express, Freeform, and Motorola have been partying like it's 1999.
11. Inside a Trip to Psychedelic Science 2023—The Largest Psychedelic Conference in History
Here's a breakdown of the impact, programming, conversation themes, expo highlights, Burning Man influence, and (of course) after-hours fun around town.
12. Essence Festival 2023: Find Out How the Event Expanded Even More This Year
The event showcased the company's entire ecosystem of brands including the festival debuts of Beautycon and Afropunk.
13. 25 Cool Event Ideas You May Have Missed From Meta, Disney, Smirnoff, and More
Here's a look at some steal-worthy ideas we spotted in May 2023.
14. What Misused Event Industry Terms Bother You Most?
Event professionals share their biggest pet peeves when it comes to misused or outdated terms and phrases. Hint: Stop calling them "party planners"!
15. How This Baseball Stadium Hosted a Soccer Game, Concert, and Corporate Event—Back to Back
Over the week of Fourth of July, the New York Mets events team had their work cut out for them as they flipped Citi Field multiple times, including for a New York City FC soccer match and a Burna Boy concert.