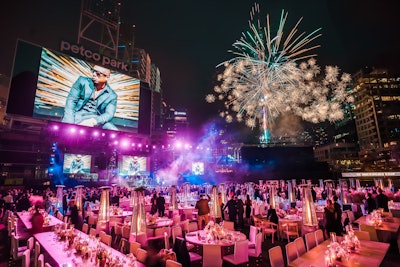 Photo: Eric Scire/Petco Park Events
Because data can be extremely telling, we thought the rest of the industry could benefit from what our editors are seeing on the back end—that is, what event pros are really staying on top of right now. Consider this monthly list your own insider pulse on the event and meeting industry.
1. 25 Cool Event Ideas You May Have Missed From Meta, Disney, Smirnoff, and More
Here's a look at some steal-worthy ideas we spotted in May 2023.
2. Coachella 2023: 40+ Steal-Worthy Event Ideas From the Creativity-Packed Music Festival
Couldn't make it to the desert this year? Here's what you missed at weekend one's most eye-catching parties, pop-ups, and activations from the likes of Adidas, American Express, NYLON, Lucky Brand, and more big brands.
3. Our Favorite Event Moments of 2023—So Far
From whimsical, wearable Champagne skirts to futuristic ramen bars, we've rounded up standout event production ideas from the first six months of 2023.
4. See How This Ballpark-Hosted Gala Was a Hit in the Outfield—Literally
The Petco Park Events team hosted a San Diego Padres fundraising gala in the middle of a homestand.
5. 16 Inspiring—and Thought-Provoking—Event Design Ideas From DIFFA by Design
Companies like Rockwell Group and Benjamin Moore focused on themes of waste and mass-produced items, while also prompting guests to self-reflect on their role in creating a more sustainable future.
6. 25 Cool Event Ideas You May Have Missed From Mastercard, SKIMS, Match, and More
Here's a look at some steal-worthy ideas we spotted in June 2023.
7. From Boomers to Zoomers: What's Working Now for Different Generations of Event Attendees
We asked a variety of event professionals to share their quick tips for accommodating different age demographics.
8. A Members-Only Club for Event Profs? This London-Based Group Is Making It a Reality
The Events Club has two venues in the works that will be both bookable for events and serve as flex working and lounging spaces for those in the event industry.
9. Gas Prices Too High? This Service Station Pumps Cheez-Its Instead
To celebrate Cheez-It's latest brand campaign, Kellogg Company turned a desert gas station into an oasis for Cheez-It lovers—complete with gas pumps that release snack bags into visitors' cars.
10. Step Inside Paramount's Popular TV Shows with Its First-Ever 'For Your Consideration' Activation
The media company hosted an extensive 10-day experience showcasing its portfolio of brands including Comedy Central, MTV, Paramount+, Paramount Network, and Showtime.
11. To Tip or Not to Tip at Events?
From event planners and team-building hosts to caterers and florists, here's what event profs have to say about the tipping culture craze.
12. 8 Tips for Using Inclusive Language at Events
Words matter. Here's how event professionals and speakers can use more inclusive language in their marketing materials, programming, and other event communications.
13. Industry Innovators 2023: 10 Brands Redefining Event Marketing
With in-person events making their full-on comeback this past year, these companies showcased creativity and ingenuity with their activations, events, and experiences.
14. Is Orange the Event Color of the Summer?
Some might associate the shade with Halloween and fall foliage. Instead, think orange peel rather than pumpkin spice when designing for the current season.
15. VeeCon 2023: Inside Gary Vee's Epic, Innovative 'Super Conference'
Tickets came in the form of NFTs at the three-day conference, where panel discussions ruled and featured the likes of Drew Barrymore, Tim Tebow, and Gary Vee himself.