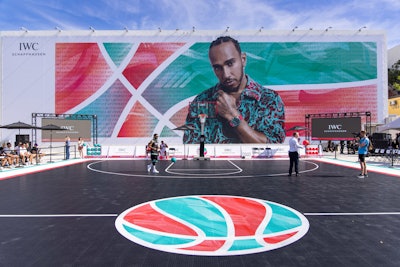 Photo: Richard
Because data can be extremely telling, we thought the rest of the industry could benefit from what our editors are seeing on the back end—that is, what event pros are really staying on top of right now. Consider this monthly list your own insider pulse on the event and meeting industry.
1. Coachella 2023: 40+ Steal-Worthy Event Ideas From the Creativity-Packed Music Festival
Couldn't make it to the desert this year? Here's what you missed at weekend one's most eye-catching parties, pop-ups, and activations from the likes of Adidas, American Express, NYLON, Lucky Brand, and more big brands.
2. Coachella 2023: 6 Event Design Trends That Stood Out This Year
From oversize props to nostalgic details to interesting color choices, here are some of our favorite design details from this year's buzzy music festival.
3. Formula 1 Miami 2023: Inside the Events and Activations That Made the Grand Prix the City's Hottest Ticket
BizBash was on-site this year to get an inside look at the over-the-top activations, off-grid kickoff parties, and invite-only lounges by Red Bull, ESPN, and more.
4. Selena Gomez's Beauty Brand Blossomed in the Big Apple Thanks to This Experiential Agency
Sunset/Studios chats with BizBash about all the interactive, pink-hued ways the agency helped the superstar celebrate Rare Beauty's new collection of lip oils.
5. 21 Cool Event Ideas You May Have Missed From Coach, Heineken, AT&T, and More
Here's a look at some steal-worthy ideas we spotted in April 2023.
6. How Brands Galloped Into the Spotlight at the 2023 Kentucky Derby
The 149th Run for the Roses saw brands like White Claw and BMW return. See how they jockeyed for attention this year.
7. 12 Stunning Floral Installations That Are Sure to Spark Event Design Inspiration
Talk about flower power. These gorgeous displays of bright blooms and sultry succulents can help unleash your creativity for your next event.
8. Industry Innovators 2023: 12 Experiential Event Producers Changing the Way We View Consumer Events
From in-house experiential leads at Meta and Bumble to the creative minds running their own successful agencies, these innovative thinkers are disrupting event marketing in major ways.
9. One Big Political Party: What You Might Have Missed From This Year's White House Correspondents' Dinner
Big-name media brands like Politico and ELLE hosted a range of events in Washington, D.C., in honor of the annual dinner.
10. Why Were These Water Bottles All Over Coachella This Year?
With its mission to cut down on single-use plastic, PATH bottled water infiltrated activations at the popular music festival from brands like 818 Tequila, Revolve, and BMW.
11. 12 Unexpected Twists on Disco Ball Decor
Ready to boogie? Add some sparkle to your next event with these disco-inspired design ideas.
12. Cocktail Hour Episode 1: How Gen Z Is Raising the Bar for Events—with the NBA's Joseph Graziano III
In the first episode of BizBash's brand-new, six-episode podcast series, host Cliff Rigano delves into Gen Z marketing and catches up with the NBA's head of global event strategy.
13. Four Distinct Booths at One Trade Show? Here's How This Event Production Company Pulled It Off
The Gladiator Productions team worked with four different clients at the recent Ulta FLC beauty show. Here, they take us behind the scenes of the logistical challenge.
14. Not Even Extra Taylor Swift Tour Dates Could Stop the Inaugural Tampa Bay Wine & Food Festival
Learn how a veteran Florida event production company handled some unique challenges—plus see plenty of food, beverage, and sponsor highlights.
15. SXSW 2023: How Immersive Experiences Ruled at the Austin Fest
Brands like TikTok, Roku, HBO Max, and more flexed their experiential muscles at Austin's massive 10-day festival. Check out the 20 activations that caught our eye.