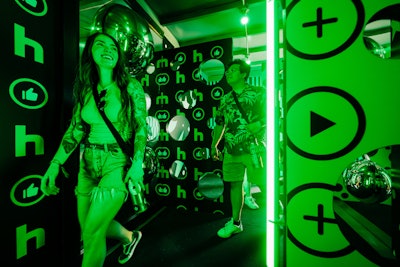 Photo: Taylor Regulski
Because data can be extremely telling, we thought the rest of the industry could benefit from what our editors are seeing on the back end—that is, what event pros are really staying on top of right now. Consider this monthly list your own insider pulse on the event and meeting industry.
1. Austin City Limits 2023: 13 Top Brand Activations From the Music Fest
Many brands shifted their activations to offer more focused activities, such as Hulu's escape room-style game and American Express' camera rentals.
2. This Ultra-Immersive Only Murders in the Building Pop-Up Allowed Fans to Help Solve the Show's Latest Mystery
The actual film set of the Hulu series' third season served as the backdrop for a free pop-up in NYC that invited guests to pick up a flashlight and help answer the question: Who killed Ben Glenroy?
3. 40+ Corporate Holiday Party Ideas for 2023
Get inspired and celebrate the season in style with these decor, catering, entertainment, and gifting ideas for both a big blowout bash and small-group gatherings.
4. 30 Cool Event Ideas You May Have Missed From Bose, Hendrick's Gin, the Denver Broncos, and More
Here's a look at some steal-worthy ideas we spotted in September 2023.
5. Big Brand on Campus: How Companies Are Engaging College Football Fans This Season
See how Bud Light, Visa, Barstool Sports, and others are tapping into the school spirit on game days.
6. 11 Wild Uses of Event Decor That Brought the Great Outdoors Indoors
These events took a walk on the wild side with decor that evoked enchanting forests, prehistoric plains, and even a dip under the sea.
7. 6 Things to Expect at IMEX America 2023
From immersive tech to new education formats, here's what to look out for when the massive event industry trade show returns to Las Vegas Oct. 17-19.
8. What to Know About Hidden Event Fees Right Now
Since the COVID-19 pandemic, it seems as if they've only increased. Here, two event experts share common surcharges to look out for and how to negotiate them.
9. Inside The Wall Street Journal's Innovative Event Sustainability Strategies
Fun fact: The stage backdrop from the WSJ's 2023 Future of Everything Festival now provides shade at a community garden in Brooklyn. Here's how else the team is leaning into upcycling and sustainability-focused volunteerism at its events.
10. Golden Oldies: Inside ABC's Multifaceted Experiential Campaign for The Golden Bachelor
ABC's iconic red roses are going gold with the premiere of The Golden Bachelor. Here's how the network generated buzz with unique experiential moments and promotions around the country.
11. 9 Must-Read Tips for Working with Event Photographers
Three experienced event photographers share the best way to get the exact shots you want.
12. 18 Corporate Holiday Party Ideas for Large Groups
'Tis the season for going all in with opulent venues, fancy food items, and cool experiences.
13. This Miami Hotel's Ballroom Now Offers 360-Degree Mapping Tech for Events
Want to bring a little of that Van Gogh immersive exhibit magic to your events? W South Beach has the tools to help.
14. 15 Corporate Holiday Party Ideas for Small Groups
Plan an intimate gathering this season with these team-building activities, F&B concepts, and venue options.
15. Meet Our Advisory Board for the BizBash Event Experience Awards
Learn more about who will be judging submissions—and what they're looking for in a winning one.