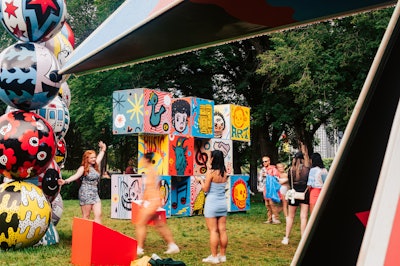 Photo: Nathan Zucker
Because data can be extremely telling, we thought the rest of the industry could benefit from what our editors are seeing on the back end—that is, what event pros are really staying on top of right now. Consider this monthly list your own insider pulse on the event and meeting industry.
1. Lollapalooza 2023: 13 Chart-Topping Activations From Dunkin', Liquid Death, Coke, and More
Lines formed at everything from Adobe's colorful art garden to Coke's high-octane music studio to Liquid Death's gruesome country club.
2. 6 Event Lessons Learned From Taylor Swift's Record-Breaking Eras Tour
The singer-songwriter's 146-show tour is expected to earn upward of $1.4 billion. (Yes, billion.) Here's what every event professional can learn from its success.
3. Q&A: Behind the Scenes of Freeman's Acquisition of Brand Experience Agency Sparks
On Aug. 1, global event leader Freeman announced it was acquiring the Philadelphia-based agency. We chatted with Freeman President Janet Dell about what this means for the event industry.
4. Comic-Con 2023: All the Spooky, Silly, and Steal-Worthy Brand Activations This Year
That classic Jurassic Park toilet scene, anyone? Here are all the fun ways brands like Hulu, Audible, FX, and Adult Swim grabbed attention during this year's Comic-Con International in San Diego.
5. Tales of the Cocktail 2023: See the Many 'Spirited' Ways Brands Engaged Attendees
Brands like Kraken Rum, Moët Hennessy, and Jameson hosted a slew of parties, events, and tastings at the annual conference in New Orleans.
6. Cannes Lions 2023: 45 Steal-Worthy Event Ideas From the Massive Festival of Creativity
Here's how brands like Pinterest, Netflix, Spotify, Meta, and The Wall Street Journal made a splash in the south of France.
7. Coachella 2023: 40+ Steal-Worthy Event Ideas From the Creativity-Packed Music Festival
Couldn't make it to the desert this year? Here's what you missed at weekend one's most eye-catching parties, pop-ups, and activations from the likes of Adidas, American Express, NYLON, Lucky Brand, and more big brands.
8. 5 Things I Can't Live Without: Event Profs Share Their Go-To Tricks and Tools
Ever wonder how busy event professionals seemingly do it all? We asked them to spill their secrets.
9. How Expedia Group United Three Brands—While Introducing Another—at This New York Launch Event
The travel tech company unveiled its new rewards program, One Key, with strategy and style.
10. 26 Cool Event Ideas You May Have Missed From Beyoncé, Frito-Lay, Adidas, and More
Here's a look at some steal-worthy ideas we spotted in July 2023.
11. The Bigger, the Better: See How These Brands Sized Up Their Marketing Stunts
Wanna grab a drink in a giant peanut? We got you.
12. Ready for Barbie? Take a Look at Some of Our Favorite Barbie Events, Activations, and Campaigns
Margot Robbie fills the iconic doll's shoes in the new Greta Gerwig-directed movie.
13. 8 Event Ideas That Caught BizBash's Eye on Instagram
Take a peek at Instagram photos full of steal-worthy event ideas to serve as inspiration for your next gathering.
14. This Love Island USA Pop-Up Experience Brought the 'Villa' to the Fans
To promote the new season, Peacock hosted a pop-up experience in Austin and Nashville where fans could audition to be the next "bombshell" on the steamy show.
15. Event Tech Check: Cool New Ways to Measure ROI, Customize Attendee Engagement, and More
BizBash takes a deep dive into the newest tech solutions for events of all types, plus the latest must-know industry news.