Forward Design: The Top 40 Event Designers 2017
From minimalist masters to specialists in maximalist looks, here are the top minds moving event design forward.
April 25, 2017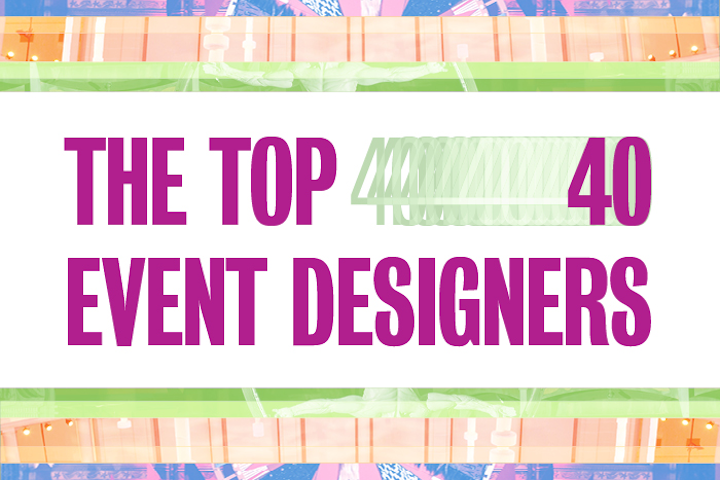 Illustration: Cornelia Stiles/BizBash
When BizBash compiled its first list of the top designers in 2013, event designers still maintained a somewhat limited audience—usually just the guests at the actual event. Now, thanks to the proliferation of social media platforms like Instagram (which was a fledgling company in 2013), these creators are reaching a much wider crowd within the industry and beyond. Today, they're not only impressing clients and attendees, but also attracting followers and wooing potential business with innovative design, experiential elements, cutting-edge production, and seamless use of technology.
For this updated roster, we expanded the group from 35 to 40 designers. It includes returning stars as well as new names, all of whom are making an impact by creating immersive environments that capture the guest's (and our) attention. In addition to their most compelling work from the past year, the featured designers also shared their creative processes, inspirations, and design philosophies. This impressive group, behind everything from high-end galas and benefits to product launches and influencer events, sets the trends that are pushing the event world forward.
Jeffry Roick, McNabb Roick
David Stark, David Stark Design and Production
Bronson van Wyck, Workshop and Van Wyck & Van Wyck
Ron Wendt, Ron Wendt Design
Tom Kehoe, Kehoe Designs
André Wells, Events by André Wells
Lewis Miller, Lewis Miller Design
Nicky Balestrieri & Luigi Tadini, the Gathery
Mindy Weiss, Mindy Weiss Party Consultants
Tony Schubert, Event Eleven
Billy Butchkavitz, Billy Butchkavitz Design
Thomas Ford, Tom Ford Designs
Karla Dascal, Karla Conceptual Event Experiences
Colin Cowie, Colin Cowie Lifestyle
Javier Velarde, Triton Productions
Annie Senatore, Design Foundry
Larry Abel & Raymond McCallister, Abel McCallister Designs
David Monn, David Monn L.L.C.
Jeffrey Foster, Event Creative
Candice Chan & Alison Slight, Candice & Alison
Marc Hall, Marc Hall Design
Cara Kleinhaut, Agenc
Preston Bailey, Preston Bailey
David Beahm, David Beahm Experiences
Matthew David Hopkins, 360 Design Events
Bryan Rafanelli, Rafanelli Events
Stanlee Gatti, Stanlee R. Gatti Designs
Andrew Stevens & Kim Swift, We Came in Peace
Edgardo Zamora, Revelry Event Designers
Shai Tertner, Shiraz Events
Jes Gordon, Jes Gordon/Proper Fun
Lynn Easton, Easton Events
DeJuan Stroud, DeJuan Stroud Inc.
Melissa Andre, Melissa Andre Events
Steve Bales, Bold American Events
Todd Fiscus, Todd Events
Ed Libby, Ed Libby & Company Events
Yifat Oren, Oren Co.
Bill Heffernan, HMR Designs
Raul Àvila, Raul Àvila Inc.
How We Chose the List
BizBash editors reviewed work from event designers across North America. We considered the quality, originality, and volume of their work, plus their clients and reputations. The list favors those who work on corporate and nonprofit events, although we did include some social-event specialists. Most importantly, we sought ingenuity and imagination, along with design ideas that made us want to hit the "share" button.